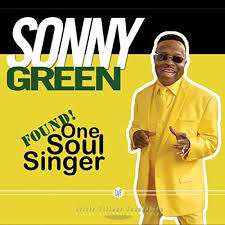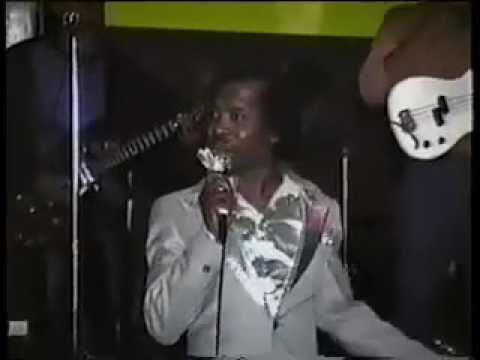 " From the best real deal soul singer some never heard… "
Je vraagt je soms af, waarom mensen met bepaalde kwaliteiten niet eerder de nodige aandacht kregen? Na het horen van Sonny Green, besef je dat deze soul blueszanger zo iemand is. Of hij al langer zingt? Robert "Sonny" Green werd in 1941 in Monroe, Louisiana geboren. "Sonny" verwees naar de populaire zanger Sonny Warner, wat hem -volgens de promotors- als zanger de nodige aandacht moest opleveren. Sonny zingt al sinds zijn tienerjaren in Louisiana en treedt al meer dan 40 jaar regelmatig op in Los Angeles. Op zijn zestiende zong hij in de band van Melvin Underwood. Hij ging een jaar later solo en opende dan voor o.a. Johnny Taylor, Bobby Bland, Little Junior Parker en zelfs BB King. In de jaren '70 maakte hij deel uit van Tyrone Davis' Revue.
En, of hij al in een opname studio stond? Verbazingwekkend genoeg heeft Sonny Green nog nooit een volledig studio album opgenomen. Hij nam wel ooit enkele gewilde killer 45's op in de late jaren '60/begin jaren '70. Ik noem hier "People Are Talking About Me" (Whip label) en "It's a Game" (Fuller label). Daarover straks nog wat meer.
"Little Village Foundation is a non-profit cultural producer and record label that searches out, discovers, records and produces music that otherwise would not be heard beyond the artist's family and community. Little Village supports the dreams of artists from non-traditional backgrounds…"
Little Village Foundation, een Amerikaans label zonder winstoogmerk, brengt het debuutalbum uit van "de beste echte soulzanger die je nog nooit hebt gehoord", Sonny Green. De veelzeggende albumtitel 'Found! One Soul Singer' spreekt verder voor zich. Green's debuut werd geproduceerd en opgenomen door Kid Andersen, die op het album ook zelf gitaar speelt. Verder zijn het de veelgevraagde Jim Pugh (B3 orgel), een volledige blazerssectie bestande uit Mike Rinta (trombone), Jeff Lewis (trompet), Aaron Lington (sax) uitgebreid met twee gastsaxofonisten, Sax Gordon & Terry Hanck én "the Future of the Blues", blueszanger Alabama Mike!
Sonny Green's stijl? Zoals elke artiest heeft Sonny Green ook een geheel "eigen" stijl en stem, maar je kunt in zijn songs zeker zijn invloeden horen, waaronder Bobby "Blue" Bland ("I'm So Tired") en Little Milton ("If Walls Could Talk"). Zijn repertoire? Zoals dat van vele van zijn collega's, die vaak vertoefden in de juke joints van LA, bestond dit vooral uit cover songs. Als we verder door de tracklist gaan kom je nog van Syl Johnson "Back for a Taste of Your Love", uit 1978 van Ted Taylor de ballade "Be Ever Wonderful" en zelfs een cover uit 1965 van Willie Nelson's tearjerker "Are You Sure?" tegen. Een van Green's nummers uit 1971 dat op het Hill-label (met Matt Hill, ZZ. Hill's broer) verscheen, "If You Want Me to Keep on Loving You" krijgt hier in de nieuwe versie een uitstekende update. Twee opvallende nummers zijn nog nooit eerder verschenen. Het originele nummer van Alabama Mike, "Trouble", met daarin een "so funky you can ruch it"-duet van Sonny en Alabama Mike. En, één van de twee originele Rick Estrin nummers die Green opnam, "I Got There". Verder kom ik -temeer omdat het op een top track gebeurt- graag nog even terug op saxofonist Terry Hanck, die hilarisch tussenkomt op het funky "Cupid Must Be Stupid", waarop ook bassist Endre Tarczy de nodige aandacht opeist.
JA!, met deze 'Found! One Soul Singer' van Sonny Green, kunnen we deze onopvallende, maar geweldige soul man (met wat voor een stem!) een betere plek geven in de muziek scene. JA, ze vonden hem!
" YES!, with this 'Found! One Soul Singer' by Sonny Green we can give this discrete, but wonderful soul man (with what a voice!) a deserved and better place in the music scene. YES, they found him!... " (ESC for Rootstime.be)
Eric Schuurmans
Album track list: 01. I'm So Tired [Dedric Malone] – 02. If Walls Could Talk [Robert Miller] – 03. I Beg Your Pardon [Rick Estrin] – 04. Are You Sure [Buddy Emmons, Willie Nelson] – 05. Cupid Must Be Stupid [Jojo Russo, Terry Hanck, Kid Andersen] – 06. Blind Man [Joseph W. Scott, Don Robey, Deadric malone] - 07. Back For A Taste Of Your Love [Darryl Carter, Syl Johnson, Brenda L. Thompson] - 08. If You Want Me To Keep Loving You [Miles Grayson, Bobby Lexing] - 09. Trouble feat. Alabama Mike [Jojo Russo, Michael Benjamin, Kid Andersen] - 10. I Got There [Kid Andersen, Rick Estrin] - 11. Be Ever Wonderful [Joseph Wade Scott, Jean Matyka, Don D. Robey] / All songs written by as [noted] © 2020 - Produced by: Kid Andersen | Album credits: Sonny Green: vocs / Kid Andersen: gitaar / Jim Pugh: B3 organ / Chris Burns: clavinet, piano / Endre Tarczy: bass / Ronnie Smith, D'mar (9): drums / Mariachi Mestizo: violins / Mike Rinta: trombone / Jeff Lewis: trumpet / Aaron Lington: tenor & baritone sax / "Sax" Gordon Beadle (10) & Terry Hanck (5): sax solo's /  Alabama Mike: vocs (9)
Discography SONNY GREEN: Found! One Sou Singer [2020] |