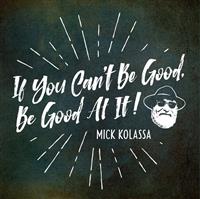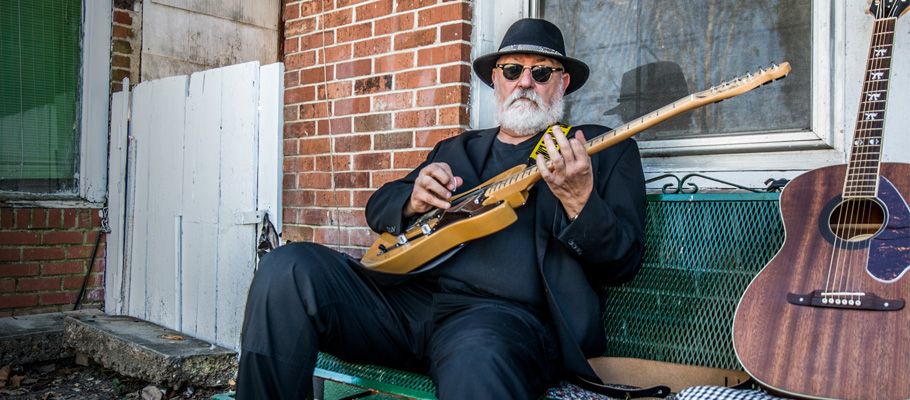 " What Mick Kolassa does, he does well indeed!... "
De in Michigan geboren Mick Kolassa woont al meer dan vijfentwintig jaar in de regio Clarksdale, Mississippi. Mick Kolassa aka Michissippi Mick is al meer dan vijftig jaar lang muzikant en "hardcore" blues liefhebber. Kolassa maakte deel uit van de Board of Directors van de Memphis Blues Foundation.
Na jaren van songwriting besloot Kolassa in 2014 'Mischissippi Mick' zijn debuutalbum op te nemen, waarvoor hij zijn vriend Jeff Jensen inschakelde als producer. In 2016 zat hij in de Ardent Studio's in Memphis voor zijn derde studio album 'Taylor Made Blues', dat hij opnieuw met Jeff Jensen als producer / gitarist opnam. Hij kon hiervoor rekenen op meerdere top muzikanten als Bill Ruffino (bas), James Cunningham (drums), Chris Stephenson (piano, orgel), Eric Hughes (harmonica), Victor Wainwright (piano), Colin John (lap steel), Castro Coleman aka Mr. Sipp, the Mississippi Blues Child (gitaar) en backing zangeressen Deb Landott, Reba Russell & Tullie Brae.
In 2017 nam Kolassa al zijn vijfde album 'Double Standards' op, een album met duetten met Sugaray Rayford, Annika Chambers, Victor Wainwright, Tas Cru, Eric Hughes, Gracie Curran, Tullie Brae en anderen. Zijn #7, 'If You Can't Be Good, Be Good At It!' verschijnt deze maand en is qua namen heel herkenbaar: Mick Kolassa: zang, gitaar - Jeff Jensen: co-producer, gitaar, percussie - Bill Ruffino: bas - John Blackmon: drums, percussie - Rick Steff: keys & Eric Hughes: harmonica. Over de gebruikelijke "guests", straks meer!
De track list bevat negen Kolassa originals. Kolassa's akoestische gitaar en Steff's orgel openen "I Can't Help Myself". Mark Franklin op trompet en Smothers op sax accentueren het aanwezige Memphis' gevoel terwijl Kolassa zingt, voordat Jensen zijn gitaarsolo doet. "Lo and Behold" is een beklijvende cover van een James Taylor nummer uit zijn carrièrebepalend album 'Sweet Baby James' uit 1970. Blackmon opent op drums het swingende titelnummer waarin Kolassa vooral advies geeft. Tullie Brae zingt hier in de achtergrond. "A Good Day for the Blues" is een slow blues à la lettre met een geweldige David Dunavent op gitaar, waarin alles misgaat en, "I've Seen" is "au contraire" een stukje gestoorde songwriting. Het is Kolassa's eerbetoon aan de blues meesters alvorens dat hij verklaart: "wat ik echt wil zien, ligt 's ochtends al naast me…".  Op viool kan je tussen de commentaren door Alice Hasen horen. Het gaat op "We Gotta" verder over relaties, waarin Franklin en Smothers hun respectievelijke solo's op trompet en sax doen. Op het relaxt swingende "Sweet Tea" zingt Kolassa over het plaatselijk favoriete drankje, met een bescheiden Eric Hughes op mondharmonica. "Slow and Easy Love", een aanstekelige (bij de dames populaire) slow blues, volgt daarna met "alweer" een geweldige solo van Jensen. "Good Night Irene" is niet de Leadbelly-klassieker maar een nummer dat Kolassa schreef voor een bevriende DJ van Down Under. Er rest nog de Howlin' Wolf klassieker uit 1962, "Who's Been Talking" (dit Latino getinte nummer is het enige nummer met Willie "Too Big" Hall op drums én een suggestieve Santana-achtige solo van Jensen) en de afsluiter, "She Kept her Head Up". Het is een akoestisch nummer dat Kolassa schreef voor zijn dochter Kassi, die tegen "met het hoofd rechtop" tegen haar borstkanker vocht.
Op 'If You Can't Be Good, Be Good At It!' bewijst Mick, met meerdere top muzikanten, die vandaag de dag met verve de dienst uitmaken, zijn grote klasse als zanger en songwriter. Ook nu weer schenkt hij met een groot hart de netto-opbrengst aan de Blues Foundation. Wat Kolassa doet, doet hij inderdaad goed!...
" On 'If You Can't Be Good, Be Good At It!' Mick Kolassa, backed by several top musicians who are in charge with verve today, proves his great class as a singer and songwriter. Again, he donates 100% of the net proceeds to the Blues Foundation with a big heart. What Kolassa does, he does well indeed!... " (ESC for Rootstime.be)
Eric Schuurmans
Album track list: 01. I Can't Help Myself (3:46) – 02. Lo And Behold (4:19) [James Taylor] – 03. If You Can't Be Good (2:36) – 04. A Good Day for the Blues (4:42) – 05. I've Seen (2:40) – 06. We Gotta (2:48) – 07. Sweet Tea (3:10) – 08. Slow And Easy Love (5:22) – 09. Good Night Irene (3:32) – 10. Who's Been Talking? (3:35) [Chester Buernett] – 11. She Kept Her Head Up (4:44) / All songs written by: M. Kolassa, or as [noted: 2,10] © 2020 - Produced by: Mick Kolassa & Jeff Jensen | Album credits: Mick Kolassa: vocals, a-guitar / Jeff Jensen: e- & a-guitar, percussion / Bill Ruffino: bass / John Blackmon: drums, percussion (1-9,11) / Rick Steff: keys / Eric Hughes: harmonica & Guests: Willie Hall: drums (10) / David Dunavent: e-guitar (4,7,10), b-vocs (10) / Tullie Brae: b-vocs (2,3,6) / Mark Franklin: trumpet (1,3,6,7) / Kirk Smothers: sax (1,3,67) / Brad Webb: slide guitar(2) / Alice Hasen: violin (5) / Kern Pratt: e-guitar / Weston Caldwell: percussion (10)
Discography MICK KOLASSA: If You Can't Be Good, Be Good At It! [2020] | 149 Delta Avenue [2018] | Double Standards, by Mick Kolassa and Friends [2018] | You Can't Do That! (Acoustic Blues Beatles Tribute), by Mick Kolassa & Mark Telasca [2017] | Taylor Made Blues [2016] | Ghosts Of The Riverside Hotel [2015] | Michissippi Mick [2014] |