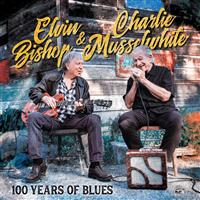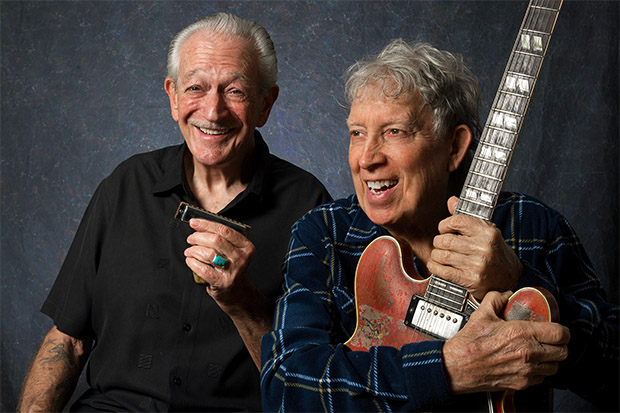 " Not often careers jointly span more than 100 years… "
Elvin Bishop, zanger/bluesgitarist (geboren, Glendale, CA, 1942) en Charlie Musselwhite, blues harpist (geboren, Kosciusko, MS, 1944), samen goed voor zeker méér dan 100 jaar blues. Voor geen enkele blues liefhebber zijn het onbekenden. Hun muzikale carrière schetsen kan, maar kost tijd en veel woorden. Van beide dus enkel eerst de grote lijnen…
We beginnen met de oudste 70-plusser, Elvin Bishop. Bishop groeide op op een boerderij in Iowa zonder stroom en vloeiend water. Op 10-jarige leeftijd verhuisde hij met zijn familie naar Oklahoma, waar hij opgroeide in een omgeving met alleen blanken. In 1959 verhuisde hij naar Chicago. Daar raakte hij snel bevriend met enkele Afro-Amerikanen en belandde hij midden in het blues-circuit van Chicago. Twee jaar later ontmoette hij Smokey Smothers, die hem op de blues gitaar leerde spelen. Hij geraakte er bevriend met Paul Butterfield en speelde vanaf 1963 in de Paul Butterfield Blues Band. Bishop is op alle vroege BBB-albums te horen, totdat hij in 1968 afscheid nam van de band. Hij verhuisde naar San Francisco, waar hij o.a. met Eric Clapton, Jimi Hendrix en B.B. King speelde.
In 1969 richtte hij de Elvin Bishop Group op. Nog in hetzelfde jaar verscheen het debuutalbum 'The Elvin Bishop Group', in 1970 volgde 'Feel It!', in 1972 'Rock My Soul' en in 1975 'Struttin' My Stuff', dat een jaar later de single "Fooled Around and Fell in Love" opleverde. Op het album 'Raisin' Hell' (1977) is een van de meest bezochte live-concerten van de band vastgelegd. Na 'Hog Heaven' (1978), 'Is You Is or Is You Ain't My Baby' (1981) en een 'Best Of'-compilatie uit 1979, werd de band uiteindelijk ontbonden. Pas in 1988 meldde Bishop zich bij Alligator Records met het album 'Big Fun'. In 1995 tourde Bishop met B.B. King en was hij tussendoor ook studiomuzikant voor o.a. voor John Lee Hooker en Clifton Chenier.
Blues harmonicaspeler Charles Douglas "Charlie" Musselwhite is, zo vertelde zijn moeder hem, van Cherokee afkomst is. Charlie groeide op met muzikale ouders. Zijn vader speelde harmonica en gitaar en zijn moeder piano. In Chicago, op zoek naar werk, ontmoet hij muziek legenden als Lew Soloff, Muddy Waters, Junior Wells, Sonny Boy Williamson, Buddy Guy, Howlin' Wolf, Little Walter en Big Walter Horton. Musselwhite huurde in Chicago een kamer onder Jazz Record Mart, de platenwinkel van Bob Koester (Delmark Records), voor wie hij soms klusjes deed en via hij kon optreden met Big Joe Williams. Door zijn werk als chauffeur voor een firma, kon hij ervaren wat er rond de clubs en bars gebeurde. Kort bij de platenzaak was er Mr. Joe's' blues club, waar vele blues artiesten optraden. Hier ontmoette Musselwhite blues man JL Hooker, met wie hij bevriend geraakte. Hooker was Musselwhite's getuige, toen hij voor de derde keer trouwde.
In 1966, Musselwhite had toen zijn eigen bluesband, debuteerde hij met 'Stand Back! Here Comes Charley Musselwhite's Southside Band'. Toen speelden de legendarische Fred Below (drums), Barry Goldberg (keys) en Harvey Mandel met hem. Door het succes van dit album kon hij naar San Francisco verhuizen. Sinds zijn debuut heeft Musselwhite al meer dan vijfentwintig albums uitgebracht. In 1990 tekent Musselwhite bij Alligator Records, wat een nieuwe boost voor zijn carrière betekende.
Musselwhite is te horen op albums van andere artiesten als Bonnie Raitt ('Longing in Their Hearts', 1994), The Blind Boys of Alabama ('Spirit of the Century', 2001), Tom Waits ('Mule Variations', 1999), bluegrass violist Vassar Clements en INXS ('Suicide Blonde', 1990). Zijn album 'Continental Drifter' uit 1999 met de Cubaan Cuarteto werd o.w.v. de politieke gevoeligheid, opgenomen in Noorwegen. In 2010 speelt hij samen met Hubert Sumlin op JW-Jones' 'Midnight Memphis Sun'. De lijst van "appearances" is nog veel, veel langer, te lang om hier volledig weer te geven!...
Op zijn album 'The Well' (2010) gaat de titelsong over Jessica McClure, een kindje dat in 1987 meer dan achtenvijftig uren, op zes meter diep, vastzat in een waterput. Dit nummer was voor Musselwhite de aanleiding om met drinken te stoppen. Het meisje overleefde met een gebroken arm door kinderrijmpjes te blijven zingen. Ze werd na drie dagen bevrijd. 
In 2011 tourde Musselwhite met de akoestische bluesband Hot Tuna en met Cyndi Lauper, met wie hij te zien was in "Good Morning America" en tijdens Jools Holland's eindejaar show. In 2012 stond Musselwhite in de studio met Ben Harper voor de opname van 'Get Up!', een album dat in 2014 een Grammy Award als "Best Blues Album" haalde. Musselwhite zelf kreeg al veertien W. C. Handy Awards, werd zes keren genomineerd met een Grammy nominatie en ontving meerdere Lifetime Achievement Awards. In 2010 is hij geïntroduceerd in de Blues Hall of Fame. In 2014 en 2015 won Musselwhite de BMA in de categorie "Best Instrumentalist – Harmonicist".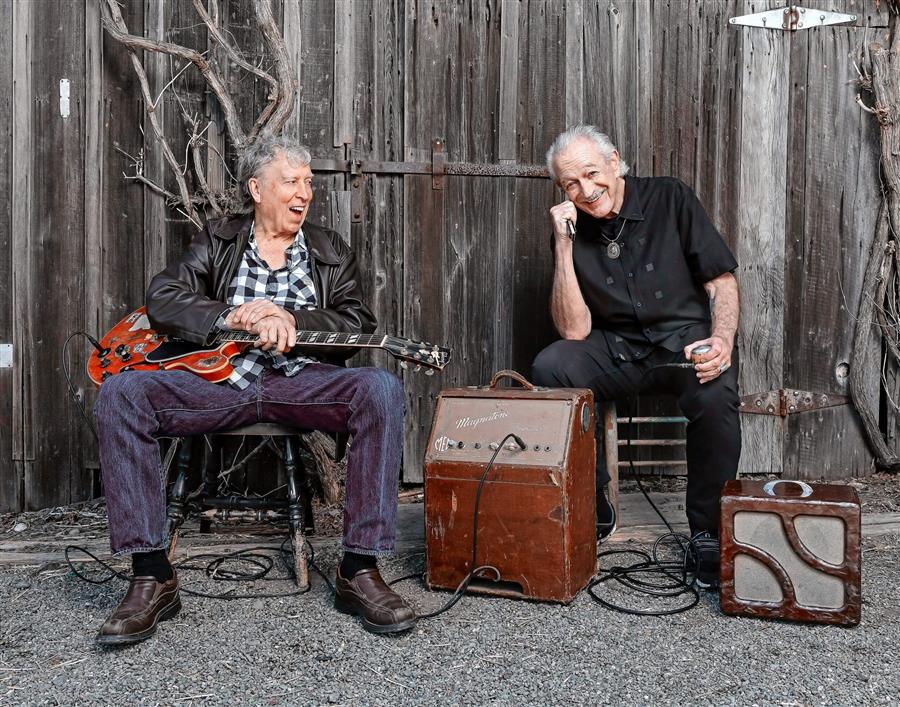 "Their first album together, '100 Years of Blues', plays on that longevity but neither Oklahoma guitar ace Bishop, nor Tennessee harmonica legend Musselwhite sound ready for retirement just yet…"  
Elvin Bishop en Charlie Musselwhite ontmoetten elkaar ongetwijfeld wel ergens "onderweg" tijdens hun lange muzikale carrières. Zo deelden ze eens het podium voor een jam in California en tourden ze in de jaren '80 samen in Hawaii, maar stonden nog samen in een studio. '100 Years of Blues' is hun éérste gezamenlijk project, waarmee ze teruggaan naar de roots. Beiden deden de opnames verder met gitarist Bob Welsh, die ook even achter de piano zat en co-producer Kid Andersen, die voor vier nummers achter de contrabas stond en in wiens studio in Greaseland in San Jose, CA, de opnames gebeurden. Een drummer werd niet uitgenodigd. Op de tracklist vullen netjes vier nummers van Bishop en vier van Musselwhite, een gemeenschappelijk nummer en drie covers het overzicht. 
Het wordt je vanaf de opener "Birds of a Feather" (de eerste Bishop compositie) al onmiddellijk duidelijk dat het Bishop en Mussellwhite zijn, die hier de show gaan stelen. Bishop met zijn verfijnd gitaarspel en geweldige zang en Musselwhite met zijn kortom eerlijk, subliem, soms subtiel harmonicaspel. Roosevelt Sykes' countryblues "West Helena Blues" volgt hierna en geeft Musselwhite alle ruimte die hij in de schijnwerpers nodig heeft om als zanger en harpist te schitteren. Bob Welsh voegt hier knap wat piano toe. "What the Hell?" is al het volgende Bishop nummer. Uptempo is geen bezwaar voor Charlie die ook nu laat horen, dat hij zich duidelijk in zijn sas voelt. "Good Times" is een Musselwhite original met als thema liefdesverdriet, met Charlie op slide gitaar, wat zeker velen aangenaam zal verrassen. Musselwhite bezingt het thema van melancholisch tot angstaanjagend. Knap is hoe daarna in "Old School" Musselwhite's harp over Bob Welsh's gitaar en Kid's bas een net spant waarmee hij over de cadans heerst. Ook erg oldskool klinkt "If I Should Have Bad Luck" en, als Bishop Leroy Carr's "Midnight Hour Blues" met veel gevoel zingt doven met Charlie's harp de lichten. "Blues, Why Do You Worry Me?" is een aanstekelige shuffle die Musselwhite schreef. De song wordt opnieuw verankerd door Welsh op piano en versierd met Bishop's gitaar. "South Side Slide",de laatste Bishop song klinkt melancholisch en op Musselwhite's laatste "Blues for Yesterday",krijgt Charlie vanachter de piano de steun van Welsh, terwijl met Bishop met slides het verleden vervaagt. "Help Me" het Sonny Boy Williamson nummer, klinkt hier vooral door Bishop's zang fris en hedendaags. "100 Years of Blues" sluit het album af. Bishop en Musselwhite hebben het in een onderonsje over hun leven als blues mannen. Ze delen de zang en laten hun instrumenten de openingen vullen.
'100 Years of Blues' van muziek veteranen Elvin Bishop & Charlie Musselwhite kan je nu al een klassiek album, met blues pur sang én van topklasse, noemen. Iets anders hadden we van beide masters niet verwacht.
" '100 Years of Blues' by music veterans Elvin Bishop & Charlie Musselwhite can already be called a classic album, with pure and top-class blues. We didn't expect anything else from both masters... " (ESC for Rootstime.be)
Eric Schuurmans
Interview by Kid Andersen
Album track list: 01. Birds of a Feather - 02. West Helena Blues [Roosevelt Sykes] - 03. What the Hell? – 04. Good Times – 05. Old School – 06. If I Should Have Bad Luck – 07. Midnight Hour Blues [Leroy Carr] – 08. Blues, Why Do You Worry Me? – 09. South Side Slide – 10. Blues For Yesterday - 11. Help Me [Wille Dixon, Ralph Bass & Sony Boy Williamson] – 12. 100 Years of Blues / All songs written by: Elvin Bishop (1,3,5,9,12) & Charlie Musselwhite (4,6,8,10,12), or as [noted: 2,7,11] © 2020 – Produced, recorded, mixed & mastered by: Kid Andersen @ Greaseland Studios, San Jose, Ca & Co-produced by: Elvin Bishop, Charlie Musselwhite & Bob Welsh | Album credits: Elvin Bishop: guitar, vocs (1,3,5,7,9,11,12) / Charlie Musselwhite: harmonica, vocs (2,4,6,8,10,11), slide guitar (4) / Bob Welsh: guitar (1,3,5-7,9,12), piano (2,4,8,10,11) / Kid Andersen: upright bass (1,4,5,12)(1,4,5,12)
Discography ELVIN BISHOP & CHARLIE MUSSELWHITE: 100 Years of Blues [2020] || ELVIN BISHOP: Elvin Bishop's Big Fun Trio [2017] | Can't Even Do Wrong Right (Alligator) [2014] | Raisin' Hell Revue (live) (Delta Groove Music) [2011] | Booty Bumpin Live (Blind Pig) [2010] | Red Dog Speaks (Delta Groove Music) [2010] | Juke Joint Jump/Struttin' My Stuff (Raven) [2009] | Tulsa Shuffle: the Best of Elvin Bishop (Blue Label) (SPV) [2008] | The Blues Rolls On (Delta Groove Productions), Grammy Awards 2009 nominated [2008] | Booty Bumpin' - Live (Blind Pig Records) [2007] | Best of Elvin Bishop (Umvd) [2006] | Gettin' My Groove Back (Blind Pig Records) [2005] | Extended Versions [2004] | Fillmore & Epic Recordings (Evangeline) [2004] | Best of Elvin Bishop (Universal Special Products) [2004] | Party Till the Cows Come Home (Acadia) [2004] | That's My Partner! w/Little Smokey Smothers) (Alligator) [2003] | Feel It! (Sundazed) [2003] | Ace in the Hole (Alligator) 2003] | 20th Century Masters (Universal Records) 2002] | Extended Versions (Collectables Records) [2001] | King Biscuit Flower Hour Presents in Concert - live (King Biscuit Entertainment) [2001] | That's My Partner! - live (Alligator) [2000] | The Skin I'm (Alligator) [1998] | The Best Of Elvin Bishop [1997] | Ace in the Hole (Alligator) [1995] | Tulsa Shuffle: The Best Of Elvin Bishop [1994] | 20th Century Masters: The Millennium Collection... [1992] | Sure Feels Good: The Best Of Elvin Bishop [1992] | Don't Let the Bossman Get You Down! (Alligator) [1991] | Big Fun! (Alligator) [1988] | Is You Is or Is You Ain't My Baby [1981] | Hog Heaven (Capricorn Records) [1978] | Raisin' Hell [live] (Capricorn Records) [1977] | Hometown Boy Makes Good! (Capricorn Records) [1976] | Struttin' My Stuff (Capricorn Records) [1975] | Juke Joint Jump (Capricorn Records) [1975] | Let It Flow (Capricorn Records) [1974] | The Best of Elvin Bishop: Crabshaw Rising [1972] | The Elvin | Rock My Soul (Epic Records) [1972] | Feel It! (Sundazed) [1970] | The Elvin Bishop Group (Sundazed) [1969] || CHARLIE MUSSELWHITE: No Mercy In This Land (met Ben Harper) (ANTI/Epitaph) [2018] | I Ain't Lyin'... Live (Henrietta) [2015] | Get Up!, w/Ben Harper) (Stax-Concord/UMe) [2013] | Juke Joint Chapel - live (Henrietta) [2012] | The Well (Alligator) [2010] | Rough Dried: Live @ the Triple Door (Henrietta) [2008] | Black Snake Moan - Music from the Motion Picture) (New West) [2007] | Delta Hardware (Real World-Narada/EMI) [2006] | Deluxe Edition (compilation) (Alligator) [2005] | Sanctuary (Real World-Narada/EMI) [2004] | Darkest Hour: The Solo Recordings of Charlie Musselwhite (Henrietta Records) [2003] | One Night in America (Telarc) [2002] | Up And Down the Highway: Live 1986 (Indigo / Cambridge Blues) [2000] | Best of the Vanguard Years (compilation) (Vanguard) [2000] | Harpin' On A Riff: The Best Of Charlie Musselwhite (compilation) (Music Collection International) [1999] | Super Harps, w/James Cotton, Billy Branch, Sugar Ray Norcia) (Telarc) [1999] | Continental Drifter (Point Blank-Virgin/EMI) [1999] | Rough News (Point Black-Virgin/EMI) [1997] | The Blues Never Die (compilation) (Vanguard) [1994] | In My Time (Alligator) [1993] | Signature (Alligator) [1991] | Ace of Harps (Alligator) [1990] | Memphis Charlie (compilation) (Arhoolie) [1989] | Cambridge Blues (Blue Horizon) [1988] | Mellow-Dee (CrossCut) [1986] | Where Have All the Good Times Gone? (Blue Rock'it) [1984] | Curtain Call: Charlie Musselwhite & The Dynatones 'Live' (War Bride-Solid Smoke / Westside) [1982] | The Harmonica According To Charlie Musselwhite (Kicking Mule; later uitgebracht bij Blind Pig) [1979] | Times Gettin' Tougher Than Tough (Crystal Clear) [1978] | The Cream met John Lee Hooker (Tomato) [1977] | Leave The Blues To Us (Capitol) [1975] | Goin' Back Down South (Arhoolie) [1974] | Takin' My Time (Arhoolie) [1971] | Memphis, Tennessee (Paramount-ABC/MCA) [1970] | Tennessee Woman (Vanguard) [1969] | Louisiana Fog (Cherry Red Records/Kent Music) [1968] | Stone Blues (Vanguard) [1968] | Stand Back! Here Comes Charley Musselwhite's Southside Band (Vanguard) [1967] |