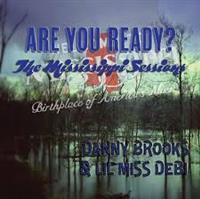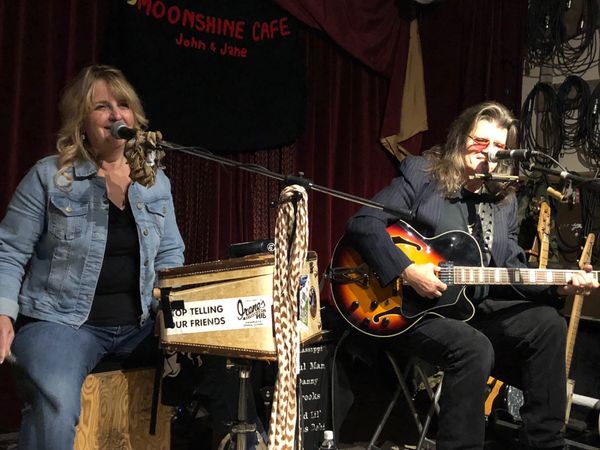 " Ready for two Texanadians and some Texassippi?… "
De uit Canada afkomstige R&B-muzikant, singer-songwriter, auteur Danny Brooks is muzikaal actief vanuit zijn huidige thuisbasis Llana in Texas. Brooks groeide op met Hank Williams, Solomon Burke, Taj Mahal, John Lee Hooker, de Allman Brothers, Blind Boys of Alabama en Rev. Jumpin' Jim Jericho. Via zijn ouder broer ontdekte hij de platen van Joe Tex, Bobby Blue Bland en Sam Cooke.
Met Brooks haal je meteen twee muziekstijlen in huis. De Blues afkomstig van de drassige Mississippi Delta en de warme Soul van Memphis, waaraan hij de artiestennaam "Texassippi Soul Man" dankt. Brooks treedt op met verschillende volledige bands als Danny Brooks & The Rockin' Revelators (met wie hij de Soulsville trilogie opnam), Danny Brooks & The Austin Brotherhood en met Danny Brooks & The Memphis Brothers. Verder maakt hij ook deel uit van het Northern Blues Gospel Allstar koor. Tussendoor ziet hij het ook zitten met zangeres / percussioniste en partner "Lil Miss" Debi (Middlebrook). Brooks en Lil Miss Debi identificeren zich als Texanadians.
Enkele jaren geleden, na de release van zijn zevende album, stelde Mitch Lopate hem voor aan Johnny Sandlin, de legendarische producer van Capricorn Records, wat hem naar Decatur in Alabama bracht om met Sandlin 'No Easy Way Out' (2007) op te nemen met muzikanten van Muscle Shoals: David Hood, Spooner Oldham, Scott Boyer, Kelvin Holly, Bill Stewart, Bonnie Bramlett, Kevin McKendree, James Pennebaker, The Muscle Shoals Horns, Carla Russell & Tina Swindell. Het werd een hoogtepunt in zijn carrière en harde leven, dat soms door alcohol en drugs behoorlijk verkeerd zat.
'Are You Reday? – The Mississippi Sessions' is de titel van het nieuwe album/project dat Danny Brooks en Lil Miss Debi als opvolger van 'Get Your Joy On' (2017) in Mississippi, buiten Jackson, opnamen. Niet minder dan 20 tracks -een blend van blues, swampy aanvoelende Americana en enkele aanstekelige gospels- vullen 1u20 lang de tracklist met 19 nummers die Brooks (waarvan hij er één schreef met Dean McTaggart) schreef, aangevuld met de John Prine klassieker uit 1971, "Angel from Montgomery", die Debi voluit in de schijnwerpers zet. De line-up (met o.a. Joel May, Micah May, Chalmers Davis, Sam Brady, Greg Martin, John Fannin, James Lawlis…) maakt ook nu weer indruk.
Het album opent rockend met de titelsong, een smaakmakend nummer waarop drummer Joel May en zijn broer Micah op bas te horen zijn. Beiden werden onder de vleugels genomen door hun vader Pastor May, die hen vaak in zijn kerk liet optreden. Ook Jezus heeft de blues en dat zingen Debi en Danny uit in "Jesus Had the Blues": "Love is a hurting thing, that's why Jesus had the blues…". Op gitaar is hier Greg Martin te horen. Met wat reggae omarmt "Jamaica Sun" de boodschap van hoop: "bad times don't last forever, soon the good times will roll…". De soulblues ballade "We Do Whatever It Takes" draagt Danny op aan zijn eega Debi. "Let me Know" is een gospel, die de openheid in een relatie bezingt. Heel bluesy klinkt "No Easy Way Out" waarin Danny het over de mooie en donkere kanten van het leven heeft. "One More Mile (to Mississippi)" was eerst een shuffle maar kreeg een update en veel Hill Country gevoel. Danny doet het nummer samen met Debi, die op cajun en deb-bone er het ritme inhoudt. Waar hebben we dit nog gehoord: "Rock 'n Roll Was the Baby (and Daddy Was the Blues…")? Met mooie Memphis Soul word je ondergedompeld in "Where Will You Stand" en "Hold Onto Love" om daarna gewekt te worden met "Broken", zowat het levensverhaal van Danny. Wat Cajun krijg je over je heen met "Put a Little Rock 'n Roll in Your Soul". Toetsenist is hier Chalmers Davis en bassist van dienst, Geri O'Neil. Met "Me and Brownie McGhee" trekken we de katoenvelden in en "Tell Me About It" schreef Danny voor dochter Caitlin. In de ballade "When I'm Holding You" volgt er dan nog een liefdesverklaring en de afsluiter "The Battle" is gebaseerd op profetieën, die zich voor onze ogen ontvouwen. Danny vond het een "doordacht provocerend" nummer, waarin hij het gevecht om de ziel van een man centraal staat.
Danny Brooks & Lil Miss Debi waren onbekenden, tot ze met hun "Texassippi" nieuwe muzikale mooie dingen introduceerden. Soms moet je durven te verkennen en, deze "Texanadians" met hun Memphis soul en Delta blues zijn zeker een ontdekking.
" Danny Brooks & Lil Miss Debi were somewhere strangers, until they introduced new beautiful musical things with their "Texassippi". Sometimes you must explore and, these Texanadians with their Memphis soul and Delta blues, are certainly a discovery… " (ESC for Rootstime.be)
Eric Schuurmans
10 cd's te winnen!
Wil je daar kans op maken, dan mail je ons gewoon even:
je naam, je adres en de vermelding: DANNY BROOKS & LIL MISS DEBI
Binnen een aantal weken wordt uit alle inzendingen de gelukkigen getrokken.
Wij hopen dat u massaal Rootstime - hier - zult mailen
De winnaars worden per mail verwittigd.
Album track list: 01. Are You Reday? - 02 Jesus Had the Blues - 03 Jamaica Sun - 04 We Do Whatever It Takes - 05 Let me Know - 06 No Easy Way Out - 07 Angel From Montgomery [John Prine] -  08 Coming Home - 09 One More Mile (to Mississippi) - 10 Rock 'n Roll Was the Baby - 11 Where Will You Stand - 12 Hold On to Love - 13 Broken - 14 Climb that Mountain - 15 Put a Little Rock 'n Roll in Your Soul - 16 Whitout Love- 17 Me and Brownie McGhee - 18 Tell Me About It - 19 When I'm Holding You - 20 The Battle / All songs written by: Danny Brooks & Dean McTaggart (19), or as [noted: 7] © 2020 - Produced by: Tom Easely & Danny Brooks | Album credits: Danny Brooks: vocs, guitar, slide, harmonica, stompboard / Lil Miss Debi: vocs, cajon, deb-bone (suitcase snare) / Joel May: drums (1-6,8,11-13,16,19,20) / Micah May: bass (1-6,8,11,16,19,20) / Chalmers Davis: B3, Wurlitzer piano (5,7,11,12,14-16) / Sam Brady: B3, Rhodes piano (1-3,6,8,13,19,20) / Greg Martin (1-3,6,8,13,19,20), John Fannin (4,5,11,12,16) / James Lawlis: bari, tenor, alto sax, flute, clarinet (1-3,6,8,20) / Geri O'Neill: bass (7,12-15), b-vocs (2-5,12,13,16) / Prof. Lewis: B3, piano (4) / Paul Mitchel: trumpet (20) / Peter Hysen: tuba (20)
Discography DANNY BROOKS (& the ROCKIN' REVELATORS* / & LIL MISS DEBI**): Are You Reday?- The Mississippi Sessions** [2020] | Get Your Joy On** [2017] | This World Is Not Your Friend** [2015] | Texassippi Soul Man** [2012] | Canadian Celebration of The Band, by Garth Hudson – feat. Neil Young, Peter Katz, Suzie McNeil… and Danny Brooks & the Rockin' Revelators [2010] | Soulsville: Live @ the Palais Royale* [2009] | No Easy Way Out [2007] | Soulsville: Rock This House* [2005] | Soulsville: Souled Out 'n Sanctified* [2004] | Righteous -Live @ the Southside Shuffle [2000] | It's a Southern Thing [1998] | Rough, Raw & Simple [1993] | After the Storm [1990] |