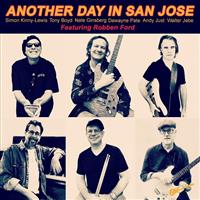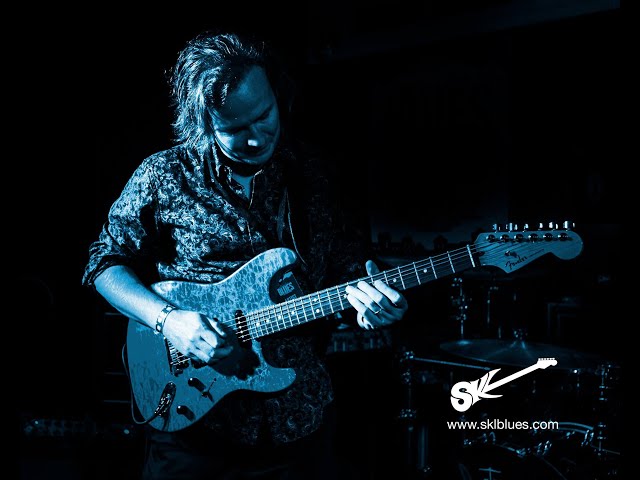 " An Aussie who plays the blues guitar excellently!… "
Muziekkenners kennen Simon Kinny-Lewis misschien wel als gitarist van de band van Chris Cain, maar oorspronkelijk is hij als muzikant afkomstig uit de fusionhoek. Deze in Sidney verblijvende gitarist, zanger, componist en producer is met zijn typisch, kenmerkend hard snijdend gitaargeluid een blues muzikant van Down Under.
Op zijn zevende studio album 'Another Day in San Jose' wordt Simon bijgestaan door een sterke, voornamelijk in Californië gevestigde band, bestaande uit: Tony Boyd (drums), Nate Ginsberg (keyboards), Dewayne Pate (bas), Andy Just (harmonica), Walter Jebe (slidegitaar) en, op één nummer door Robben Ford. De tracks op het album kan je verdelen in twee delen: vier eigen composities en zes uiteenlopende, maar gekende blues standards.
'Another Day in Jose' -de bijna "vanzelfsprekende" opvolger van 'A Day in Jose' (2019)- opent met een Don Nix nummer uit 1973, "Black Cat Moan". Vergeleken met de John Mayall versie maken SKL en de band er een stevig funky nummer van, met snedige gitaartussenkomsten en Andy Just's scheurende rauwe harmonica. Op de eerste original, "Dagger Eyes" is Robben Ford de gast. Zijn gitaar maakt dit trage nummer alsnog heel aanstekelig. Chris Cain schreef "Trouble Making Woman", een broeierige jazzy ballade die Simon erg knap zingt. Elmore James' klassieker "It Hurts Me Too" klinkt lekker lui met alweer SKL's aanstekelige gitaarspel en Nate Ginsberg loom tokkelend op piano. Op "Devil on My Trail" maken Simon en Andy Just al hakkend de weg vrij voor Willie Dixon's "I Just Want to Make Love to You", dat hier een groovende funky update krijgt. Nog een blues standard -een vroege versie van het nummer wordt toegeschreven aan Pinetop Sparks en zijn broer Milton- is de door o.a. Memphis Slim bewerkte song "Everyday I Have the Blues". Dit gekende blues nummer, dat in verschillende stijlen is uitgevoerd, wordt hier erg swingend gebracht. Een andere eigen compositie "Blue and Lonesome" is een mooie rustige ballade met de "resten" van Lewis' jazzy, fusion gitaar. Er rest nog Muddy Waters' "I Can't Be Satisfied" om mee af te sluiten. Het nummer krijgt hier een vlotte, haast zydeco-achtige en swingende opwindende draai mee.
'Another Day in San Jose' is een album waarop Simon Kinny-Lewis nog maar eens bewijst, dat hij zijn plaats in top naast de andere grote bluesgitaristen ruim verdient.
" On 'Another Day in San Jose', Simon Kinny-Lewis proves once again, that he more than deserves his place in the top alongside the other great blues guitarists… " (ESC for Rootstime.be)
Eric Schuurmans
10 cd's te winnen!
Wil je daar kans op maken, dan mail je ons gewoon even:
je naam, je adres en de vermelding: SIMON KINNY-LEWIS
Binnen een aantal weken wordt uit alle inzendingen de gelukkigen getrokken.
Wij hopen dat u massaal Rootstime - hier - zult mailen
De winnaars worden per mail verwittigd.
Album track list: 01. Black Cat Moan [Don Nix > John Mayall] (feat. Andy Just, Walter Jebe, Nate Ginsberg, Tony Boyd & Dewayne Pate) – 02. Dagger Eyes (feat. Robben Ford, Nate Ginsberg, Tony Boyd & Dewayne Pate) - 03. Trouble Making Woman [Chris Cain] (feat. Walter Jebe, Andy Just, Nate Ginsberg, Tony Boyd & Dewayne Pate) – 04. It Hurts Me Too  [Elmore James] (feat. Nate Ginsberg, Tony Boyd & Dewayne Pate) – 05. Devil on My Trail (feat. Walter Jebe, Andy Just, Nate Ginsberg, Tony Boyd & Dewayne Pate) – 06. I Just Want to Make Love to You [Willie Dixon] (feat. Walter Jebe, Andy Just, Nate Ginsberg, Tony Boyd & Dewayne Pate) – 07. Everyday I Have the Blues [Memphis Slim] (feat. Nate Ginsberg, Tony Boyd & Dewayne Pate) – 08. Blue and Lonesome (feat. Nate Ginsberg, Tony Boyd & Dewayne Pate) – 09. Evil Girl (feat. Andy Just, Nate Ginsberg, Tony Boyd & Dewayne Pate) – 10. I Can't Be Satisfied [Muddy Waters] (feat. Walter Jebe, Andy Just, Nate Ginsberg, Tony Boyd & Dewayne Pate) / Words/music © 2020 by: Simon Kinny-Lewis, or as [noted: 1,3,4,6,7,10 – songs arranged by Simon Kinny-Lewis, exc. 10, by Walter Jebe] - Produced by: Simon kinny-Lewis | Album line-up: Simon Kinny-Lewis: vocs, guitars / Robben Ford: guitar (2) / Andy Just: harmonica / Nate Ginsberg: keys / Dewayne Pate: bass / Tony Boyd: drums / Walter Jebe: slide guitar
Discography SIMON KINNY-LEWIS: Another Day in San Jose [2020] | A Day in San Jose [2019] | Bad Whiskey [2018] | Catfish [2017] | Street Blues [2016] | Strat Attack [2015] | Country Fried Chicken [2014] |