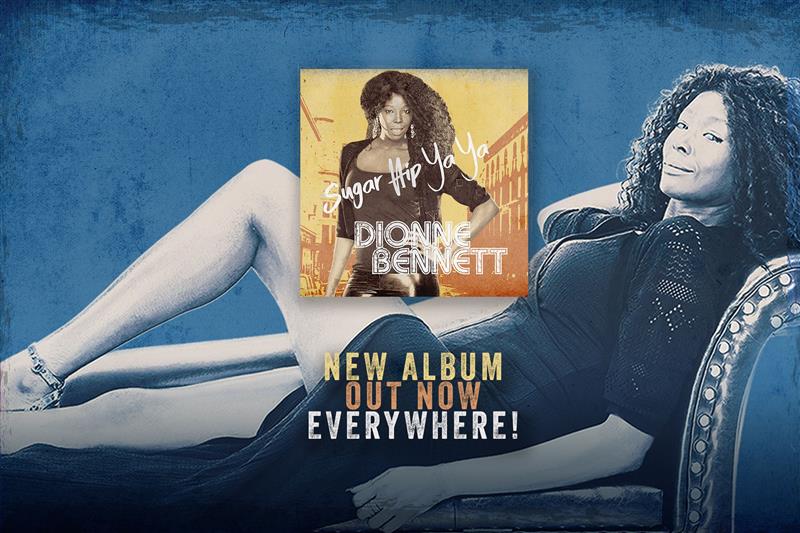 "On top of the UK's Roots Music Chart!"
Dionne Bennett is een Brits/West-Indische singer-songwriter, producer en radiopersoonlijkheid. Ze begon met zingen en live optredens op 14-jarige leeftijd en bracht haar eerste soul-single uit tegen de tijd dat ze 15 was. Dionne staat internationaal bekend om haar unieke en diverse vocale stijl, die alle door de Afro-cultuur beïnvloede genres omvat, van blues, jazz tot r&b, soul, reggae, drum bass, funk, r&r en meer.
'Sugar Hip Ya Ya' is haar officiële debuutalbum op Hunnia Records. Het album bevat twee Soul klassiekers: "Tell Mama" geschreven door Clarence Carter en beroemd gemaakt door Etta James en "Yes We Can Can" geschreven door Allen Toussaint en beroemd gemaakt door The Pointer Sisters en Lee Dorsey. Van de overige acht nummers schreef Dionne er zeven en "Let It Rain" samen met Little G Weevil.
Het album is opgenomen en wordt uitgebracht in Pure DSD 256 Stereo. Het werd geproduceerd door Little G Weevil. Naast Dionne maken ook nog Laszlo Borson op gitaar, Matyas Premecz op Hammond B3 orgel en keyboards, Attila Herr op bas en Lajos Gyenge op drums en percussie, van de line-up deel uit.  Daarnaast waren er nog een groot aantal bekende gasten, waaronder Robert Zoltan Hunka (zang) van Hunnia Records!
Over "Tell Mama", de geweldige opener van Clarence Carter en, "Yes We Can Can" dat hier met opwindende "Wang Dang Doodle"-allures gebracht wordt, hebben we het al even gehad. Op de titelsong trekt Dionne al direct de lijn door om dan, gedragen door de baslijn van Attila Herr, verder te gaan met de funky rocker "Spy Me", het zwoele "My Life" en de met gospel gevulde dankzegging omdat ze zangeres werd, "Full Time Job". In het met dubstep beïnvloedde "Let It Rain" zitten samples van de stem van Dr. Martin Luther King Jr., uit zijn "We Shall Overcome" speech en, met zuidelijk beïnvloede R&B licks van Little G Weevil. In de dramatische ballade "Don't Fall for Love" zitten herkenbare invloeden van Billie Holiday en Carmen McRae. Dionne moedigt ons daarna allemaal aan om het beter te doen in "Get It Right", met een solo van Laszlo, waarover zeker nog niet het laatste gezegd is. In de afsluiter "Get Style"  schittert de ganse band met solo's terwijl Dionne het feestje leidt.
"Few are born with such a voice and so many talents as Dionne Bennett. Her must-discover debut 'Sugar Hip Ya Ya' speaks volumes!..." (ESC for Rootstime)
Eric Schuurmans
Album track list: 01. Tell Mama [Clarence Carter > Etta James] – 02. Sugar Hip Ya Ya – 03. Spy Me – My Life – 05. Full Time Job – 06. Yes We Can Can [Allen Toussaint >> The Pointer Sisters, Lee Dorsey] – 07. Let It Rain [w/Little G. Weevil] – 08. Don't Fall for Love – 09. Get It Right – 10. Get Style / Music/Lyrics by: Dionne Boennett, w/ or as [noted: 1,6] © 2021 - Produced by: Dionne Bennett | Album credits: Dionne Bennett: vocs / The Band: Laszlo Borson: guitar / Matyas Premecz: Hammond B3 Organ, keys / Attila Herr: bass / Lajos Gyenge: drums, percussion & Featuring: Tamas Sovari: trumpet (1,2,6,7) / Zoltan Albert: sax (1,2,6,7) / Bvs: Ritas Foris & Jonathan Andelic (1,2,6,7) - Adas Zsuffa & Robert Zoltan Hunka (10) / Little G Weevil: lead guitar (2), bvs (3,10)
Discography DIONNE BENNETT: Sugar Hip Ya Ya [2021] | Cofleidia Fli (single) [2021] | Let It Rain w/Little G. Weevil (single) [2020] | Plain Gold Ring w/Jason Rebello (single) [2016] |