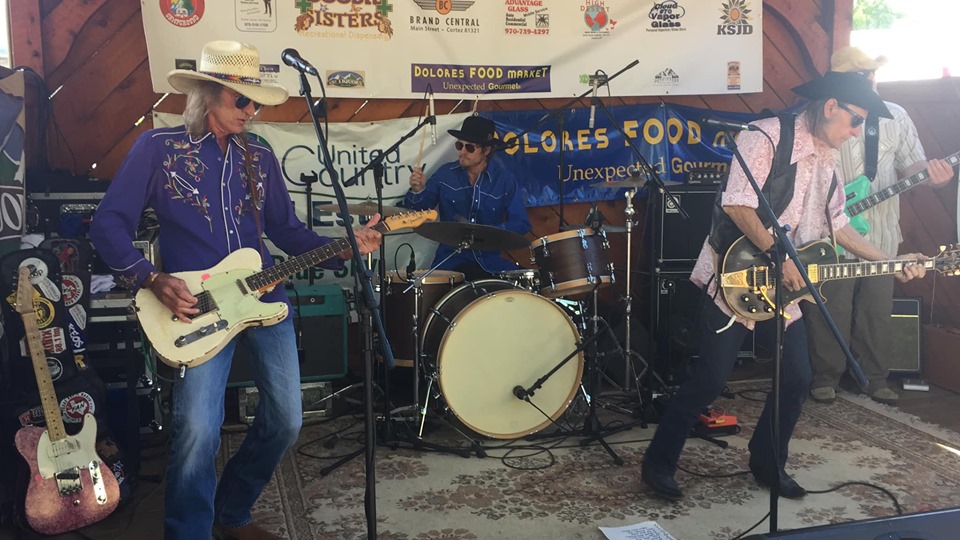 "From Austin/TX
- roots rock jangle pop Americana honkytonk spaghetti western swing
- nitro twang with B-bender overtures…
any questions?"
Uitgedost in echte koeienhuid helpen deze vier muzikanten bij het populair maken van het grootste exportproduct uit de zuidwestelijke hoek van de staat Colorado, de nitro-twang, waarbij nitro staat voor het explosieve, agressieve en twang voor de typische gitaarstijl. Het brouwsel, gedeeltelijk kosmische country, spaghettiwestern, garagepunk en r'n'r, werd gebrouwen in Montezuma County en geperfectioneerd door gitarist Dale "X" Allen.
Frontman Dale "X" Allen en zijn band Genuine Cowhide zijn al jaren leveranciers van dit product, een merk dat ontwikkeld is in Austin en dat verder geperfectioneerd werd in het landelijke zuidwesten. Naast Allen zijn Moe Cooley op gitaar, Justin Richert op bas en Luke Ayres op drums de andere leden van de band.
Ze brachten al zes albums uit en hun laatste (de opvolger van 'Red Dirt Colorado Girl', 2019), "All Roads Lead to Colorado", voldoet volledig aan de definitie, waarbij "spaghettiwestern-mystiek, jangle, reverb en teksten over eenzamen, beginnen met twang…", de ingrediënten voor cowboys, punks en cowpunks.
'All Roads Lead to Coloroda' opent met "River of Sorrow", waarin je al kunt kennis maken met Allen's aanstekelige surfgeluid, gevolgd door de shuffle "Black Canyon Chant", waarin een locomotief voorbij hobbelt en de rocker "Next Broken Heart". "My Guitar's Been Drinking Tonight" brengt dan even wat rust en in "Nitro Twang" worden nog eens de puntjes op de "i" gezet, als "X" zingt: "we like to rock and we like to swing, but it don't mean a thing if it don't twang…". Het nummer gaat in een fractie van een seconde over van een vrolijke rocker in een roekeloze boogie, waarbij je net niet uit de bocht gaat. "Smoke on the Wind"  is een historische ballade over de "416 & Burro Fire Complex Fire", twee grote bosbranden die in 2018 in het zuidwestelijke deel van Colorado woedden en méér dan 23.000 ha verwoestten en, meer dan $ 43 miljoen hebben gekost. Na al de volgende rocker "Secret", sluit het album af met de titelsong en "Chupacabra". Beide nummers zijn mysterieuze uitbarstingen van westerse "noir" eigen aan o.a. Jason & the Scorchers, The Beat Farmers en… de Stones uit hun "Country Honk"-tijdperk, waarin flarden Rock en Country met elkaar verbonden worden
"On 'All Roads Lead to Colorado' Genuine Cowhide is the perfect take on the nitro-twang style, bending and breaking guitar chords to serve their style… " (ESC for Rootstime)
Eric Schuurmans
10 cd's te winnen!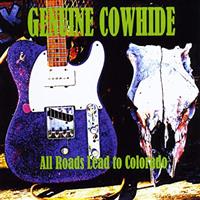 Wil je daar kans op maken, dan mail je ons gewoon even:
je naam, je adres en de vermelding: GENUINE COWHIDE
Binnen een aantal weken wordt uit alle inzendingen de gelukkigen getrokken.
Wij hopen dat u massaal Rootstime - hier - zult mailen
De winnaars worden per mail verwittigd.
Album track list: 01. River of Sorrow – 02. Black Canyon Chant – 03. Next Broken Heart – 04. My Guitar's Been Drinking Tonight – 05. Nitro Twang – 06. Smoke on the Wind – 07. Secret – 08. All Roads Lead to Colorado – 09. Chupacabra / Music/Lyrics by: Dale Allen, w/ or as [noted] © 2021 | Album credits: Dale "X" Allen: vocs, guitar / Moe Cooley: guitar / Justin Richert: bass / Luke Ayres: drums
Discography GENUINE COWHIDE: 6-All Roads Lead to Colorado [2021] | You Got It Comin' (single) [2020] | 5-Red Dirt Colorado Girl [2019] | 4-Breakthrough Comeback [2017] | 3-Themes from the Great Imaginary Westerns [2014] | 2-Paint the Ponies [2009] | 1-Modern Sounds in the Hillbilly and Western [2005] |