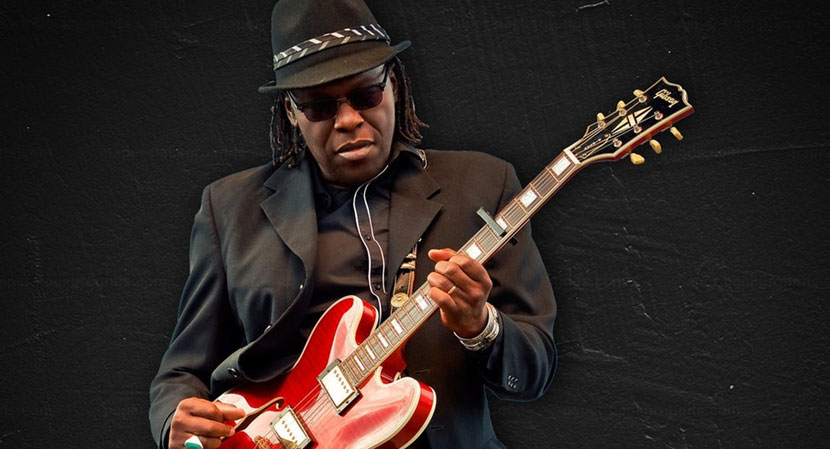 "Don't be afraid to add other cultures into your sound…"
Blues Hall of Fame inductee, singer-songwriter, gitarist én 70+'er Joe Louis Walker groeide op in San Francisco in een muzikaal gezin. Al jong leerde Joe Louis gitaar spelen en rond zijn zestiende trad hij al op in de SF-Bay area. In deze grote baai aan de westkust van de VS (met steden als San Jose, Oakland en Richmond), werd hij huisgitarist in The Matrix, een club in de Fillmore Street in SF, waar beroemdheden als Lightnin' Hopkins, Jimi Hendrix en Thelonious Monk optraden. In 1968 ontmoette hij Joe Michael "Mike" Bloomfield (1943-1981), met wie hij bevriend geraakte. Door Bloomfield kleurde Walker's stijl meer rock.
Van 1975 tot 1985 trad Walker nog enkel op als gospelzanger van The Spiritual Corinthians. In 1986 koos Walker met de Boss Talkers opnieuw voor de blues en bracht hij zijn debuut 'Cold is The Night' uit. Tussen 1988 en 2009 bracht Walker 23 albums uit en tourde hij wereldwijd. In 2012 tekende hij bij Alligator Records en bracht hij 'Hellfire' uit. JL Walker kreeg vier Blues Music Awards en is lid van de Blues Hall of Fame.
Op JL Walker's 26ste album 'Blues Comin' On' werd Walker vergezeld door een groot aantal getalenteerde vrienden en collega's. Met o.a. gastoptredens van collega-blues iconen Keb 'Mo', Eric Gales en Albert Lee, van Detroit-soulzanger Mitch Ryder, mondharmonicavirtuoos Lee Oskar, Hot Tuna's Jorma Kaukonen, punkrockzanger Charlie Harper en de legendarische sessiespeler Waddy Wachtel.
De titel van Joe Louis Walker's nieuwe Cleopatra Records' release 'Eclectic Electric', geeft aan dat hij deel uitmaakt van een selectief gezelschap van elektrische blues mannen. De buitengewoon diverse set bevat zowel ongelooflijke nieuwe originele composities, waaronder de bluesy stampende opener "Uptown Girl Blues", het met zydeco gepeperde "Wine", het met blazers aangedreven "Bad Betty", het aanstekelige en funky "Gone & Alone" en verder "Regal Blues", evenals enkele geweldige covers. De éérste in de rij is er een van The Eagles uit 1976, de titelsong uit het gelijknamige album "Hotel California" en de afsluiter is een funky versie van Warren Zevon' s "Werewolves of London". De veel te jong gestorven Warren Zevon bracht het nummer uit in 1978 op één van zijn meesterwerken 'Excitable Boy'. Conan O'Brien-gitarist Jimmy Vivino is te gast op de opener en klinkt ongelooflijk in de mix met Walker en zijn strakke band met Lenny Bradford (bas), Byron Cage (drums), Juma Sultan (percussie) en Phillip Young (keyboards). 
"Joe Louis Walker's 'Eclectic Electric' is another remarkable album with surprising new originals and quirky covers…" (ESC for Rootstime)
Eric Schuurmans
Album track list: 01.Uptown Girl Blues - 02. Wine, feat. Waddy Wachtel [Sonny West] – 03. Bad Betty - 04. Gone & Alone - 05. Regal Blues - 06. Hotel California, feat. The BB King Blues Band [Eagles: Henley Donald Hugh / Frey Glenn Lewis & Felder Don] - 07. Make No Mistake - 08. Two Trains Running [Muddy Waters] - 09. Werewolves Of London [Warren Zevon, Waddy Wachtel] – bonus - 10. Lady in Red, feat. Bette Smith – 12. All She Wants to do is Dance [Don Henley, Danny Kortchmar] / Music/Lyrics by: Joe Louis Walker, or as [noted] © 2021 - Produced by: Joe Louis Walker & Scott Petito | Album credits: Joe Louis Walker: vocs, guitar / Lenny Bradford: bass / Byron Cage: drums / Juma Sultan: percussion / Phillip Young: keyboards & Special guest performances by: Jimmy Vivino (1), Steve Berlin (2), Murali Coryell (6), Waddy Wachtel: guitar (2,7,9), Doyle Bramhall II & the incomparable B.B. King Blues Band (6)
Discography JOE LOUIS WALKER: Eclectic Electric (Cleopatra Blues) [2021] | Blues Comin' On (Cleopatra Blues) [2020] | Journeys to the Heart of the Blues, w/Bruce Katz & Giles Robson (Alligator Records) [2018] | Everybody Wants a Piece (Provogue Records) [2015] | Hornet's Nest (Alligator) [2014] | Hellfire (Alligator) [2012] | Blues Conspiracy: Live on the Legendary R&B Cruise (Stony Plain) [2010] | Between a Rock and the Blues (Stony Plain) [2009] | Witness to the Blues (Stony Plain) [2008] | Playin' Dirty (JSP) [2006] | New Direction (Provogue) [2004] | Ridin' High (Hightone) [2003] | She's My Money Maker (JSP) [2003] | Guitar Brothers (JSP Records) [2002] | Pasa Tiempo (Evidence Music) [2002] | In the Morning (Telarc) [2002] | Silvertone Blues (Polydor/Polygram) [1999] | Preacher and the President (Polydor/Polygram) [1998] | Great Guitars (Polydor/Polygram) [1997] | Blues of the Month Club (Polydor/Polygram) [1995] | J.L.W. (Polydor/Polygram) [1994] | Blues Survivor (Polydor/Polygram) [1993] | Blue Soul (Hightone) [1989] | The Gift (Hightone) [1988] | Cold is the Night (Hightone) [1986] |