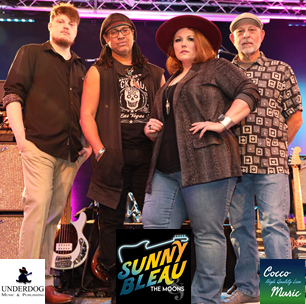 "You have to be YOU, don't try to be like anyone else..."
Sunny Bleau de artiestennaam van Kelly Day is een blues zangeres en songwriter. Ze zong al in kerken, clubs en bars en schrijft haar nummers "vanuit haar hart met alleen de gevoelens, ervaringen, perspectieven en situaties van haar leven…". Ze werkte voor haar debuut samen met haar producer Nicholas A. Cocco, assistent-producer Alex Karasinski en de songwriters en andere professionele muzikanten van de 148 South Street Studio in Rochester, Michigan. Haar indiepopbluesband The Moons bestaat verder uit: Paul Kastick (zang, percussive), Christopher Barrack (sax, keys), Alex Karsinski (bas) & Nicholas Cocco (gitaar).
Sunny Bleau kijkt (letterlijk) door een roze bril naar het leven. Ze ziet het glas altijd als halfvol en staat altijd klaar om plezier te maken. Sunny is niet bang voor het leven, de liefde, romantiek of haar rondingen! Ze vertelt verhalen over wat er in haar hart leeft en waarmee ze je helpt te ontsnappen, uit de gekte van de wereld.
Na negen singles (de éérste heette "He's My Peach") bracht Sunny Bleau haar eerste studio album  uit. 'Breakfast Served Cold' stond in de Amerikaanse RMR Blues / Rock Album Charts in de top 50 en werd in meerdere landen in kaart gebracht. Sunny Bleau gebruikte  op haar debuutalbum elke tint van het bluespalet. Hoewel ze soms flirt met jazz, soul, pop en country, is de primaire kleur absoluut blauw. Sunny Bleau "tracht met precisie, kracht en rauwe emotie om een ​​gedenkwaardig en sonisch beeld te schetsen…". "He's my Peach", "King of Hearts", "Denver" en "Winning" kwamen als singles het eerst uit om het pad te effenen. Daarna volgde het full length album met o.a. het goed in de oren klinkende "On Your Way to Me", het donkere "Holy Water and the Hell Fire", het met veel Latino doordrenkte "Bedroom Rendezvous" en de afsluiter "I Should be Sleeping".
"You can hear all the positive, warm and playful in her on her debut album 'Breakfast Served Cold'…" (ESC for Rootstime)
Eric Schuurmans
Album track list: 01. Let It Slide – 02.* He's My Peach – 03. On Your Way to Me - 04.* Holy Water and the Hell Fire – 05. Autumn Leaves - 06.* Winning - 07.* King of Hearts – 08. Bedroom Rendezvous – 09. Sparrow Song – 10.* Denver - 11. I Should be Sleeping (Album Version*) / Music/Lyrics by: Sunny Bleau, w/ Nicholas A. Cocco © 2021 - Produced by: Nicholas A. Cocco & assistent-producer, Alex Karasinski | Album credits: Sunny Bleau: vocs / Paul Kastick: vocs, percussion / Christopher Barrack: sax, keys / Alex Karsinski (bass) / Nicholas Cocco: guitar
Discography SONNY BLEAU & THE MOONS: Breakfast Served Cold [2021] | Little by Little – Live (single) [2021] | Nights in White Satin – Live (single) [2021] | Mary Christmas, Baby! – Live (single) [2021] |