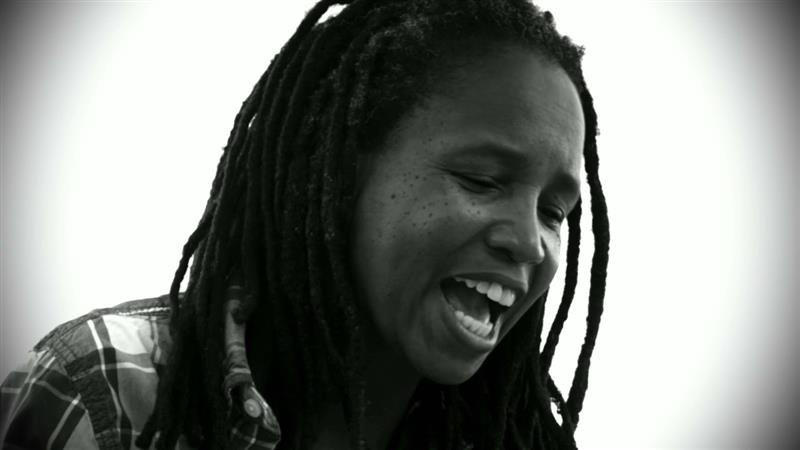 "Blues isn't a country, or a race, or a place...
but a spirit, an existential feeling, an total immersion …"
Als een diva uit de jazz scene even een zijstap waagt in de blues, dan kan dit interessant en boeiend zijn. Zangeres, songwriter en gitariste Natalia M. King, want over haar gaat het hier, is een geadopteerde Arlesienne en het bewijs dat talent niet geeft om muzikale barrières van welke aard. Natalia is van origine afkomstig uit Brooklyn, trok even naar Parijs, was lang een busker en voelt zich nu thuis in Zuid-Frankrijk. Op haar albums wist ze al te imponeren met diverse stijlen rootsmuziek, folk, Americana en rock. Met 'Soulblazz' (2014) en 'BlueZzin T'ill Dawn' (2016) volgde Natalia het spoor van Billie Holiday en Nina Simone en vandaag staat ze op het kruispunt van Etta James en Robert Johnson...
Natalia's éérste bewuste stap in de blues resulteerde in 'Woman Mind of My Own', een album met negen titels, waarvan zes originals. Het is haar zevende studio album en haar debuut bij het Franse Dixie Frog label. De nummers klinken van zeer intiem tot behoorlijk soulvol. Met de titelsong opent ze close, waarbij Fabien Squillante's slidegitaar haar uitstekende zang, die doet denken aan die van Bonnie Raitt, extra accentueert. "Aka Chosen",  gevoed door zacht bonkende drums, bevat heel wat soul en ook gospelinvloeden. Het is een levendig manifest ter ere van sterke persoonlijke keuzes. Met "Forget Yourself" bewijst ze, dat ze ook een emotionele soulballade aankan. Eliott Murphy doet dan een vocaal duet met haar op de John Mellencamp cover "Pink Houses" die geüpdatet werd tot een luie Rory Block-achtige shuffle. "So Far Away" is al het volgend intieme bluesy intermezzo, op "(Lover) You Don't Treat Me No Good" is Grant Haua (een Nieuw-Zeelander en multi-instrumentalist met een geweldige soulstem) haar gast en in "Sunrise to Sunset" (een cover van Dan Pritzker) klinkt Natalia aanstekelijk lui. De jazzy solo's zijn hier de kersen op de taart. Na "Play On" waarin de verzengende accordeon van Vincent Peirani opvalt is er nog de afsluiter, "One More Try ". In deze intieme George Michael cover is Natalia helemaal haar zelve ten top.
"'Woman Mind of My Own', Natalia M. King's new album, is wrapped in a warm blues blanket and breathes honestly class and talent…" (ESC for Rootstime)
Eric Schuurmans
Albumtrack list: 01. Woman Mind of My Own - 02. Aka Chosen - 03. Forget Yourself - 04. Pink Houses [John Cougar Mellencamp] - 05. So far Away - 06. (Lover) You Don't Treat Me No Good - 07. Sunrise to Sunset [Dan Pritzker] - 08. Play On - 09. One More Try [George Michael] | Music/Lyrics by: N. M. King, or as [noted: 4,7,9] © 2021 | Produced by: Fabien Squillante | Album credits: Natalia M. King: lead vocs, guitar / Fabien Squillante: guitar / Fabien Squillante: slide guitar, bass, e & a guitar / Rémi Vignolo: drums / Tim Julian: bass (6), Raphaël Ducasse: double bass (3,4,5,7,8) / Ismail Benhabyles: keys, percussion, organ, bvs / Vincent Peirani: harmonica, accordion (8) / François Maincent (6), Kania Allard (2), Philip Ducap (6): bvs & Eliott Murphy: vocs, harmonica (4), Grant Haua: vocs, guitar, cajón (6)
Discography: M. KING: 7-Woman Mind of My Own [2021] | 6-BlueZzinn T'ill Down [2016] | 5-Soulblazz [2014] | 4-Sincerely Yours [2007] | 3-Flesh is Speaking [2005] | 2- Furyandsound [2003] | This is Our Music, Salif Keita, Mino Cinelu, Akosh Szelevényi, Natalia M. King, Lokua Kanza, Daniel Mille & Márcio Faraco [2003] | Desert – Live (EP) [2001] | 1-Milagro [2000] |