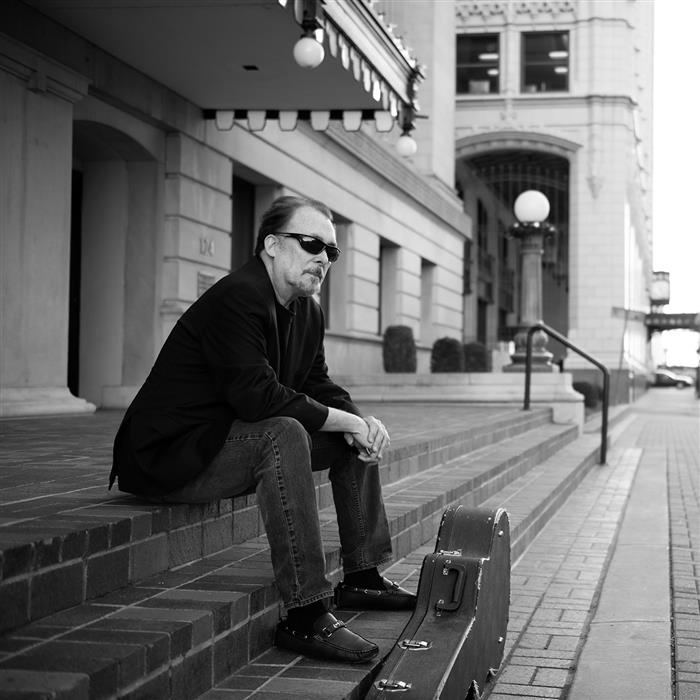 "Being forced to be off the road might have been the best thing,
that's ever happened to me from a creative standpoint…"
De uit Tulsa (Oklahoma) afkomstige singer-songwriter en gitarist Scott Ellison is voor de liefhebbers van blues al lang geen onbekende meer. In 1981 speelde hij in de band van blues man Clarence "Gatemouth" Brown (1924-2005) en midden jaren tachtig verhuisde Ellison naar Los Angeles (Californië). Hij speelde er o.a. met The Box Tops, The Drifters, The Coasters, Gary "US" Bonds en Peaches & Herb. Pas in de jaren negentig richtte hij zijn eigen bluesband op en opende hij daarna o.a. voor Joe Cocker, Roy Orbison, The Fabulous Thunderbirds, Leon Russell, Bobby Bland en Buddy Guy.
Ellison debuteerde in 1993 solo met 'Chains of Love' en in 1995 volgde 'Live @ Joey's'. Nadat hij terug keerde naar "zijn" Tulsa, werden 'Steamin'' (1997) en 'One Step from the Blues' (2000) uitgebracht. 'Cold Hard Cash' (2001) was met producer Dennis Walker (Robert Cray) zijn eerste release bij het Burnside label. Daarna volgden nog 'Bad Case of the Blues' (2003), 'Ice Storm' (2008) en 'Walking Through the Fire' (2012).
Als opvolger van 'Elevator Man' (2015) verscheen er in 2017 'Good Morning Midnight', een album dat met producers Walt Richmond en Charles Tuberville opgenomen werd. Richmond zat in de studio met Bonnie Raitt, JJ Cale & Eric Clapton. Met beide heren, voor de opnames van hun Grammy 2006-album 'Road to Escondido'. Dit was niet zo uitzonderlijk, want Richmond (keyboards) was te horen op 'Clapton' (2010), 'Old Sock' (2013) en 'The Breeze' (2014), Clapton's eerbetoon aan JJ Cale.
Naast singer/songwriter was Scott Ellison ook te zien in tv-shows ("Sister Sister, Eye") en in een soapopera ("Santa Barbara"). Hij schreef ook soundtracks ("Reindeer Games" met Ben Affleck, "Buffy The Vampire Slayer"…) en zijn nummer "Don't Push Your Luck" was te horen in de film "Feast of Love" (2007) met Morgan Freeman.
"Like pretty much everyone else, starting around March of last year, I was stuck at home! I would get up at 5:30 or 6 in the morning, pick up my guitar, and just work on songs…"
Door de Covid-lockdowns zat hij gedwongen thuis en profiteerde hij van de vele tijd om nummers voor een nieuw album te schrijven. Zijn 13de release kreeg de titel 'There's Something about the Night'. Het werd een bijzonder album met 14 tracks, met "Chicago-meets-Texas shuffle to full tilt blues/rock workouts, pure soul blues and just about every point between…". Hij deed alles (met producer Steve Barri) van thuis uit in Tulsa met als back-up op de éérste plaats zijn toer band. Enkele nummers nam hij op met in Los Angeles wonende muzikanten, die ook al met Eric Clapton of Albert Lee samen werkten. Ellison schreef tien tracks samen met Michael Price. Price schreef (samen met DanWalsh) voor Bobby "Blue" Bland de R&B hit, "Ain't no Love No Love in the Heart of the City" (zie video).
Door de vele stijlen werd het een erg gevarieerd album. 'There's Something About the Night' "takes Ellison's past and present and reinvents them as a bold template for the future…". "Half a Bottle Down", de opener is al een van de shuffles, "Burry Your Bone at Home" en "Salina" swingen heerlijk en "Feast or Famine" is een deel van de hierboven genoemde portie soul blues. "Good Year for the Blues" is hier de slow blues à la lettre, "I'm Ready Baby" een van de blues/rockers en "Where Do You Go When You Leave" een afsluiter met heel wat Memphis soul. 
"As usual, Scott Ellison's new album 'There's Something about the Night' is another great and varied contemporary blues/rock album, which just about sums up all his musical qualities…" (ESC for Rootstime)
Eric Schuurmans
Release: 14/01/22
Albumtrack list: 01. Half a Bottle Down – 02. There's Something About the Night – 03. Ain't No Love in the Heart of the City – 04. Burry Your Bone at Home – 05. Blowin Like a Hurricane – 06. Salina - 07. Meat and Potatoes - 08. Feast or Famine - 09. Good Year for the Blues - 10. I'm Ready Baby - 11. Mirror Image - 12. Chains of Love - 13. Revolutionary Man - 14. Where Do You Go When You Leave | Music/Lyrics by Scott Ellison, w/Michael Price or as [noted] © 2022 | Produced by: Steve Barri | Album credits: Scott Ellison: lead vocs, bvs, lead, rhythm, slide & bass guitar / Chris Campbell: lead vocs / Rick Robbins: rhythm guitar / Lou Castro & Jon Parris: bass / Robbie Armstrong, Jamie Oldaker, Todd Woilf, Dave Teegarden & Ron McRorey: drums / David Teegarden: shakers, tambourine / Jon Greathouse: Hammond B3, piano / Dick Sims: Hammond B3 / Walt Richman & Hank Charles: piano / Scott McQuade: accordion / David Bernston: harmonica / Ginger Blake, Maxine Waters, Julia Waters & Oren Waters: bvs / Marcy Levy: bvs   
Discography SCOTT ELLISON: There's Something About the Night [2022] | Skyline Drive [2020] | Good Morning Midnight [2017] | Elevator Man [2015] | Walkin' Through the Fire [2011] | Ice Storm [2008] | A Bad Case of the Blues [2003] | Cold Hard Cash [2001] | One Step from the Blues [2000] | Steamin' [1997] | Live @ Joey's [1995] | Chains of Love [1993]