"On track during the pandemie…"
Pat O'Bryan is een zanger/gitarist, producer uit Texas met twee kanten. De ene is donker en rauw rockend, de andere warm en intiem, soms zelfs romantisch. O' Bryan bracht debuteerde in 1998 met 'Of Trains and Angels' en bracht daarna nog verschillende studio albums uit. Hij deelde podia met SRV, BB King, Kim Wilson en Johnny Winter. Zijn muzikale reis leidde hem via vroege experimenten in elektronische muziek aan de UT (University of TX), Country Western Swing bands, hardcore touring barrel house Blues en de Austin Blues-explosie van de jaren '70 en '80.
Zijn laatste album 'Boomer's Last Stand' verscheen in 2020 en werd door Corona omstandigheden een afstandelijk product. Hij nam toen met "Friends" tien tracks op, die hun bijdragen tijdens de pandemie vanuit verschillende locaties inzonden. Dit waren zangeres Elizabeth Lee, gitaristen Carolyn Wonderland (John Mayall) en Larry Chaney, de Italiaanse drummer Beppe Facchetti (Super Downhome), bassist Alan McGinty en saxofonist Chase Peeler. Het werd een prima en gevarieerd blues/rock album.
Voor de rauwe rockende kant moet je "Live During Plague Time" draaien, maar ben je op zoek naar nog ruiger nummers, dan moet je "Nikki Put the Knife Down" (een opwindende rocker met Alan McGinty op de bas) en de afsluiter met George Thorogood-allures, "Shut the Fuck Up" kiezen. "She Looks Like You", met gast gitariste Carolyn Wonderland is een aanstekelige boogie, waarin volgens Pat er geen overspel is, als je minnares -vaak in het donker- op je eigen vrouw lijkt. Voor we naar de meer intieme nummers gaan, zijn er eerst nog de relaxte JJ Cale-achtige track "Chicago" en het swampy "(D'ya Evah) Feel Like That", dat knipoogt naar Tony Joe White. Elizabeth Lee zingt op de intieme slow blues "Satisfied", begeleid door gitarist Larry Chaney, die hier de show steelt. De opener "Tell me the Truth" is qua zang bijzonder, "Burn it Down" laat ons de lichte Tom Waits' trekjes van Pat horen en in de piano ballade "In My Arms Again" zijn meest romantische kant.
"For those who are unfamiliar with Texan Pat O'Bryan, 'Boomer's Last Stand' is an excellent opportunity to get acquainted with his gritty, catchy rock and warm ballads, which he has recorded with friends. …" (ESC for Rootstime)
Eric Schuurmans
10 cd's te winnen!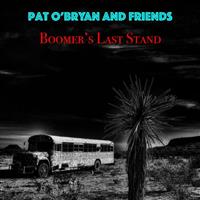 Wil je daar kans op maken, dan mail je ons gewoon even:
je naam, je adres en de vermelding: PAT O'BRYAN & FRIENDS
Binnen een aantal weken wordt uit alle inzendingen de gelukkigen getrokken.
Wij hopen dat u massaal Rootstime - hier - zult mailen
De winnaars worden per mail verwittigd.
Albumtrack list: 01. Tell me the Truth – 02. Live During Plague Time – 03. Chicago - 04. She Looks Like You, w/Carolyn Wonderland – 05. Satisfied, w/Elizabeth Lee – 06. Burn it Down – 07. (D'ya Evah) Feel Like That – 08. Nikki Put the Knife Down – 09. In My Arms Again – 10. Shut the Fuck Up | Music/Lyrics by: Pat O'Bryan © 2020 | Produced by: Pat O'Bryan | Album credits: Pat O'Bryan: vocs, guitar / Larry Chaney: guitar / Carolyn Wonderland: guitar / Beppe Facchetti: drums / Alan McGinty: bass / Elizabeth Lee: vocs / Chase Peeler: sax

Discography PAT O'BRYAN (& FRIENDS*): Boomer's Last Stand* [2020] | River Keep Risin' [2004] | The Best of… (compilation) [2004] | Trio, Texas [2003] | Radio Free Texas [2003] | Of Trains and Angels [1998]