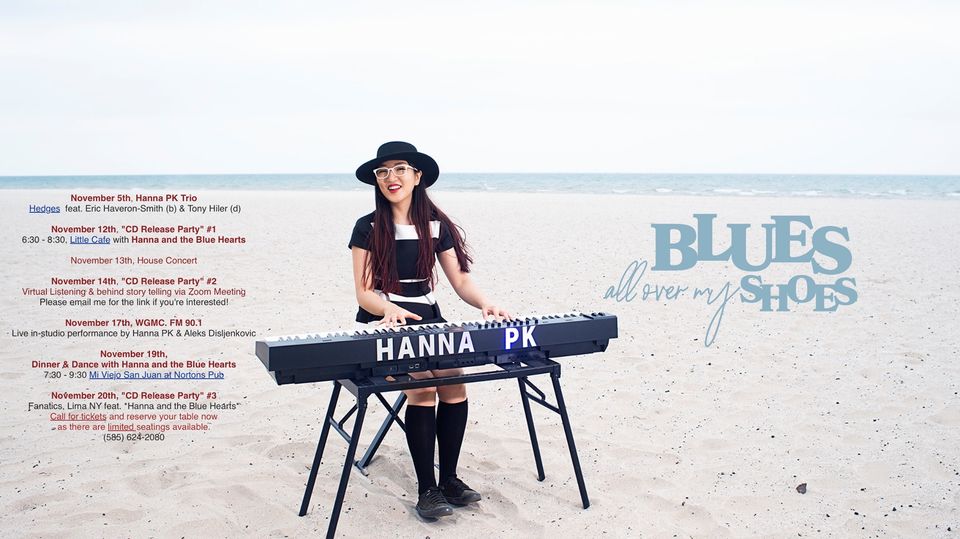 "A wide variety of blues & swing, old school folk, and boogie-woogie…"
Hanna PK is een ervaren pianiste, soulvolle zangeres, getalenteerde songwriter en levendige performer. Ze speelt ook gitaar en op nog enkele andere instrumenten. Ze is geboren en getogen in Zuid-Korea en woont momenteel in Rochester, NY. Hoewel Rochester niet bepaald in de Delta-regio ligt, is de blues scene er met blues mannen zoals Joe Beard (met wie Hanna samen optreedt) en John Cole nog steeds authentiek.
Hannah geraakte geïnspireerd door de grote pianospelende zangers van de blues en jazz, zoals Memphis Slim, Big Maceo Merriweather, Otis Spann, Hadda Brooks, Nina Simone, Norah Jones en Aretha Franklin.
In de zomer van 2015 richtte ze Hanna & the Blue Hearts op en in de zomer van 2016 bracht ze haar eerste cd 'Rearview Mirror' uit, met originele nummers, die aantonen dat ze een creatieve songwriter is. In 2018 bracht ze 'The Blues Is Here to Stay' uit met klassieke blues melodieën zoals o.a. "Worried Life Blues" van Big Maceo Merriweather en Sippie Wallace's hit uit de jaren 1920 "Up the Country Blues".
In 2019 tijdens de TBC in Memphis, TN, in januari 2019 bereikte Hanna en gitarist Aleks Disljenkovic de halve finale.
'Blues All Over My Shoes' is Hanna's eerste Booga/Music/VizzTone album dat ze, met Kenny Neal als producer, in zijn studio in Baton Rouge, Louisiana, opnam. Het album telt 10 originele composities en slechts één covernummer. Neal is te horen op enkele nummers.
"As is the case with all true blues performers, Hanna works from and in the tradition of the music while bringing her own stamp of creativity and originality to it.  Her music tells a story, sometimes an age-old one, but she tells it in her way from her perspective, which in turn informs and expands our experience..."
Hanna PK werkt vanuit én in de traditie van de muziek en drukt er tegelijkertijd ook haar eigen stempel van creativiteit en originaliteit op. 'Blues All Over My Shoes', haar nieuwe studio album, opent met "Mirror Mirror" een rustig bluesy nummer met Kenny Neal op harmonica, bas en gitaar. Op "Bad Woman" (haar promo single) etaleert Hanna daarna voor de eerste keer hier haar talenten als boogiewoogie pianiste en zangeres. Na de slow blues "Insomnia Blues" volgt er "I'm Lost Without You", de enige cover op het album. In dit nummer van John Peter Chatman, dat ook door Memphis Slim gecoverd werd, krijg je een andere, meer jazzy en swingende Hanna te horen. "Love Keeps Walking In" is een ballade met New Orleans' allures, "It's Alright Baby" een portie ongesneden honky-tonk piano en "No One Will Ever Know" al een volgende meer zeemzoete, dromerige ballade. Op "Ain't Gonna Looking Back No More" zitten we terug in Bourbon Street, New Orleans, "It's Been Raining in My Heart" klinkt vertrouwd in de oren en "Bad Habit" is  ragtime, waarmee Hanna nog maar eens een andere kant van haar veelzijdigheid laat horen. We sluiten af met "Two and Four", een boogie-woogie die niet alleen de pianosnaren doet trillen.
"Hanna PK is op 'Blues All Over My Shoes' niet alleen een uitstekende blues pianiste, maar ook een artieste die voluit zichzelf wil zijn…"
"On 'Blues All Over My Shoes' Hanna PK is not only an excellent blues pianist, but also an artist who manages to be herself…" (ESC for Rootstime)
Eric Schuurmans
Release: 12/11/21
Album track list: 01. Mirror Mirror – 02. Bad Woman – 03. Insomnia Blues – 04. I'm Lost Without You [P. Chatman] – 05. Love Keeps Walking In – 06. It's Alright Baby – 07. No One Will Ever Know – 08. Ain't Gonna Looking Back No More – 09. It's Been Raining in My Heart – 10. Bad Habit – 11. Two and Four / Music/Lyrics by: Hanna PK, or as [noted: 4] © 2021 - Produced by: Kenny Neal | Album credits: Hanna PK: vocs, keys / Kenny Neal: harmonica & bass (1), guitar (1,3,6), vocs / Michael "Lil Mike" Harris: drums (all, exc. 10,11) / Miguel Hernandez: bass (all, exc. 1,10,11) / Brandon Adams: organ (3,5,7,9) / Paul Emden: brushes (11)
Discography HANNA PK (and the BLUE HEARTS*): Blues All Over My Shoes [2021] | The Blues is Here to Stay* [2018] | Rearview Mirror* [2016] |