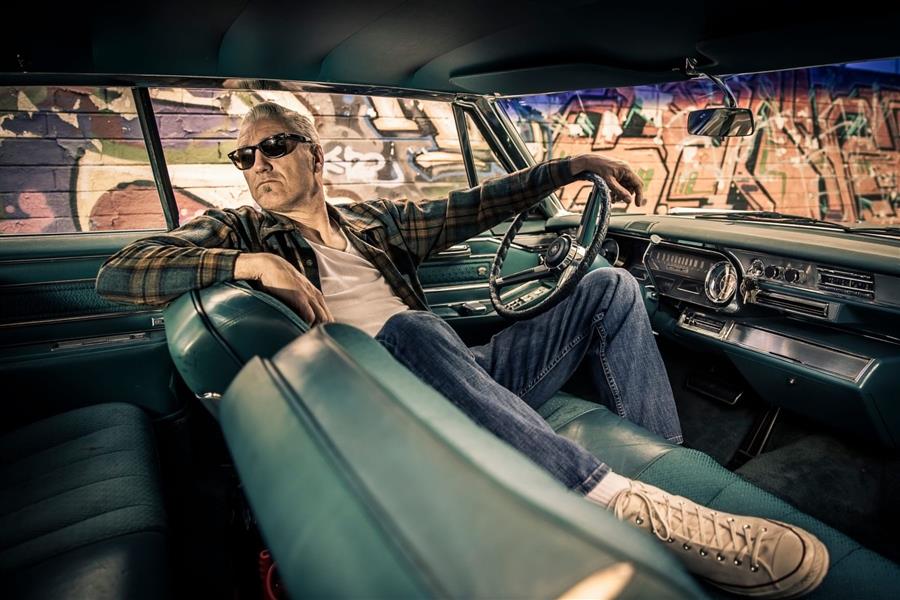 "His sound is reminiscent of Johnny "Guitar" Watson in the Third Ward of Houston circa 1964. Chicago/Texas/Gulf Coast/Uptown Blues with an authentic 1950's to 1960's vibe…"
Zanger/gitarist Larry Teves aka "Chickenbone" Slim is al zo'n 30 jaar muzikant in de blues scene van San Diego in Californië. CB Slim is een eigenzinnige, ouderwetse blues man die, met de middelen die hij heeft, traditionele blues speelt. Gedeeltelijk Chicago, Texas en Mississippi.
In 2010 nam Teves gitaarlessen bij stadsgenoot, blues/jazz muzikant Robin Henkel. Wanneer Teves voor een publiek gitaar begint te spelen, krijgt hij van John Flynn (The Boogiemen, JinxKing, The Little Kings) de bijnaam "Chickenbone". CB Slim speelt elektrische blues en het liefst (zo zegt hij zelf) "op een Telecaster, met een extra dikke hals en versterkt door een vintage amp., die nog ooit in een bioscoop gediend heeft…". CB Slim backte Tomcat Courtney en was jarenlang bassist bij meerdere bluesbands in de San Diego area als The Mississippi Mudsharks, The Boogiemen en JinxKing.
In 2012 begint CB met een eigen band (verwijzend naar z'n lievelingseten) The Biscuits. De band werd opgericht om iedere week te kunnen optreden op de Tasty Truck Tuesdays (de eetstandjes, die op dinsdagen vaak aan een benzinestation of ergens opgesteld staan). Meer en meer speelt CB ook in plaatselijke clubs en tijdens lokale festivals in de regio.
Chickenbone's band The Biscuits zijn Scot Smart of Laura Chavez op gitaar, Marty Dodson op drums en Andrew Crane op bas. Zijn debuutalbum 'Gone' verscheen in 2015. In het voorbije jaar verscheen zijn derde studio album, 'Sleeper'. Het album werd in de zomer van 2019 opgenomen met Kid Andersen in de beroemde Greaseland Studios. Deze maand verschijnt de opvolger (hun label debuut bij VizzTone), 'Serve It to Me Hot'. De promo single die je al op Spotify kan beluisteren heet "Wild Eyed Woman". Het nummer drijft op de stuwende groove van Magic Sam's "Wild Eyed Woman" en vertelt ons het verhaal van Chickenbone Slim's onstuitbare voodoo-vrouw.
De 13 nummers die Larry Teves zelf schreef staan opnieuw garant voor het unieke geluid van Chickenbone dat West Coast Swing, Chicago en Gulf Coast Blues combineert. CB Slim keerde terug naar de beroemde Greaseland-studio's van Kid Andersen (die de producer was) en zijn vrouw in San Jose.  De back-up muzikanten tijdens de opnames van zijn nieuwe studio album waren meesterdrummer Marty Dodson, gitariste Laura Chavez (ex-sidekick van wijlen Candye Kane, en recente partner -met Dodson- van het koppel Matt en Nikki Hill tijdens hun laatste tours), samen met de vaste bassist van The Biscuits voor drie jaar, Andrew Crane.
Chavez plakte haar verzengende zegel op de opener "Serve It to Me Hot", een veelzeggend culinair verhaal van een gelegenheid, die de huidige Andersen-baas Rick Estrin ook lijkt te bevallen. Daarna is het tijd om te rocken op "Wild Eyed Woman" en à la Johnny Guitar Watson op "Queen of the Wires". West Coast Swing zit er voldoende in "Ought to Be Loved", melancholische vibes in "Love to Be True" en r'n'r pur sang in "Squares Everywhere". De harmonica van gast Aki Kumar maakt "Top of the Clouds" erg bluesy, het rockabilly tempo dat Marty Dotson oplegt "Crying Tonight" opwindend en met "City Girl" is het lijstje met een dubbele shuffle volledig. De verrassende afsluiter "Hook Me Up" is een gedegen rocker, die al van in de intro even knipoogt naar de Stones en Chuck Berry. 
"Erg verrassend en veelzijdig is Chickenbone Slim op zijn uitstekende release 'Serve It Hot to Me', die een breed publiek zal aanspreken en vele swingende herinneringen zal losmaken…"
"On his excellent release 'Serve It Hot to Me', Chickenbone Slim is very surprising and versatile. It will certainly appeal to a wide audience and evoke many swinging memories…" (ESC for Rootstime)
Eric Schuurmans
Release: 19/11/21
Album track list: 01. Serve It to Me Hot – 02. Wild Eyed Woman – 03. Queen of the Wires – 04. Ought to Be Loved – 05. Love to Be True – 06. Squares Everywhere – 07. Top of the Clouds – 08. Laying in the Weeds - 09. Crying Tonight - 10. Hey Shakalo – 11. I Will Stand for You – 12. City Girl – 13. Hook Me Up [Hey Lewis, Delbert McClinton] / Music/Lyrics by: Larry Tevis, exc. (1) w/Liss Andrea Ryan © 2021 - Produced by: Chickenbone Slim | Album credits: Larry Teves: vocs, guitar / Laura Chavez: guitar / Marty Dodson: drums, percussion / Andrew Crane: bass & Aki Kumar: harmonica, Christopher "Kid" Anderson: organ, vocs… / Lisa "Lil' Baby" Andersen: vocs
Discography CHICKENBONE SLIM: Serve It to Me Hot [2021] | Sleeper, feat.: Laura Chavez, Joey Harris, Jerry Raney & Christopher "Kid" Anderson [2020] | The Big Beat [2017] | Gone [2015] |