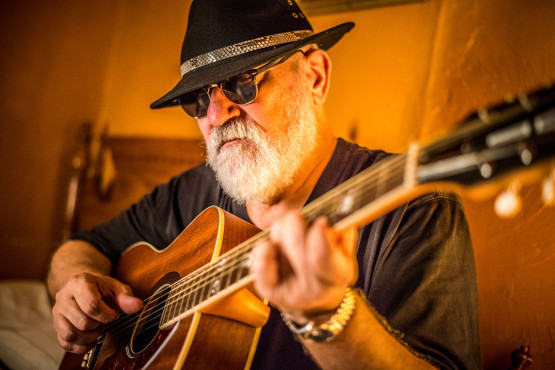 "FUN to listen to!..."
Al méér dan een halve eeuw is Mick Kolassa muzikant en "hardcore" blues liefhebber. Hij is in Michigan, de Wolverine (veelvraat) staat geboren, woonde bijna 30 jaar lang in Mississippi -vandaar de naam "Michissippi" Mick- maar verhuisde naar Memphis, TN. Kolassa maakte deel uit van de Board of Directors van de Memphis Blues Foundation.
Na jaren zelf nummers geschreven te hebben, trok Kolassa in 2014 naar de studio om zijn debuutalbum 'Michissippi Mick' op te nemen, waarvoor hij zijn vriend/gitarist Jeff Jensen -die ondertussen van Portland >> Memphis verhuisd was- inschakelde als producer. In 2016 zat hij in de Ardent Studio's in Memphis voor zijn derde studio album 'Taylor Made Blues', dat hij opnieuw met Jeff Jensen opnam. Hij kon hiervoor rekenen op meerdere top muzikanten als Bill Ruffino (bas), James Cunningham (drums), Chris Stephenson (piano, orgel), Eric Hughes (harmonica), Victor Wainwright (piano), Colin John (lap steel), Castro Coleman aka Mr. Sipp "the Mississippi Blues Child" (gitaar) en backing zangeressen Deb Landott, Reba Russell & Tullie Brae.
In 2017 nam Kolassa al zijn vijfde album 'Double Standards' op, een album met duetten met Sugaray Rayford, Annika Chambers, Victor Wainwright, Tas Cru, Eric Hughes, Gracie Curran, Tullie Brae en anderen. Zijn #7, het goed onthaalde album 'If You Can't Be Good, Be Good At It!', verscheen in 2020 en is qua namen heel herkenbaar: Jeff Jensen, Bill Ruffino, Eric Hughes, John Blackmon (drums, percussie) & Rick Steff (keys).
Het voorbije Covid-jaar 2020, waarin Mick zijn vrouw en verschillende vrienden verloor, inspireerde hem al bij het schrijven van veel van de nummers voor 'Wasted Youth', zijn éérdere 2021-album (dat we hier al recenseerden). Het regent weliswaar buiten, maar met Mick's recente kerstalbum 'Uncle Mick's Christmas Album' en de ogen dicht, zie ik de sneeuw uit de hemel neerdwarrelen! Hoi, hoi!... 
Met zijn versie van Mariah Carey's Populaire "All I Want for Christmas Is You" opent Mick zijn album en haalt hij het eerste warme eindejaarsgevoel al in huis. "Frosty the Snowman" komt opnieuw tot leven op een New Orleans' street beat dank zij de trompet van Marc Franklin en de harmonica van Eric Hughes. Kolassa's original "The Best Christmas Ever" is erg funky en bevat een opvallende aangrijpende en nostalgische lyrische boodschap, in combinatie met de achtergrondzang van Reba Russell en Susan Marshall. Enkele klassiekers als het erg bluesy "Merry Christmas Baby" (een hit uit 1947 voor de  Johnny Moore's Three Blazers), "Jingle Bells", "Winter Wonderland" en "Have Yourself a Merry Little Christmas" mogen hier zeker niet ontbreken. De rest van de band die we nog niet vernoemden, bestaat uit: Jeff Jensen (gitaar), Bill Ruffino (bas), Rick Steff (toetsen) en James Cunningham (drums). De afsluiters zijn de tweede original "Christmas Morning Blues" en "Beale Street Christmas Jam", een nummer dat Mick schreef met Jeff. Nip onder het luisteren alvast even aan je Glühwein of bijt eens in een kersthapje en je bent zo in de sfeer.
"With 'Uncle Mick's Christmas Album', veteran Mick Kolassa brings us into a bluesy Christmas mood, where only the snow and a Santa Claus are missing…" (ESC for Rootstime)
Eric Schuurmans
Album track list: 01.All I Want for Christmas Is You [Mariah Carey, Walter Afanasieff] – 02. Frosty the Snowman [Jack Rollins, Steve Nelson] – 03. The Best Christmas Ever – 04. Merry Christmas Baby [Johnny Moore, Lou Baxter] – 05. Jingle Bells [Traditional] – 06. Winter Wonderland [Felix Bernard] – 07. Have Yourself a Merry Little Christmas [Hugh Martin, Ralph Blane] – 08. Christmas Morning Blues – 09. Beale Street Christmas Jam [w/Jeff Jensen] / Music/Lyrics by: Mick Kolassa (3,8,9), w/ or as [noted] © 2021 – Produced & arranged by: Mick Kolassa & Jeff Jensen | Album credits: Mick Kolassa: vocs, guitar / Jeff Jensen: guitar / Bill Rufino: bass / Rick Steff: keys / James Cunningham: drums / Eric Hughes: harmonica / Marc Franklin: trumpet & Reba Russell + Susan Marshall: bvs
Discography MICK KOLASSA: Uncle Mick's Christmas Album [2021] | Wasted Youth [2021] | If You Can't Be Good, Be Good At It! [10/2020] | Blind Lemon Sessions [01/2020] | 149 Delta Avenue [2018] | Double Standards, by Mick Kolassa and Friends [2018] | You Can't Do That! (Acoustic Blues, Beatles Tribute), w/Mark Telasca [2017] | Taylor Made Blues [2016] | Ghosts of the Riverside Hotel [2015] | Michissippi Mick [2014] |