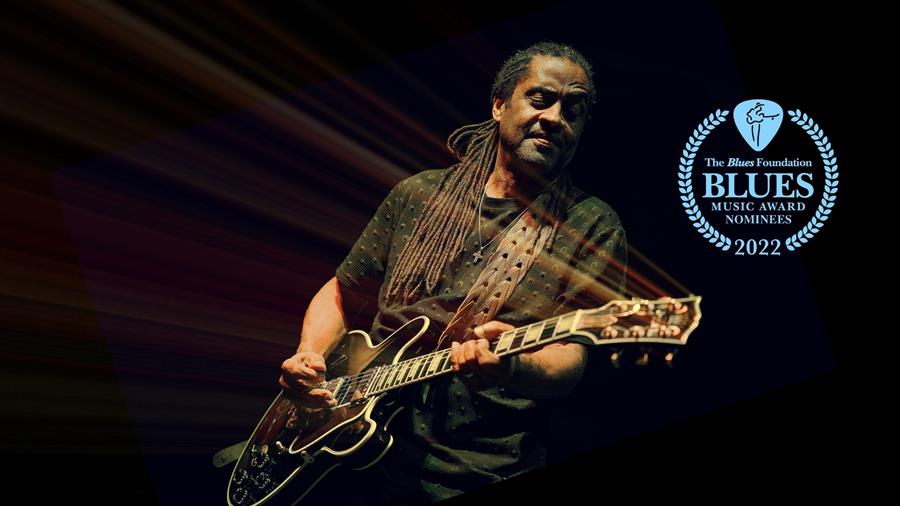 "Feeling home in Baton Rouge…"
Gitarist, harmonicaspeler en singer-songwriter Kenny Neal is de oudste zoon van  blues harmonicaspeler Raful Neal (1936-2004) & Shirley Brooks. Raful werd geboren in Baton Rouge (de hoofdstad van Louisiana) en opgevoed door zijn oom en tante op een pachtboerderij in Chamberlin in West Baton Rouge Parish. Raful begon op 14-jarige leeftijd mondharmonica te spelen en maakte met Buddy Guy deel uit van The Clouds. Zijn eerste album, 'Sunny Side of Love' (1958) op Peacock Records, was geen succes. Negen van zijn tien kinderen (7 zonen en 3 dochters) zijn ook blues muzikanten, verschillende speelden in zijn band en op zijn latere releases op het Alligator label. Kenny is in 1957 geboren in New Orléans (Louisiana) en treedt op samen met zijn broers (Darnell, Graylon & Frederick). Neal trad op samen met Lucky Peterson en Lazy Lester en was (toen hij in Toronto woonde) enige tijd lid van The Downchild Blues Band. Neal heeft drie kinderen: Kenny, Syreeta en Micah.
Zonen Kenny Neal en Lil' Ray hebben allebei hun eigen bands. Darnell speelt bas voor Kenny en Frederick speelt keyboards. Noel was in Chicago bassist bij James Cotton, Larry is een geweldige harpspeler en Ronnie drumt. Jackie Neal (1967-2005) had haar eigen band, met Graylen op drums. Tweelingzussen Charlene en Darlene zingen parttime achtergrondzang. Charlene's zoon, Tyree heeft zijn eigen band. De Tyree Neal-band. Kleinzoon Josh, de zoon van Lil' Ray, speelt bas bij Moonshine, een opkomende, jonge bluesband uit Baton Rouge.
Kenny kreeg zijn éérste harmonica van een van de vrienden van zijn vader, Slim Harpo. Als Kenny dertien was speelde hij in de band van zijn vader en op zijn zeventiende was hij occasioneel bassist in de band van Buddy Guy. Met zijn andere broers vormde hij in Toronto de Neal Brothers Blues Band. Kenny's broer Noel was bassist bij James Cotton (1935-2017) en zijn vijf andere broers speelden ook in verschillende bands.     
Kenny Neal debuteerde in 1987 met producer Bob Greelee bij King Snake Records met 'Bio on the Bayou'. Een jaar later tekende hij bij Alligator Records en werd het album heruitgeggeven onder de titel 'Big News from Baton Rouge!!'. Bij Alligator Records bracht hij tussen 1989 en 1994 vier albums uit. In 1998 tekent Neal bij het jazz georiënteerde Telarc Records, waar hij drie albums uitbrengt: 'Blues Fallin' Down Like Rain (1998), 'What You Got' (2000) en 'One Step Closer' (2001). Daarna volgen (met Billy Branch) 'Easy Meeting' (2003),  'Double Take' (2004) (zijn "one-shot return" naar Alligator) en 'A Tribute to Slim Harpo and Raful Neal' (2005). In september 2006 kondige Neal aan dat hij o.w.v. gezondheidsproblemen een jaar zou stoppen. Hij verscheen terug publiek midden 2007. In 2008, drie jaar later, Neal was dan nog bij Blind Pig Records, bracht hij met een dosis Memphis-soul 'Let Life Flow' (2008) en nog twee jaar later, 'Hooked on Your Love' (2010) uit. In 2015 verscheen zijn éérste album voor het Cleopatra label 'I'll Be Home for Christmas' en in 2016 #2, 'Bloodline', dat niet alleen met een Grammy-nominatie haalde voor "Best Contemporary Blues Album", maar ook twee Blues Music Awards won.
Het was dan wachten tot nu op 'Straight from the Heart'. Het album was een ware familiereünie en werd opgenomen op voor Kenny "bekend terrein", in zijn eigen Brookstown Recording Studios in Baton Rouge. De rode draad die door de elf nummers loopt is de muziek die in zijn jonge jaren thuis in de boerderij in Baton Rouge met het nodige gekraak uit de luidsprekers rolde. De opnames van de vooral eigen nummers deed hij met enkele speciale gasten, waaronder de gitaar sensatie Christone 'Kingfish' Ingram (die meeschrijft en -speelt op "Mount Up On The Wings Of The King"), Toriano Adaryll "Tito" Jackson, de oudere broer van Michael (te horen op "Two Timing" van Michael Kurt Jackson) en Rockin' Dopsie Junior & The Zydeco Twisters (te horen op twee nummers. Kenny's getalenteerde dochter Syreeta zingt de outro van "Two Timing".
'Straight from the Heart' is een passende titel voor een plaat die een ode brengt aan de vele liefdes van de Neals. "Blues Keep Chasing Me" waarmee het album opent, is een door de 504 Horns op touw genomen nummer. Kenny, pianist Arnet Hayes, Jason Parfait (sax) & Ian Smith (trompet) brengen een hulde aan de onlangs overleden Lucky Peterson (1964-2020). Er volgt dan het gekende "I'll Play the Blues for You" van Jerry Beach en "Louise Ana", het eerste nummer met Rockin' Dopsie Jr. & The Zydeco Twisters. De grote liefde van de familie Neal voor hun thuisstaat Louisiana wordt hier eerst rustig en daarna opnieuw op "Bon Temps Rouler" uptempo met opwindende zydeco en de nodige accordeon (Big Nate Williams) en wasbord (Rockin Dopsie Jr.) benadrukt. Tussendoor is er ook het ontroerende nummer "Someone Somewhere" geleid op piano door Darrell Jefferson, waarin Kenny zijn geliefde vader groet, die hem in alles voorging. Het swingende "I Got to Tell Somebody" gaat nog de afsluiter vooraf. "New Orleans" vat met teksten die verwijzen naar "sippin' on Hurricane" en "sittin' on the Bayou om meerval te vangen…" nog eens alles samen.
"Kenny Neal leads us on 'Straight from the Heart' passionately through his Baton Rouge in Louisiana, where it all started for him and his family…" (ESC for Rootstime)
Eric Schuurmans
Releasedatum:  20/05/22
Album tracklist: 01. Blues Keep Chasing Me – 02. Mount Up on the Wings of the King, feat. Christone "Kingfish" Ingram [w/Eric O. Harper, Raye Edwards & Xhristophe "Kingfish" Ingram] – 03. I'll Play the Blues for You [Jerry Beach] – 04. Two Timing, feat. Tito Jackson [Michael Kurt Jackson] – 05. Louise Ana, feat. Rockin' Dopsie Jr. & The Zydeco Twisters – 06. It Don't Cost Nothing – 07. Bon Temps Rouler, feat. Rockin' Dopsie Jr. & The Zydeco Twisters  – 08. It's Been So Long [Raful Neal] – 09. Someone Somewhere [Junior Parker] – 10. I Got to Tell Somebody [Joe Caruso] – 11. New Orleans | Music/Lyrics by: Kenny Neal (1,2,5-7,11) [noted: 3,4,8-10] | Produced by: Kenny Neal, Gebre Waddell & Trace Hallowell | Album credits: Kenny Neal: vocs, lead & rhythm guitar (1,5,7) / Bass: Darnell Neal (1-4,6,8,10,11), Lee Allen (5,7), Terrell Grifin (9) / Guitar: Christone "Kingfish" Ingram (2) / Vocs: Tito Jackson & Syreeta Neal (2) / Drums: Michael Harris (1,4,6,9), Bryan Morris (2,3,10,11), Kevin Menard (5,7) / Keys: Piano: Arnet Hayes (1), Orlando Henry (3), Brandon Adams (6) - Brandon Adams: Hammond B3 (2,4,6,8-10) / 504 Horns: Jason Parfait: sax & Ian Smith: trumpet / Accordion: Big Nate Williams (5,7), Anthony Dopsie (7), Dwayne Dopsie (7) / Rockin Dopsie Jr.: washboard (5,11) / Bvs: Sharisse Norman & Shontelle Norman-Beatty (2) 
Discography KENNY NEAL: Straight from the Heart [2022] | Blood Line [2016] | I'll Be Home for Christmas [2015] | Hooked on Your Love [2010] | Let Life Flow [2008] | A Tribute to Slim Harpo and Raful Neal [2005] | Double Take, feat. Billy Branch [2004] | One Step Closer [2001] | What You Got [2000] | Homesick for the Road [1999] | Easy Meeting, w/Billy Branch [1998/2002] | Blues Fallin' Down Like Rain [1998] | Walking on Fire [1998] | Deluxe edition [1997] | Hoodoo Moon [1994] | Bayou Blood [1992] | Walking on Fire [1991] | Devil Child [1989] | Big News from Baton Rouge [1988] | Bio on the Bayou [1987] || Discography RAFUL NEAL: Old Friends (Club Louisianne)  [1998] | Live: Swampland Jam, by Tab Benoit – feat. Raful Neal [1997] | I Been Mistreatment (Ichiban) [1991] | Louisiana Legend (King Snake Records/Alligator) [1990] | Man, Watch Your Woman (Fantastic) [1987] | Sunny Side of Love (Peacock) [1958] |