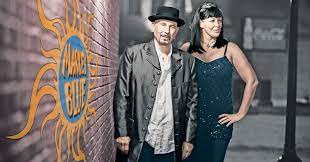 "From the Home of Southern Soul and Blues…"
Dit jaar zijn Jeannette Markey "Blue" & Ric Latina een decennium lang de bezielers van het Markey Blue Ric Latina Project. Ze vieren dit met een vierde studio album, 'Jumpin' the Broom'. Niet alleen als gehuwd koppel, maar ook als muzikanten zijn ze als virtuozen, al jaren één.
Zij, Jeannette Markey is geboren in Hemet (Californië) en startte op 19-jarige leeftijd als showgirl in Las Vegas als zangeres, stand-up comédienne en actrice. In de blues werkte ze met Taj Mahal, Anson Funderburgh, Delbert McClinton en Bobby "Blue" Bland. Hij, Ric Latina is een van de beste sessiegitaristen in Nashville, is afkomstig uit Rhode Island en heeft naam gemaakt als bandlid van countrysterren Waylon Jennings, Hank Williams III, Suzy Bogguss en anderen. Muzikaal is hij sterk beïnvloed door Robben Ford, Larry Carlton en BB King. Hij leidde in Nashville zijn eigen R&B / jazz / BluesRock-band, The Bomb Squad City.
De respectievelijke bands werden in 2013 samengebracht door Latina en Markey toen ze beiden op dezelfde locatie optraden met hun bands. Ze bundelden hun krachten en binnen iets meer dan een jaar brak het Markey Blue Ric Latina Project door.
In 2014 debuteerden ze bij het Soul O Sound label als Markey Blue met 'Hey, Hey' en elk album dat ze daarna nog  uitbrachten werd genomineerd met meerdere blues awards. Samen schreven ze  tien nummers voor 'Jumin' the Broom' (2022), hun meest recente, hun vierde album, dat duidelijk geïnspireerd is door de sound van Memphis. Ze zijn de perfecte synthese van de kunstenaarsgiften van beiden.

De keuze was hier moeilijk, maar mijn "favorieten" zijn door de zang van Jeannette en het subtielere gitaarspel van Ric en ook het aanstekelige refrein, "Hanging On", "Little Betty" vanwege de slide gitaar, "Lowdown Voodoo Woman" door de overtuigende zang en de vuile gitaar solo's en de afsluiter, het prachtige en soulvolle "Where Are You". Daarnaast maakt de sax solo van Dana Robbins op "Right Kind of Woman" en het toetsenwerk van Mark T. Jordan op "Crying Out Loud" de nummers bijzonder.
"Over the years, 'Jumpin' the Broom' by the Markey Blue Ric Latina Project is again the perfect synthesis of the musical qualities of this duo…" (ESC for Rootstime)
Eric Schuurmans
Album tracklist: 01. Bad for Real – 02. Hanging On – 03. When It's Blue – 04. Little Betty – 05. Be With Me – 06. Lowdown Voodoo Woman – 07. You Got the Blues - 08. Right Kind of Woman - 09. Crying Out Loud – 10. Where Are You | Music/Lyrics by: Ric Latina & Jeannette Markey | Produced by: Ric Latina | Album credits: Ric Latina: guitar, bvs / Markey Blue: lead vocs, bvs / Randy Coleman: bass / Shannon Wickline: keys / Dave Northrup: drums, percussion / Chris West: horns, flute / Mark T. Jordan: keys (9) / Dana Robbins: sax solo (8) 
Discography MARKEY BLUE RIC LATINA PROJECT: Jumpin' the Broom [2022] | Raised in Muddy Water [2018] | The Blues are Knockin' [2016] | Hey, Hey, by Markey Blue [2014] |