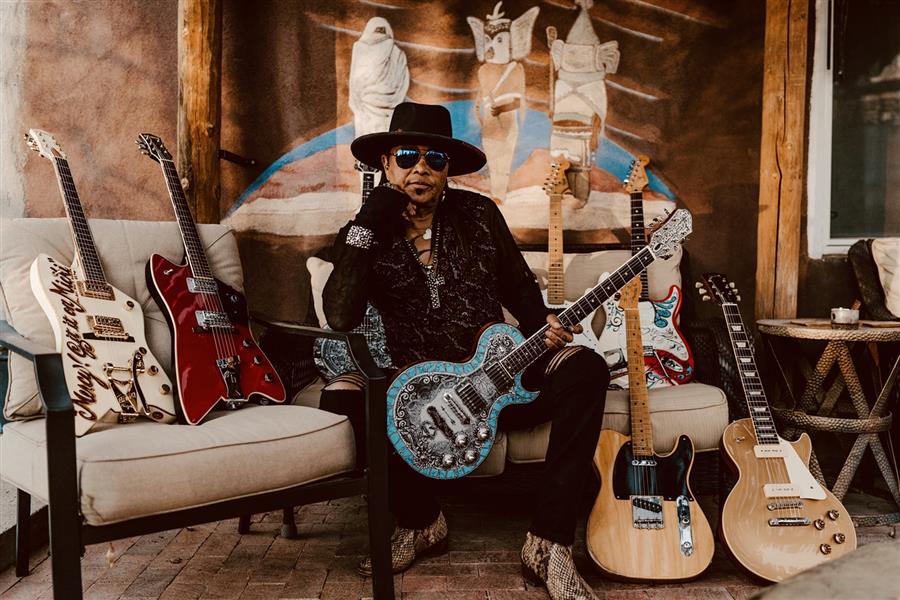 "I get my mojo from the classic greats,
the masters of blues-rock and even classic rock…"
Micki Free aka Rodney L. Davis is een Comanche/Cherokee indiaan met Ierse roots. Als muzikant is hij bekend als gitarist van de R&B band Shalamar (en van hun Footloose film hit "Dancing in the Sheets"), als veelvoudig "Native American Music Award Winner" (1985: "Best Album of Original Score Written for a Motion Picture" voor Beverly Hills Cop), als Grammy Award winnaar ("Best Album of an Original Score written for a Motion Picture") en/of als frontman van zijn eigen band Crown of Thorns (featuring Jean Beauvoir).
'Tattoo Burn-Redux' (2017) was, vergeleken met zijn voorganger 'The Native American Flute As Therapy' (2016), een gitaar gedreven blues/soul/funk en R&B album. De opvolger 'Turquoise Blue' (2022) is vooral een blues/rock album dat ook nu weer opvalt door de illustere gasten: gitaristen Gary Clark Jr. & Christone "Kingfish" Ingram, drumster Cindy Blackman-Santana en de Santana lead zanger (Supernatural World Tour) Andy Vargas.
Ook nu weer schreef en produceerde Micki Free (bijna) alle nummers voor het album, dat hij opnam met drummer Soaring "Hawk" Lopez, bassist Ken "Mojo Man" Riley, toetsenist Mark "Muggy Do" Leach (Hammond, piano, Fender Rhodes) & zangeres Trish Bowden.
'Turquoise Blue' ontstond tijdens de eerste uitbraak van Covid-19. In het stuwende en veelzeggende "Bye 2020" neemt Micki  afscheid van de vreselijke pandemie maanden door alles van zich af te schrijven. Hij is duidelijk boos en moe en haalt gitaarheld Steve Stevens (Billy Idol) binnen voor een solo. "Heavy Mercy" lijkt een rustiger nummer, tot de demonen het over nemen en Jimi de set lijkt te vervoegen. De enige cover hier is de Bob Dylan klassieker "All Along the Watchtower", die Micki aan zijn grote idool Jimi Hendrix linkt. Op "Judicator Blues" is gitarist Christone "Kingfish" Ingram de gast die een ​​prikkelend gitaarsolo aflevert. Het rustige "World on Fire", gezongen door Andy Vargas, met Cindy Blackman-Santana (de vrouw van Carlos Santana) achter de drums en Karl Perazzo op percussie, is een protest song, een volledig in Santana stijl. Het is een pleidooi om de mensheid te redden van de vele bedreigingen waarmee het nu wordt geconfronteerd. "Ring of Fire" is niet de Johnny Cash klassieker maar een stevige blues rocker met veel aanstekelige wah-wah's. "Woman" is daarna een strak nummer dat Micki doet met de altijd even sterke Gary Clark Jr.
"On 'Turquoise Blue', Micki Free looks back at a difficult year and looks ahead to what connects him…" (ESC for Rootstime)
Eric Schuurmans
10 CD's te winnen!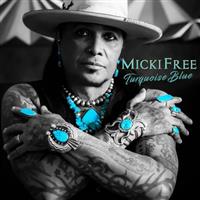 Wil je daar kans op maken, dan mail je ons gewoon even:
je naam, je adres en de vermelding: MICKI FREE
Binnen een aantal weken wordt uit alle inzendingen de gelukkigen getrokken.
Wij hopen dat u massaal Rootstime - hier - zult mailen
De winnaars worden per mail verwittigd.
Album tracklist: 01. Ridin' 420 – 02. Bye 2020 – 03. Heavy Mercy – 04. Invitation Love – 05. Come Home Big Man – 06. All Along the Watchtower [Bob Dylan]  - 07. Judicator Blues – 08. Spring Fever – 09. World on Fire – 10. The Big Regret – 11. Heaven or Heroin – 12. Ring of Fire – 13. Woman – 14. Blue Memoires | Music/Lyrics, Produced by: Micki Free | Album credits: Micki Free: lead vocs, guitars, tambourine, bvs / Soaring "Hawk" Lopez: drums / Mark "Muggy Do" Leach: Hammond, piano, Fender Rhodes / Ken "Mojo Man" Riley: bass / Trish Bowden: bvs & Guests: Andy Vargas: lead vocs (3) / Steve Stevens: nylon guitar (11), e guitar: 1st solo (1) / Karl Perazzo: percussion (3) / Gary Clark Jr.: 1st guitar solo (4) / Christone "Kingfish Ingram": guitar solo (2) / Cindy Blackman – Santana: drums (3)   
Discography MICKI FREE: Turquoise Blue [2022] | Tattoo Burn-Redux [2017] | The Native American Flute as Therapy [2016] | American Trash, by Jean Beauvoir & Micki Free [2015] | American Horse Trio [2010] | Sodona Free [2009] | Ambassador of Rock [2009] | Experience [2005] | Gypsy Cowboy [2005] | The Sun Chaser [2003] | Black Moon… Black Sun [2002]