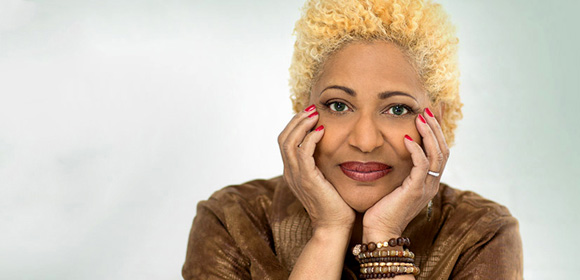 "Same blood, same bone. One heart, one voice, one song, we're not alone…"
Vaneese (Yseult) Thomas (geboren in 1952 in Memphis, TN), een Amerikaanse R&B, jazz, soul en blues singer-songwriter, is de jongste dochter van (jawel!) de legendarische soulzanger Rufus Thomas (1917-2001), die de wereld in de seventies deed dansen op zijn hits "Walking the Dog" en "Do the Funky Chicken". Haar broer Marvell (1947-2017) was en haar zus Carla is ook muzikante. Carla bracht de bekende single "I'll Bring It on Home to You" uit, die een soort van antwoord was op Sam Cooke's single "Bring It on Home to Me". Carla is bekend geworden van de duetten die ze deed samen met Otis Redding, waaronder het op single uitgebrachte "Tramp". Ook coverde ze het liedje "Knock on Wood", dat eerder door Eddie Floyd gezongen was en dat hier in 1967 een hitje werd.

Vaneese kennen we van haar R&B hit single uit 1987 'Let's Talk It Over'. Tijdens de 36ste Blues Music Awards werd ze genomineerd in twee categorieën: in de categorie "Soul Blues Album" voor haar 2013-album 'Blues for My Father' en in de categorie "Soul Blues Female Artist".
Vaneese Thomas debuteerde in 1987 met haar titelloos album, waarmee ze met enkele singles (het al genoemde "Let's Talk It Over" en "(I Wanna Get) Close To You") in de US R&B Top 20 scoorde. De albums, die daarna volgden haalden dit niveau niet meer, waardoor Vaneese vaker te horen was als backing zangeres. In 1999 bracht ze 'When My Back's Against the Wall' uit, een album dat beter scoorde: "a small label masterpiece that begs for attention from savvy majors…". Vaneese's stem is ook te horen in tv-series en in de soundtrack van de Disney film "Hercules" als Clio de Muze en van de films "Anastasia" (1997) en "Mighty Aphrodite & The First Wives Club".
Vaneese Thomas werkt ook als producer (Patti Austin, Sarah Dash, Freddie Jackson), arrangeur en songwriter voor anderen. Ze schreef o.a. voor Patti Austin ("A Candle", "Rain Rain") en Diana Ross. Ross scoorde in de UK Top 10 met Vaneese's nummer, "One Shining Moment". In 1989 huwde Vaneese met Wayne Warnecke, een multi-instrumentalist, studio ingenieur en producer, die ze eerder leerde kennen in de Minot Sound Studio's in White Plains, New York. Warnecke werkte er samen met  Ernie Poccia. 
Van haar 2013-album 'Blues for My Father' schreef haar vader Thomas de meeste nummers. Op één nummer zingt Vaneese een duet met hem en op een ander nummer een duet met haar zuster Carla ("Wrong Turn"). Na 'Peace and Goodwill' (2015) en 'The Long Journey Home'  (2016) volgde 'Down Yonder' (2019) en deze maand 'Fight the Good Fight'.
Voor de opnames van haar nieuwe album nodigde Vaneese veel "special guests" uit, waaronder Scott Sharrard (muzikaal leider van Gregg Allman), Bo Mitchell, Lisa Fischer, Tash Neal, de Memphis Horns met trompettist Marc Franklin en saxofonist Kirk Smothers (Drive By Truckers), Corrin Huddleston (mondharmonica), Peter Calo (banjo), Will Lee (bas), Shawn Pelton (drums) en een hele reeks andere spelers. De speciale sessies vonden plaats in Brooklyn, Nevada en de beroemde Royal Studio's in Memphis.
"There were soulful women born in my hometown. We breathed the same air, we walked the same ground…."
'Fight the Good Fight' is het vierde album* dat Vaneese opdraagt aan haar vader. Het is ook een hommage aan de vrouwelijke muziekpioniers, die de weg vrijmaakten voor de diva's van vandaag. In de nummers die Vaneese schreef (enkele samen met Al Orlo en enkele met Carolyn Mitchell), verkent ze haar roots zowel muzikaal als contextueel. 'Fight the Fight' (de bijgevoegde teksten zijn hier méér dan het beluisteren waard) is een voortreffelijke muzikale uitdrukking van pijn en wanhoop vermengd met niet aflatende vastberadenheid, veerkracht en optimisme. Dat blijkt al uit de opener "Raise the Alarm" (een van de nummers die ze schreef met Al Orlo), "He's a Winner" (het enige nummer dat ze met Warnecke schreef) en "Fight the Good Fight", het inspirerend en hoopvolle titelnummer met aangename viool van Katie Jacoby en wat frêle gepluk op akoestische gitaar door Paul Guzzone. "Same Blood Same Bone" is een nummer dat Vaneese ingehouden, maar heel soulvol zingt en dat een emotionele ode aan het soulvolle erfgoed van haar geboortestad Memphis is. Aan "Rosalee" voegt Peter Calo's banjo een country-flair toe en het is Vaneese zelf die op piano op het aanstekelige "I'm Movin' On" de toon zet. In de ballade "Time to Go Home" dragen de onopvallende mandoline van Al Orlo en het accordeon van Joe Mennonna bij aan de emotionele toon van de smekende zang van Vaneese. Ze onderzoekt daarna de sterkte van haar hart op "When I've Had a Few" en op "Bad Man" geraakt ze, na de korte intro, aardig op dreef en mijdt ze de confrontatie met de slechterik niet. "Blue" vat het verhaal van liefdesverdriet en spijt mooi samen, waarbij de subtiele Latino touch zijn doel niet mist. Door het arrangement krijgt "'Til I See You Again" iets van Broadway mee en wat er dan nog overblijft, is de spirituele afsluiter, "Lost In The Wilderness".  Een emotionele Vaneese zingt het nummer prachtig, terwijl het koor hier nog meer kracht en passie toevoegt. Hoe kan het ook anders, als je zoals Vaneese Thomas uit een familie komt, waar het maken van geweldige muziek hun hoofddoel is…
"Vaneese Thomas surpasses herself on 'Fight the Good Fight' and puts herself more firmly in the top of today's soul vocalists…" (ESC for Rootstime)
Eric Schuurmans
10 CD's te winnen!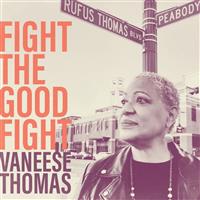 Wil je daar kans op maken, dan mail je ons gewoon even:
je naam, je adres en de vermelding: VANEESE THOMAS
Binnen een aantal weken wordt uit alle inzendingen de gelukkigen getrokken.
Wij hopen dat u massaal Rootstime - hier - zult mailen
De winnaars worden per mail verwittigd.
Album tracklist: 01. Raise the Alarm – 02. Same Blood Same Bone - 03. Rosalee [w/Lisa Fischer] - 04. I'm Movin' On - 05. Time to Go Home - 06. When I've Had a Few - 07. Bad Man - 08. Blue - 09. 'Til I See You Again - 10. He's a Winner - 11. Fight the Good Fight - 12. Lost in the Wilderness | Music/Lyrics by: Vaneese Thomas (6,8,11,12), w/Carolyn Mitchell (3,9), Al Orlo (1,2,4,5,7), Lisa Fischer (3) & Wayne Warnecke (10) | Produced by: Vaneese Thomas & Wayne Warnecke  | Album credits: Vaneese Thomas: vocs, piano, e keys, bvs (2,3,9,10,12) / Guitars: Al Orlo: e guitar (1,2,4,7,9,11), a guitar (5) / Wayne Warnecke (6,7,10) / Tash Neal (3) / Scott Sharrard (4,8,12) / Paul Guzzone: a guitar (11) / Drums: Shawn Pelton (10,12) / Waune Warnecke (1-7,9,11) / Bass: Will Lee (10) / Paul Adamy (4,12) / Paul Guzzone (11) / Wayne Warnecke (1-3,5-6) / Organ: Jon Cobert (1,2,9) / Wayne Warnecke (4,7,10) / Accordion: Joe Mennonna (5) / Mandolin: Al Orlo (5) / Banjo: Peter Calo (3) / Violin: Katie Jacoby (11) / Harmonica: Corrin Huddleston (7,10) / Pedal steel guitar: Justin Schipper (6) / Percussion: Bashiri Johnson (8) / Wayne Warnecke (1-7,9,11) / Shawn Pelton (12) /  The Memphis Horns:  Marc Franklin (trumpet), Kirk Smothers (bari sax) & Lannie McMillan (tenor sax) / Bvs: James D-Train Williams (9,12), Lisa Fischer (2,3), Emily Bindiger (1,7,10), Kati Mac (1,7,10), Paul Guzzone (11)
Discography VANEESE THOMAS: Fight the Good Fight* [2022] | Down Yonder* [2019] | The Long Journey Home* [2016] | Peace and Goodwill [2015] | Blues for My Father* [2014] | Soul Sister Vol. One: A Tribute to the Woman of Soul [2009] | A Woman's Love [2004] | Talk Me Down [2001] | When My Back's Against the Wall [1998] | Vaneese Thomas  [1987] |