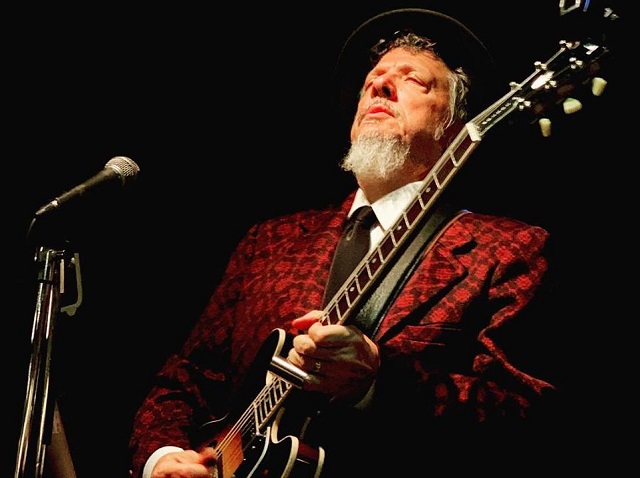 "Songs that reflect what it means to navigate the blues right now…"
Jeff Dale is geboren en getogen in de South Side van Chicago, waar er nog steeds muziek op bijna iedere hoek van de straat te horen is. Zo kwam Jeff al snel in contact met legendarische artiesten als Hound Dog Taylor, Muddy Waters, Howlin' Wolf en Koko Taylor. Als hij dertien was en nog voor dat hij zich moest scheren, leerde Jeff de blues spelen en begeleidde hij muzikanten als Lowell Fulson, Pee Wee Crayton en Etta James. Van de stad Los Angeles kreeg Jeff Dale een Living Legend Blues Award With ter ere van zijn 40 jaar optreden en schrijven van originele rootsmuziek.
In de jaren tachtig nam hij met de Blue Wave Band twee albums met origineel materiaal op. Na 20 jaar uit de muziek scene "verdwenen" te zijn, herrees Dale in 2009, als een feniks uit zijn as, met een nieuwe band The South Woodlawners én een nieuw album, 'Blues From The South Side Of My Soul', beschreven als "rumoerige, luide, ondeugende en schunnige South Side Chicago-stijl blues…". In 2011 bracht  Dale zijn album 'Blues Room' uit en drie jaren later 'Good Music'. Dale geraakte in die periode ook bevriend met David "Honeyboy" Edwards (1915-2011), met wie hij nog optrok. In 2016 produceerde Jeff een dvd/cd van de laatst opgenomen show van "Honeyboy", getiteld 'I'm Gonna Tell You Somethin' That I Know'. Het project won de Living Blues' "Best Blues DVD of the Year" award 2017 en  All Music Guide's "Best of 2017".
In 2019 verscheen 'Blues Power', zijn 6de album met 11 originele tracks. Jeff nam het album op met co-producer en lid van de roots rock band Lone Justice, Marvin Etzioni (The Counting Crows, Trombone Shorty, Stephen Stills, Judy Collins). De line-up was een lange lijst met o.a. de R'n'R Hall of Fame genomineerde Lee Loughname (medeoprichter van de band Chicago!), leden van de band van Buddy Guy, James Cotton en Hunter & The Dirty Jacks (Hunter Ackerman, Jon Siembieda, Aaron Barnes, Brian Lara & Carmela Bonaventura) én, de eerste cellist van de L.A. Opera (Derek Phillips).
De nummers voor zijn nieuwe album, 'Blood Red Moon' schreef Jeff Dale tijdens de pandemie lockdown. Ze herinneren "niet alleen aan zijn begin in de South Side van Chicago, maar weerspiegelen ook wat het betekent om nu -heden ten dage- door de blues te navigeren". 'Blood Red Moon' is een album, dat zowel dreiging als plezier bevat. Het werd opgenomen met The Dirty Jacks (Aaron Barnes: bas & Brian Lara: drums) en, voor de nodige voodoo, enkele van zijn "oude" South Woodlawners (Jon Siembieda: gitaar, Glen Doll: harmonica & Derek Phillips: keys). Door opnieuw Dane Little, de solo-cellist van de L.A. Opera, voor een aantal nummers te vragen, deed Dale een out-of-the-box benadering tijdens het produceren van "zijn" blues.
Dale kwam ook veel in contact met buitengewone muzikanten, producers en ingenieurs buiten de blues wereld. Onder hen is Jeff Glixman, vooral bekend van zijn werk als producer van de albums van Kansas in de jaren '70 wat hitsingles als o.a. "Carry On Wayward Son" ('Leftoverture', 1976) en "Dust in the Wind" ('Point of Know Return', 1977) opleverde. Glixman stond erop dat hij het album zou mixen in zijn studio in New Orleans. David Donnelly, een Grammy® winnende ingenieur voor zijn werk met Alan Parsons, voegde ook een extra laag uitzonderlijk talent toe aan het album.
Met "You Made Your Own Bed" en de harmonica van Glenn Doll in de intro, opent Jeff Dale, die zo te horen er duidelijk zin heeft, zelfzeker en vooral rockend. De sfeer slaat dan met "Cicero" om. We horen meteen al een andere Dale die met de Woodlawners ons meeneemt naar Illinois, meer specifiek naar Cicero "the Best Town in America", wat ons in een andere gemoedstemming brengt. De titelsong en "At the Wolf's Door" sluiten hier, door het knappe drumwerk van Brian Lara en de inbreng van toetsenist Derek Phillips, goed bij aan. Steve Sax zet dan "Autumn Blues" in, waarna Dale het vanachter zijn micro overneemt en de kleuren beschrijft, die hij rondom hem ziet. Het uptempo "She Wouldn't Leave Chicago" is, zoals de titel ergens laat vermoeden, Chicago blues en het zwoele "The Dirty Jacks" in essentie waar Barnes & Lara voor staan. Dat Dale & Co kunnen swingen laten ze horen op "Trouble Know Where I Live", dat puntje altijd bij paaltje komt bevestigt Dale op "Push Comes to Shove" en of alles nog slechter wordt? Dat moet je zelf uitmaken na "Things'll Get Worse" waarmee Dave na veel slide labeur en badend in een Latino sfeertje afsluit.
"Jeff Dale & the Woodlawners succeed with  'Blood Red Moon' to produce a recognizable contemporary blues album, with its roots deep in the South of Chicago …" (ESC for Rootstime)
Eric Schuurmans
'BLOOD RED MOON': Tracklist: 01. You Made Your Own Bed – 02. Cicero – 03. Blood Red Moon – 04. At the Wolf's Door – 05. Autumn Blues – 06. She Wouldn't Leave Chicago – 07. The Dirty Jacks – 08. That Ain't Love – 09. Trouble Know Where I Live – 10. Push Comes to Shove – 11. Things'll Get Worse | Music/Lyrics by: Jeff Dale | Produced by: Jeff Dale | Credits: Jeff Dale: vocs, guitar, slide & sitar guitar / The Dirty Jacks (Aaron Barnes: bass & Brian Lara: drums, percussion), The South Woodlawners (Jon Siembieda: guitar, Glen Doll: harmonica & Derek Phillips: keys) & Steve Sax: alto & tenor sax / Dane Little: cello / Elizabeth Hangan: bvs
Discography JEFF DALE & THE SOUTH WOODLAWNERS: Blood Red Moon [2022] | Meet the Moment, w/Tim Reilly (EP,6#) [2022] | See Bar Ray (single) [2022] | Lowell Fulson Live! (Club 88 – November 5, 1983), w/Jeff Dale & The Blue Wave Band [2021] | Solar Masses (EP,5#) [2020] | Blues Power [2019] | This is Lowrider Soul (compilation), # 21: Jeff Dale: Don't Forget About My Baby [2019] | The Southside Lives, w/Jeff Stone [2017] | I'm Gonna Tell You Somethin' That I Know, by "Honeyboy" Edwards, producer: Jeff Dale (dvd/cd) [2016] | Good Music [2014] | Blues Room [2011] | Blues from the South Side of My Soul [2009] | Sanctified Soul (compilation), #16: Jeff Dale: A Suffering Pain [2000] |