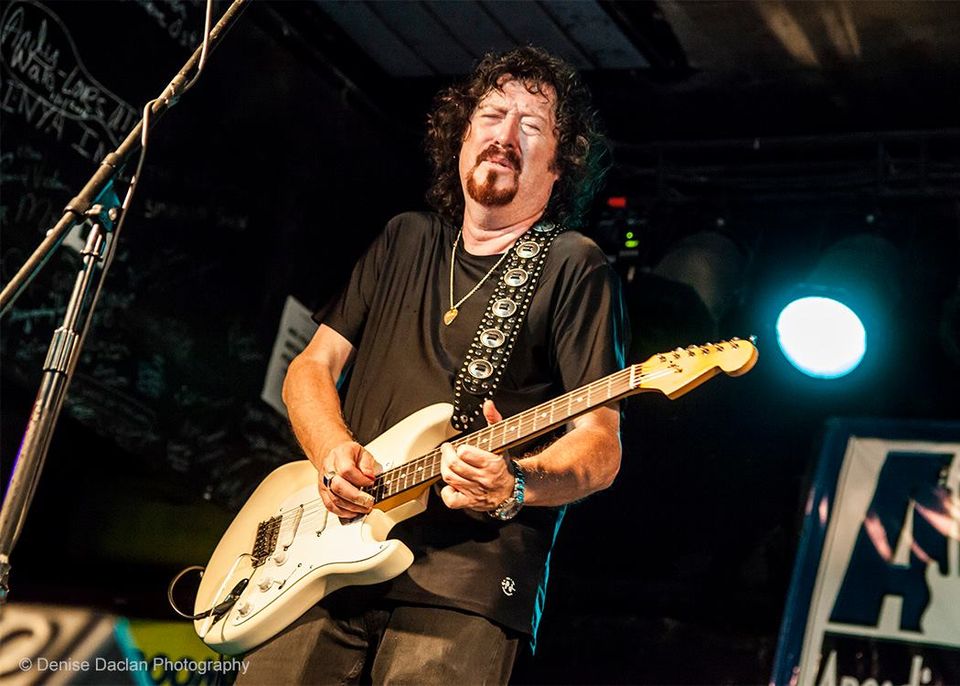 "Jack is back!…"
Singer-songwriter en bluesgitarist, de veteraan Jack Wargo aka "Guitar" Jack is geen nieuwkomer in de blues scene. Wargo toerde al uitgebreid met o.a. Billy Preston en Solomon Burke en hij stond al in de studio met Ray Charles en The Jacksons. De Guitar Jack Group opende voor o.a. Chris Cain, Little Jimmy King en Smokin' Joe Kubek & Bnois King. Jack Wargo treedt ook op met zijn band Guitar Jack & No Slack.
Wargo debuteerde in 2000 met 'Losin' Hand', in 2006 bracht hij de opvolger 'Private Tears' uit en Wargo's laatste album dat we hier recenseerden, 'Keepin' It Real' verscheen in 2017. Het was een blues album met "vertrouwde" Soul en Funk invloeden.
Jack Wargo's negende album kreeg de titel 'Til the Money's Gone'. Op het album staan 14 zelfgeschreven nummers. Jack wordt begeleid door een rij topmuzikanten, die elkaar afwisselen. Toetsenist John 'JT' Thomas, bassisten Matt Bragg & Mike Hightower, drummers Jim Kersey & John Daren Thomas en zangeres Deb Snyder zijn maar enkele namen. Qua stijl past Jack ergens tussen de klassieke blues en soul blues.
Als ik doorheen de track list ga, dan zijn mijn favoriete nummers de opener, het  relaxte  en funky "Holla at Your Boy", het groovende soul/blues nummer "Tell Me Baby", het à la Stones rockende "Run Rudy Run" en de soul ballade "Deja Blues". Uit het tweede deel zijn dit verder het swampy "Tryin' Tah Find" dat je mee naar het broeierige New Orleans neemt, de mooie ballade "Tailor-Made Suit" en het jazzy laat-in-de-avond nummer, "Let Me Down Easy". De laatste twee nummers van het album, de instrumental "Blue Sapphire" met opwindende harp van Stanley Behrensen "Livin' In the Blues" zijn close swingende blues nummers.
Guitar Jack Wargo levert op de valreep van 2021 een prima soulblues album af!
"Guitar Jack Wargo is back with 'Til the Money's Gone' and a solid portion of swing and groove…" (ESC for Rootstime)
Eric Schuurmans
Album tracklist: 01. Holla at Your Boy - 02. We Need to Talk - 03. Tell Me Baby - 04. Hang Out Your Tears - 05. Run Rudy Run - 06. Searchin' - 07. Relax Your Mind - 08. Deja Blues - 09. The Prowler - 10. Tryin' Tah Find - 11. Tailormade Suit - 12. Let Me Down Easy - 13. Blue Sapphire - 4. Livin' In The Blues | Music/Lyrics by: Jack Wargo, w/ or as [noted] © 2022 | Produced by: Jack Wargo & Mike Hightower | Album credits: Guitar Jack Wargo: vocs, guitars, bass (4,5) / Mike Hightower: bass (1-3,7-9,12,13) / Jim Kersey: drums (1-3,7-10,12,13) / John "JT" Thomas (1-6,8,10-14): organ, Wurlitzer, piano / Deb Ryder: vocs (4) / Bass: Matt Brag (6), Denise Daclan (10,11), Melvin Stuart (14) / Drums: John Daren Thomas (4,6,14), Edoardo Tancredi (5,11), Jim Kersey (7-10,12,13) / Rochella Brown: bvs / Stan Watkins: trumpet (6,7) / Steve Mann: sax (6) / Herman Jackson: strings (12) / Stanley Behrens: harmonica (13) / Jimmy Powers: harmonica (14)
Discography GUITAR JACK WARGO: 9-Til the Money's Gone [2021] | Unconditional (Special Edition) [2019] | Keepin' It Real [2017] | Live @ B.B. King's [xx] | A Blues Christmas [xx] | 2-Blues Collection, Vol. 1 [2014] | 1-Private Tears [2006] | Losin' Hand [2000] |