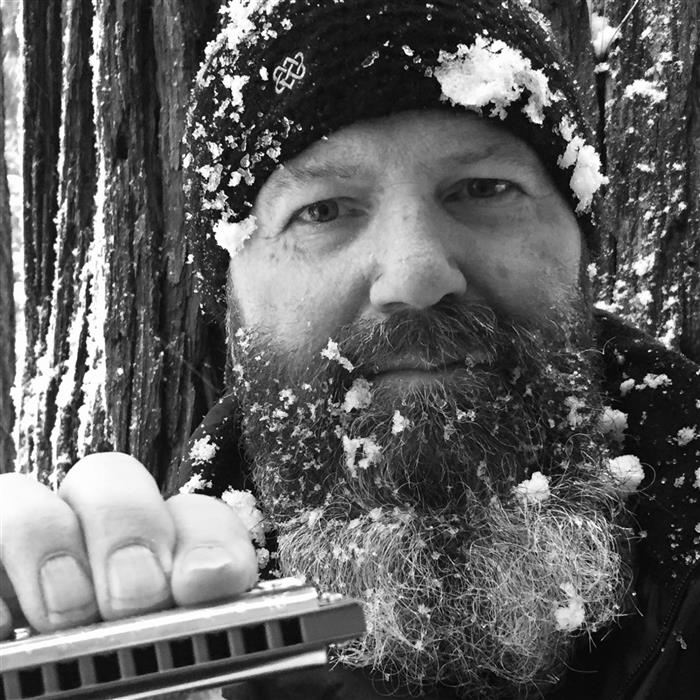 De in de San Francisco Bay wonende harpspeler Neil F. Barnes is een product van de sixties. Hij is beïnvloed door Paul Butterfield en Lee Oskar en is een grote fan van Charlie Musselwhite, bij wie hij privéles volgde. Zijn voornaamste leraar was echter de uitzonderlijk begaafde Gary Smith, de peetvader van de blues scene in de South Bay Area.
Begin jaren '80 was Neil Barnes frontman van Bar-B-Que Barnes & The Rib-Tones. Zij traden op in de kelder van een club in San Jose (CA) waar van 1980 tot 1982 de  "Joshua's Blue Monday Parties" plaatsvonden. De Rib-Tones bestond uit Hap Scott (bas / zang), Larry Calley (lead gitaar), Robert (drums), Bob Gomes (B3) & Sid Morris (piano). Soms waren er ook gasten aanwezig als Sonny Lane, Johnny Waters, Francis Clay en Luther Tucker, die mee jamden en die op die avond voor de "extra's" zorgden. Barnes geraakte er bevriend met Sonny Lane, met wie hij wel eens samen speelde. Verder werkte hij ook als akoestisch duo samen met gitarist Greg Hartman.
In 1980 nam Barnes, onder zijn eigen label RibTone Records, een 45 toeren single op met twee eigen composities: "Blues for Breakfast"/"Close Call". Hij nam die op met Little Willie Littlefield als pianist, Ron Thompson als zanger en slide gitarist, Junior Watson als gitarist en met als ritmesectie Bill Stuve (bas) en Robert Montes (drums). Later volgen er nog meer albums met nog meer eigen werk en met een gewijzigde band. De nieuwkomers zijn Sonny Lane (gitaar), Bob Gomes (B3), Hap Scott (zang) en de legendarische Mark Naftalin (piano).
Neil Barnes, die de microfoon schuwt, heeft het afgelopen decennium twee cd's uitgebracht: 'This Was Then Now' (2012) en het goed ontvangen 'Hyde and Seek' (2014). Voor zijn laatste project 'Hyde & Seek' (2014) trok Neil Barnes naar de West Coast en vroeg er aan bevriende, gerespecteerde muzikanten om mee te doen met zijn sessies. Hij kon rekenen op Earl Thomas (zang), Lady Bianca (piano, zang), Rev. Paul Smith (Hammond B3), Ron Thompson (gitaar, zang), Oshmin Oden (bas) en Winfred Williams (drums). 'Hyde & Seek' bevat bewerkingen van songs van New Orléans' veteraan Allen Toussaint en enkele (rock) gospel klassiekers.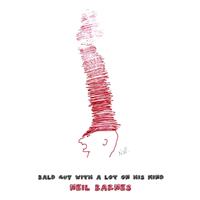 BALD GUY WITH A LOT ON HIS MIND (2020)
Neil Barnes besteedde in zijn carrière altijd veel tijd achter de schermen als producer van werk voor andere artiesten. Hij haalde voor de opnames van zijn laatste full-lenght album 'Bald Guy with a Lot on His Mind' (2020) dat hij opnam met studio-tovenaars Kid Anderson (Greaseland Studio's) en Big Jon Atkinson (Bigtone Studios en Hyde Park Studios) een all-star band, alles uit de kast. De line-up zat boordevol talent, waaronder de gitaristen Kid Andersen, Johnny Cat Soubrand (Terry Hanck Band) en Ron Thompson (1953-2020) in enkele van zijn laatste opnames, toetsenist Sid Morris (piano), bassist Mike Phillips, drummers June Core & Winfred Williams, zangeressen Lauren Halliwell & Lady Bianca, zangers Earl Thomas & Kyle Jester (Candye Kane).
De tien nummers werden opgenomen in drie opnamestudio's in Californie: zes met Christoffer "Kid" Andersen in de Greaseland Studio's in San Jose, twee met Charlie Beutter in de Hyde Street Studio's (beide) in San Francisco en twee bij Bigtone Records van Jon Atkinson in Hayward, CA. Het jazzy openingsnummer "Going to Greaseland" (ook gekend, o.w.v. de "ski-ervaring" tijdens de afdaling, als "Cruisin' Down Crystal Ridge) werd opgenomen met "Kid" Andersen. Op dit nummer dat Barnes schreef met pianist Sid Morris, zijn ​​gitaristen Kid Andersen en Johnny Cat Soubrand, Sid Morris zelf, bassist Mike Phillips en drummer June Core te horen. Verder ook de vier tracks met zangeres Lauren Halliwell: "I Don't Hurt Anymore" (voor het eerst opgenomen door Dinah Washington) - "Ophelia" van Robertson Jaime Robbie (The Band) met Andersen op gitaar - Ray Charles' "Funny But I Still Love You" met Andersen op een akoestische gitaar én met een geweldige  Halliwell & "Wait Wait Wait", dat wordt toegeschreven aan Naomi Neville, een pseudoniem van Allen Toussaint. Ook Chuck Berry's instrumental "Deep Feeling" met uitstekende mondharmonica van Barnes en piano van Morris komt uit deze sessie.
Twee nummers werden o.l.v. Barnes en co-producer Charlie Beutter in de Hyde Street Studio's van Jon Atkinson opgenomen. Het eerste is een alternatieve versie van het gospelnummer "Rough Side of the Mountain" van dominee F.C. Barnes (die géén familie is van), met een vocaal duet tussen Earl Thomas en Lady Bianca, met Ron Thompson op gitaar & het rockende "Sugar Momma", dat opgenomen werd nadat de sessie voorbij was, terwijl iedereen aan het "afbreken" was. Op de laatste zijn gitarist Thompson, drummer Winfred Williams en Barnes (zoals op alle tracks) op harp te horen.
Nog twee Barnes' originals werden opgenomen in Jon Atkinson's Bigtone Studio toen deze nog in Hayward (CA) gevestigd was. "Placerville Gold" is een nummer waarin het gaat over een coffeeshop die eigendom is van Barnes' vrouw Jill, gelegen in Placerville in de uitlopers van de Sierra Nevada. Het wordt gezongen door Kyle Jester. "Along Came the Blues", het resterende nummer, is geïnspireerd door een documentaire van National Geographic over spinnen en hoe ze voor het grootste deel van ons leven veel dichterbij zijn dan je denkt: "blues is als een spin die overal om je heen kruipt, ik denk dat ze hier zijn om te blijven…".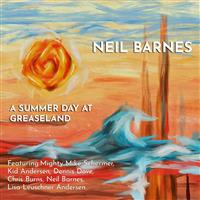 A SUMMER DAY AT GREASELAND (45") (2022)
Iets voor de verzamelaars is de single 'A Summer Day @ Greaseland', die recent verscheen. Deze single bevat twee nummers: "Hatin' on Love" & "See What I'm Sayin'", beide geschreven door Barnes en Mighty Mike Schermer, die hier zelf ook de gitaar omhangt. Schermer's leven veranderde als hij in 1984 met een optreden van de "Master of The Telecaster" Albert Collins. Dit was de muziek die hij altijd al gezocht had. Van Collins, met wie hij bevriend geraakte, kreeg hij het advies zich te verdiepen in de muziek van T-Bone Walker. Mike werd aangetrokken door harmonicaspeler Andy Santana, om samen met drummer June Core en bassist Steve Ehrmann een band The Soul Drivers te vormen. Met de band backten ze Willie Dixon, Jimmy Rogers, Billy Boy Arnold, Luther Tucker, Snooky Pryor, Elvin Bishop en Tommy Castro. The Soul Drivers werd de tour band van Angela Strehli.
Neil Barnes mag hier verder rekenen op Kid Andersen (bas), Dennis Dove (drums, zang), Chris Burns (piano, clavinet, Fender Rhodes), & Lisa Leuschner Andersen (zang).
"Again top releases by veteran and harpist Neil Barnes who was in excellent company!…" (ESC for Rootstime)
Eric Schuurmans
10 cd's te winnen!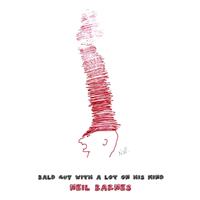 Wil je daar kans op maken, dan mail je ons gewoon even:
je naam, je adres en de vermelding: NEIL BARNES
Binnen een aantal weken wordt uit alle inzendingen de gelukkigen getrokken.
Wij hopen dat u massaal Rootstime - hier - zult mailen
De winnaars worden per mail verwittigd.
Album tracklist BALD GUY WITH A LOT ON HIS MIND (2020):01. Going to Greaseland (aka Cruisin' Down Crystal Ridge)* [w/Sid Morris] – 02. I Don't Hurt Anymore* [Don Robertson, Walter E. Rollins, Anne rachel] – 03. Rough Side of the Mountain** [Rev. F.C. Barnes] – 04. Sugar Momma** [Ron Thompson, Carolyn Phillips] – 05. Ophelia* [Robertson Jaime Robbie] – 06. Deep Feeling* [Chuck Berry] – 07. Placerville Gold** – 08. Wait Wait Wait* [Allen Toussaint] – 09. Funny But I Still Love You* [Ray Charles] – 10. Along Came the Blues** | Music/Lyrics by: N. Barnes, w/ or as [noted] © 2020 | *: Greaseland Studio's, San Jose, CA, w/Christoffer Andersen - **: Atkinson Studio's, San Francisco, CA, w/Charlie Beutter) | Produced by: Neil Barnes & Kid Andersen* / Charlie Beutter** | Album credits: Neil Barnes: harmonica (1-10), feat. Sid Morris: piano (1,2,5,8-10), Lauren Halliwell (2,5,8,9), Ron Thompson: guitar (3,4), Kyle Jester: vocs (7,10) / With: (1,6): Kid Andersen & Johnny Cat Soubrand: guitar, June Core: drums & Mike Phillips: bass - (2,5,8,9): Kid Anderson: guitar, Vance Ehlers: bass & Robi Bean Drums - (3): Earl Thomas: vocs, Lady Bianca: vocs, piano, Paul Smith: Hammond B3, Winfrid Williams: drums & Oshmin O. Oden: bass – (4): Winfrid Williams: drums - (7,10): Jon Atkinson: guitar, JUde Core: drums & Mike Phillips: bass 

Album tracklist A SUMMER DAY @ GREASELAND (2022): 01. Hatin' on Love - 02. See What I'm Sayin' | Music/Lyrics by: N. Barnes & Mike Schermer © 2021 | Produced by: Mike Schermer & Christoffer Lund Andersen | Album credits: (01): Mike Schermer: guitar, vocs / Kid Andersen: bass / Chris Burns: piano / Dennis Dove: drums / Neil Barnes: harmonica – (02): Dennis Dove:  drums, lead vocs / Mike Schermer:  slide guitar / Kid Andersen: bass / Chris Burns: piano, clavinet, Fender Rhodes / Lisa Leuschner Andersen: bvs / Neil Barnes: harmonica
Discography NEIL BARNES: A Summerday @ Greaseland (45"), feat. Mighty Mike Schermer, Kid Andersen… [2022] | Bald Guy With a Lot on his Mind [2020] | I Don't Hurt Anymore (single), feat. Kid Andersen, Sid Morris, Neil Barnes, Vance Ehlers & Robi Bean [2019] | Bigtone Records Session [2017] | Greaseland Session [2016] | Hyde and Seek [2014] | This Was Than Now (includes both: the 45 and EP Sessions, Tracks 1-6 + Greg Hartman, Neil Barnes:  Live on KKUP, 12/1981) [2012] || Bad Dog Rock 'n' Blues: South Bay Collection Vol. II (compilation) [1999] |  Ron Thompson Digital 45, feat. Neil "BarBQ" Barnes: harmonica [?] | This Was Then, Now, Bar-B-Q Barnes & Friends – feat. Little Willie Littlefield, Ron Thompson, Bill Stuve, Mike "JR" Watson, Sonny Lane, Luther Tucker, Francis Clay  & Johnny Waters (a collection of studio & live recordings) [1985] | Bar-B-Q Barnes & Friends (compilation, includes both the 45 and Sessions EP) [1981] | EP Session (EP,4#), Bar-B-Q Barnes & the Ribtones [1981] | "Blues for Breakfast"/"Close Call" (no longer available as 45" single, but available on the 'This Was Then, Now'), feat. Little Willie Littlefield, Ron Thompson, Junior Watson & Bill Stuve [1980] |