"Kathy Murray and her band The Kilowatts maintain their place in the blues pantheon that helps Austin, TX, keep its reputation as the Live Music Capital of the World…"
Kathy Murray geraakte als kind al vervoerd door de muziek die haar oudere zus in huis haalde. Met haar jongere broer (gitarist) Dave zag ze haar eerste live band toen ze zestien was.  Toen haar vader in 1968 op pensioen ging, vestigden ze zich in Austin, waar ze de blues leerde kennen in legendarische clubs als Antone's en de Armadillo. Ondertussen is Kathy blueszangeres, songwriter en toert ze al jaren met haar eigen band, The Kilowatts. Tijdgenoten als Bonnie Raitt en Susan Tedeschi hebben haar qua stijl beïnvloed, wat ook de opmerking dat haar muziek "Texas' low-down gladde en sexy blues ademt…" al voor een deel verklaart.  
Kathy debuteerden in 2012 met 'Relatively Blue' en ze bracht met The Kilowatts in 2015 'Groovin' with Big D!' en in 2017 'Let's Do this Thing' uit. Haar debuutalbum was opgedragen aan wijlen drummer, SRV-songwriter en haar muzikale mentor, Doyle Bramhall, Sr. (1949-2011). 'Groovin' with Big D!' gaat terug tot in de nineties, de jaren dat Kathy sessies deed samen met haar "oude" muzikale partner (en echtgenoot), gitarist  Bill "Monster" Jones, met Bramhall Sr. achter de drums. Haar vierde album, 'Premonition of Love' (2018) was hun debuut bij Nola Blue records.
Kathy Murray & The Kilowatts brachten deze maand de opvolger, 'Fully Charged' uit. Kathy's jeugd met de muziek van Freddie King, Stevie Ray Vaughan en de Fabulous Thunderbirds, samen met de vele regionale stijlen van Texaanse rootsmuziek, zijn op 'Fully Charged' vervat in elf sublieme originelen met persoonlijke verhalen en drie frisse covers, waarvan de klassieke Texaanse shuffle "Expense of Love" de in de omschrijving bedoelde opener is. De eerste keer dat we de Texas Horns te horen krijgen is op "My Mistake" en, Kathy heeft zo te horen binnenpret op "Changing Lanes". Een bijzonder nummer is "The House that Freddie Built". Het is een ode aan de Texaanse blues master Freddie King. Matt Farrell van de Los Flamos zit achter de barrelhouse piano op het rockende "Get Ahold of Yourself" en de Texas Horns kleuren de ballade "Breakup Breakdown" knap in. Daarna mag Jones schitteren op het funky "Henny Penny Blues" en kan Kathy emotioneel uithalen op "Wash Away the Pain" met als extra de tenorsax solo van Kaz Kazanoff. Wie kent er niet de Elvis' versie van Doc Pomus' "Suspicion"? Die van Kathy en de Kilowatts is ook heel geslaagd. Wat ze vindt van haar man vertelt ze ons op het swingende "Animal Magnetism", "It Hurts Me Too" is al de laatste cover. Dit Tempo Red nummer is inderdaad tijdloos. Op "Anyone Who Knows What Love Is" wordt de Soul Queen of New Orleans, Irma Thomas in de bloemen gezet. In een duet wordt op "Extra Nice" opgeroepen "to pur on the sugar and bring on the spice…", dit om er in moeilijke dagen, de moed in te houden.
"Kathy Murray & The Kilowatts take lovers of Texas' Blues on 'Fully Charged', on a thrilling ride demonstrating the peaks of her mastery of fascinating American roadhouse music…" (ESC for Rootstime)
Eric Schuurmans
Release: 18/02/22

10 cd's te winnen!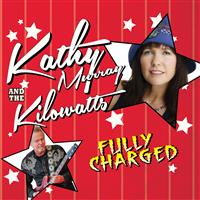 Wil je daar kans op maken, dan mail je ons gewoon even:
je naam, je adres en de vermelding: KATHY MURRAY & THE KILOWATTS
Binnen een aantal weken wordt uit alle inzendingen de gelukkigen getrokken.
Wij hopen dat u massaal Rootstime - hier - zult mailen
De winnaars worden per mail verwittigd.
Album tracklist: 01. Expense of Love - 02. My Mistake - 03. Changing Lanes - 04. The House that Freddie Built - 05. Get Ahold of Yourself - 06. Breakup Breakdown - 07. Henny Penny Blues - 08. Wash Away the Pain - 09. Suspicion [Doc Pompus/Mort Shuman] - 10. Hard Act to Follow - 11. Animal Magnetism - 12. It Hurts Me Too [Hudson Whitaker] - 13. Anyone Who Knows What Love Is [Seely/Arbuckle/Sheehan/Newman] - 14. Extra Nice | Music/Lyrics by: Kathy Murray, w/ or as [noted: 9,12,13] © 2022 | Produced by: Kathy Murray, Bill Kones & Jeff Botta | Album credits: Kathy Murray: vocs / Bill "Monster" Jones: guitar, accordion (9,12,14), rubboard (12), bvs (4,9,14) / Jeff Botta: drums (4,5), bass (4,19), cow bell (7), vocs (4,9) / Michael DeSantis: bass (1-8,10-13) / Drums : Richard Ross (1-3,6,7,10-13), Jason Corbiere (8,11,14), Nina Singh (9) / Matt Farrell: piano (3,5,6) / Lewis Stephens: Organ B3 (4) / The Texas Horns (2,6,8,13): Kaz Kazanoff: tenor sax, John Mills: baritone sax & Al Gomez: trumpet
Discography KATHY MURRAY (& THE KILOWATTS*): Fully Charged* [2022] | Premonition of Love* [2018] | Let's Do This Thing [2017] | Groovin' with Mr. D!* [2015] | Relatively Blue [2012] |