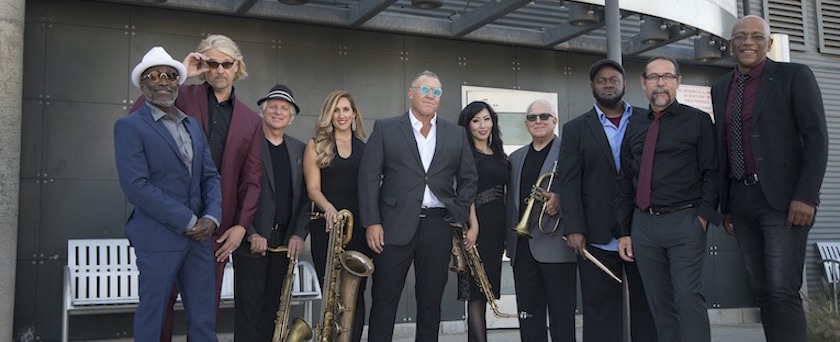 "After a long road, Sully was ready for 'Let's Straighten it Up'…"
Deze maand debuteert The Sully Band met 'Let's Straighten It Out'. Frontman Robert "Sully" Sullivan en zijn bluesy, negenkoppige band namen het "live" op in de Henson Recording Studio (voorheen A&M Studios) in Hollywood, Californië. Het werd een reis door de ups, downs en allrounds rond het thema "liefde", aan de hand van tien klassieke sixties en seventies soul, blues en R&B-nummers.
De meerdere Grammy Awards-winnende producer Chris Goldsmith (Blind Boys of Alabama, Ben Harper, Charlie Musselwhite, Big Head Todd) zorgde voor de muzikale samenstelling van 'Let's Straighten It Out'. Gekende nummers zoals "Nothing from Nothing" van Billy Preston, "Higher and Higher" van Jackie Wilson, "If I Only Could Be Sure" van Nolan Porter, Ray Charles' "Hallelujah, I Love Her So" en het titelnummer dat voor het eerst opgenomen werd in 1974 door Latimore, delen de tracklist met minder bekende songs als Shuggie Otis' "Ice Cold Daydream" en de hit van The Temptations, "I Wish It Would Rain".
Soulzangeres Rebecca Jade uit San Diego zingt met Sully op de opener, Mac Rebennack (ook bekend als Dr. John) & Jessie Hill's "When the Battle is Over", terwijl  "If You Love Me Like You Say" van Albert Collins gezongen wordt door Anthony Cullins, een 20-jarige gitaarsensatie uit Fallbrook, Californië.
De met een Grammy Award bekroonde basgitarist James East (Eric Clapton, Elton John, Michael Jackson…) maakt deel uit van The Sully Band die hier verder bestaat uit doorgewinterde, ervaren spelers die afkomstig zijn uit verschillende landen zoals Japan, Panama en het eiland Lemon Grove. De blazerssectie bestaat uit saxofonist, fluitist en harpist Tripp Sprague (Kenny Loggins, The Little River Band, Smokey Robinson, The Temptations, The Four Tops) en trompettist en bugelspeler Steve Dillard (The Righteous Brothers en Lynyrd Skynyrd).
Sully zelf kreeg op zesjarige leeftijd de muziekmicrobe te pakken nadat hij een nylon snarige gitaar vond en de eerste akkoorden van "Sitting on the Dock of the Bay" van Otis Redding met zijn vader had gespeeld. Toen hij studeerde aan de universiteit, speelde hij in elke met shows beladen muziektheaterproductie en eindigde hij elke dag met James Brown of Stevie Wonder.
Na een omweg van zo'n 35 jaar, waarbij hij een pad aflegde van kassier naar selfmade ondernemer en lokale radio-/tv-persoonlijkheid, vond hij uiteindelijk vond zijn weg terug naar zijn eerste ware liefde: muziek. Vandaag is hij er weer helemaal terug. Hij stond met zijn band ondertussen in de legendarische Belly Up Tavern in Zuid-Californië en in de illustere Antone's Nightclub in Austin. Ze hebben hun stempel gedrukt op Sully, een meeslepende muzikant en live-artiest, die klaar was om 'Straighten it Out' te maken.
"Immerse yourself with Sully on 'Let's Straighten It Up' and relax on the soulfull endless groove…" (ESC for Rootstime)
Eric Schuurmans
Release: 11/03/22
Album tracklist: 01. When the Battle is Over [Mac Rebennack / Jesse Hill] – 02. Hallelujah, I Love Her So [Ray Charles] – 03. Ice Cold Daydream [Shuggie Otis] – 04. I Wish It Would Rain [Rodger Penzabene > The Temptations] - 05. Nothing from Nothing [Billy Preston] – 06. If I Only Could Be Sure [Nolan Porter] – 07. Gimme Little Sign [Jerry Winn / Alfred Smith / Joseph Hooven] – 08. If You Love Me Like You Say [Albert Collins] - 09. Let's Straighten It Out [Benny Latimore] – 10. Higher and Higher [Jackie Wilson] | Music/Lyrics by: as [noted] © 2022 | Produced by: Chris Goldsmith | Album credits: Sully: vocs / James East: bass / Horns: Tripp Sprague: sax, flute, harp & Steve Dillard: trumpet, bugle & Guests: Rebecca Jade: vocs (1) / Anthony Cullins : vocs (6)
Discography THE SULLY BAND: Let's Straighten It Out [2022] |