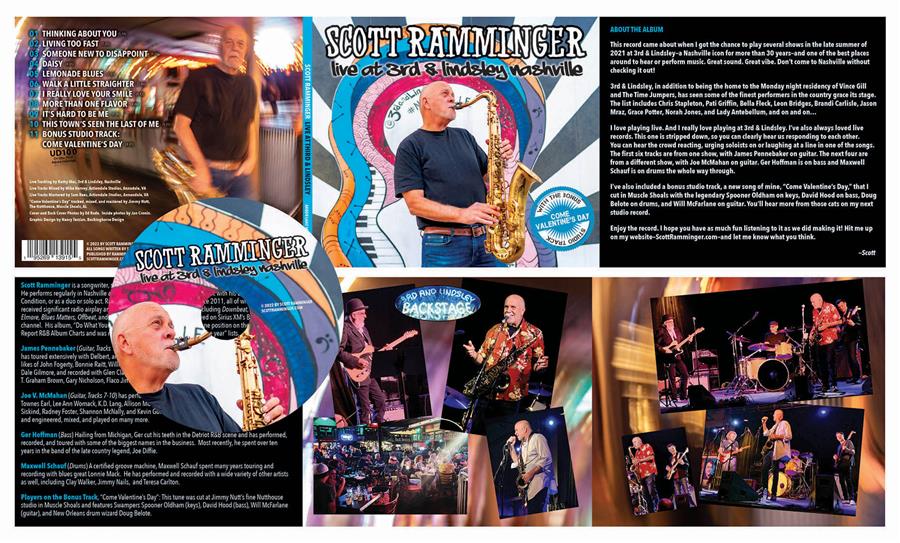 "Great sound, great vibe!..."
Scott Ramminger, van afkomst een Washington DCer, is songwriter, saxofonist en zanger. Hij studeerde in 1976 af aan de Huntsville High School in Alabama, waar hij in de schoolband sax speelde. Hij speelde Southern rock met zijn garage combo After Blue en trad regelmatig op in clubs met lokale blues, R&B en rockgroepen. Ramminger was de frontman van de Crawstickers. De naam van de groep verwijst naar iets dat in je krop blijft hangen, wat je (positief) bij blijft, maar hier ook naar hun NO-invloeden. Muzikaal is Ramminger verder geïnspireerd door Tom Waits, Randy Newman, Lyle Lovett, Sarah Vaughan, Aretha Franklin en Otis redding. Ramminger treedt solo op, soms als duo en ook met zijn band, The Temporary Condition. It's always fun!!!
Scott Ramminger's nieuwe album 'Live @ 3rd Lindsley, Nashville' is een album met als afsluiter een bonus studio track, die naar de toekomst toe en als het over zijn nieuwe studio album gaat, al een stukje van de sluier oplicht. Het is live opgenomen in een van zijn favoriete clubs in Nashville op 818, 3rd Ave S, in de bar en live venue van Ron Brice waar al Ed Sheeran, Chris Stapleton, Wilco, Norah Jones, Derek Trucks, Lucinda Williams, Gary Clark Jr., Joe Bonamassa, Michael Kiwanuka en… ook al op het podium stonden.
'Live @ 3rd & Lindsley,Nashville' is Ramminger's zesde album sinds hij begon in 2011 en debuteerde met 'Crawstickers' en het derde, sinds hij in 2017 naar Nashville verhuisde. Op de tien live tracks zijn eerst James Pennebaker en dan Joe V. McMahan de gitaristen, is Ger Hoffman de bassist en Maxwell Shauf de drummer. Dat die vier er in de zomer van 2021 na weken toeren nog plezier in hadden, kan je al vanaf de opener "Thinking About You" en daarna in "Someone New to Disappoint" en zeker in het meodieuze "Daisy" duidelijk horen. Tijdens de slow blues "Lemonade Blues" mag de prik zeker komen want te veel is te veel en dat kan je uit "Walk a Little Straighter" opmaken. Vanaf "I Really Love Your Smile", een rumba met een aanstekelige melodie, neemt McMahan het over. "It's Hard to Be Me" en "This Town's Seen the Last of Me"
vullen de setlist nog aan met een uptempo shuffle en een authentieke rocker. Op het bonus studionummer, "Come Valentines Day" bestaat de line-up uit de legendarische Muscle Shoals Swampers Spooner Oldham op toetsen, David Hood op bas, samen met de New Orleans' drumtovenaar Doug Belote en Will McFarlane op gitaar. Ramminger laat al even horen hoe de nieuwe cd zal klinken. Wordt vervolgd!
"On 'Live @ 3rd Lindsley, Nashville' Scott Ramminger shows once again what an distincted and outstanding live artist he is…" (ESC for Rootstime)
Eric Schuurmans
Album tracklist: 01. Thinking About You – 02. Living too Fast – 03. Someone New to Disappoint – 04. Daisy – 05. Lemonade Blues – 06. Walk a Little Straighter – 07. I Really Love Your Smile – 08. More than One Flavor – 09. It's Hard to Be Me – 10. This Town's Seen the Last of Me – bonus studio track – 11. Come Valentines Day | Music/Lyrics by: Scott Ramminger © 2022 | Album credits (1-10): Scott Ramminger: vocs, sax / James Pennebaker (1-6) & Joe V. McMahan (7-10): guitars / Ger Hoffman: bass / Maxwell Schauf: drums - bonus track (11): Will McFarlane: guitar / Spooner Oldham: keys / David Hood: bass / Doug Belote: drums
Discography SCOTT RAMMINGER: Live @ 3rd & Lindsley, Nashville [2022] | Rise Up [2019] | Live from Vaccine Summer, Nolen & Friends [2021] | Alive and Ornery (Live, 2cd) [2017] | Do What Your Heart Says To [2017] | Advice from a Father to a Son [2013] | Crawstickers [2011] |