"Infectious and exciting…"
Door de Britse pers wordt blues/rock gitarist Troy Redfern in zijn thuisland omschreven als "de koning van de slide gitaar". In het najaar van 2021 verscheen zijn nieuwe album '…The Fire Cosmic' dat volgt op vijf albums, die Troy in het productieve 2020 uitbracht. Troy's zevende album werd opgenomen in de legendarische Rockfield Studio's in Noord-Wales. Het is de studio waar Queen al hun vroege albums opnam, waaronder 'A Night @ the Opera' (1975) met de legendarische single "Bohemian Rhapsody" en ook Black Sabbath en Mott the Hoople geschiedenis maakten.
Voor de opnames van het nieuwe album kon Troy rekenen op een van de beste ritmesecties in het VK, met de legendarische Darby Todd op drums (The Darkness, Robben Ford, Martin Barre, Paul Gilbert) en de virtuoze basgitarist Dave Marks (Hans Zimmer). Gast was gitarist Ron "Bumblefoot" Thal  (Guns N' Roses, Azië, Sons of Apollo).
Redfern & Co stampen de deur in met de surf/rockabilly/rocker "Scorpio". Troy zet in met harde, chromatische riffs rond een groot refrein, waarmee hij bewijst welke bovenmaats begaafde blues/rocker hij wel is. "Waiting for your Love" is de éérste single van het album en het is snel duidelijk waarom. Het is een dreunende boogie met een scherp randje, die Troy speelt op zijn vintage National Triolian resonatorgitaar uit 1929. Niet te geloven hoe deze gitaar nog klinkt. Na het wat rustigere en strakke "One Way Ticket" volgen er "Love & War", een funky, midtempo blues/rocker, "On Fire" dat hij doet met gast Ron "Bumblefoot" Thal en het funky "Lay that Love Down",waarmee ze er begeesterd voor zorgen, dat het vuur in de pan nog wat langer blijft branden. Met "Ghosts" komt de volgende trein eraan razen. De aanstekelige beat van deze country rocker en Troy's snijdende slides doen bij iedereen ongetwijfeld de haren te berge rijzen. Erg contrasterend zijn daarna de akoestische rock ballade "Saving Grace" en "Stone", de afsluitende laatste ballade.
"Troy Redfern remains one of the top performers when it comes to infectious and exciting blues/rock. His latest release '…the Fire Cosmic' is the exciting proof of that!…" (ESC for Rootstime)
Eric Schuurmans
10 cd's te winnen!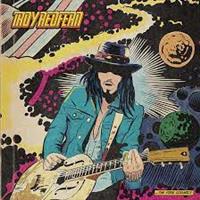 Wil je daar kans op maken, dan mail je ons gewoon even:
je naam, je adres en de vermelding: TROY REDFERN
Binnen een aantal weken wordt uit alle inzendingen de gelukkigen getrokken.
Wij hopen dat u massaal Rootstime - hier - zult mailen
De winnaars worden per mail verwittigd.
Albumtrack list: 01. Scorpio – 02. Waiting for Your Love – 03. One Way Ticket -04. Love & War – 05. On Fire – 06. Lay that Love Down – 07. Ghosts - 08. Saving Grace – 09. Sanctify – 10. Stone | © 2021 | Album credits: Troy Redfern: vocs, guitar / Darby Todd: drums / Dave Marks: bass / Ron "Bumblefoot" Thal (5) /
Discography TROY REDFERN: …The Fire Cosmic [2021] | Island [2020] | This Raging Heart [2020] | Thunder Moon [12/2020] | Deep Cuts [10/2020] | Improvisations Pt. 1 (single) [06/2020] | Beneath the Waves, The Electric Blues Reaction [04/2020] | Love & War [03/2020] | The Black Flames [03/2020] | Dirt Blues Ritual [2017] | Mother Tongue [2014] | Swampbone, Swampbone [2014] | Werewolf Etiquette [05/2013] | …and the Gods Came Down,w/band  [05/2013] | Playing with Fire [04/2013] |
Blackdoor Hoodoo [] |