Nola Blue, het label uit label uit Lancaster, Pennsylvania, werkt al jaren samen met Blind Raccoon, een organisatie die wereldwijd muzikanten ondersteunt en muziek (in de genres blues, roots, rock, R&B, soul, Americana en folk) promoot. Betsie Brown richtte in 2008 Blind Raccoon, gevestigd in Memphis, San Diego, New York en Londen, op. Betsie heeft meer dan 25 jaar ervaring in entertainment en muziekpromotie, mediarelaties en marketingcommunicatie. Cliënten van haar zijn o.a. Benny Turner, Buddy Guy, Charlie Musselwhite, Gary Clark Jr., Jason Ricci, John Hammond, Johnny Rawls en…
Nola Blue, Inc. exploiteert onder leiding van Sallie A. Bengtson, Nola Blue Records en Blue Heart Records, en organiseert het Lone Star Blues & Heritage Festival. Het bedrijf is vooral geïnteresseerd in het bewaren en delen van de blues geschiedenis en heeft ook Survivor - The Benny Turner Story gepubliceerd. In 2018 verscheen 'Blind Raccoon & Nola Blue: Collection Vol. 1', eind 2021 'Vol. 4'.
Op de twee cd's op 34 tracks opnieuw een zeer gevarieerd aanbod van uiteenlopende blues stijlen. Enkele namen die ik onderweg tegenkwam zijn Mark Cameron, Peter Veteska & Blues Train, Michele D'Amour & The Love Dealers, Blind Lemon Pledge, Trudy Lynn, The Love Light Orchestra, Clarence Spady, Bobby Gentilo, Wily Bo Walker, Mike Guldin, Laura Tate, Professor Louie & The Crowmatix, Waydown Wailers, David Gogo, Matt Lomeo, Skylar Rogers, Trevor B. Power, Donna Herula, David Rotundo Band en… Waarschijnlijk nieuwsgierig naar nog meer? Gebruik dan deze link om uw reis verder te zetten en nog veel meer te exploreren!
.

1.

2.

3.

4.

5.

6.

7.

8.

9.

10.

11.

12.

13.

14.

15.

16.

17.

18.

19.

20.

21.

22.

23.

24.

25.

26.

27.

28.

29.

30.

31.

32.

33.

34.



"With such compilations it becomes clear, how diverse and extensive the blues offer is from Blind Raccoon & Nola Blue…" (ESC for Rootstime)
Eric Schuurmans
Discography BLIND RACCOON and NOLA BLUE: Collection Vol. 4 [2022] | Collection Vol. 3 [2021] | Collection Vol. 2 [2020] | Collection Vol. 1 [2018] |
10 cd's te winnen!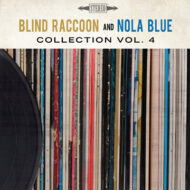 Wil je daar kans op maken, dan mail je ons gewoon even:
je naam, je adres en de vermelding: BLIND RACCOON & NOLA BLUE
Binnen een aantal weken wordt uit alle inzendingen de gelukkigen getrokken.
Wij hopen dat u massaal Rootstime - hier - zult mailen
De winnaars worden per mail verwittigd.