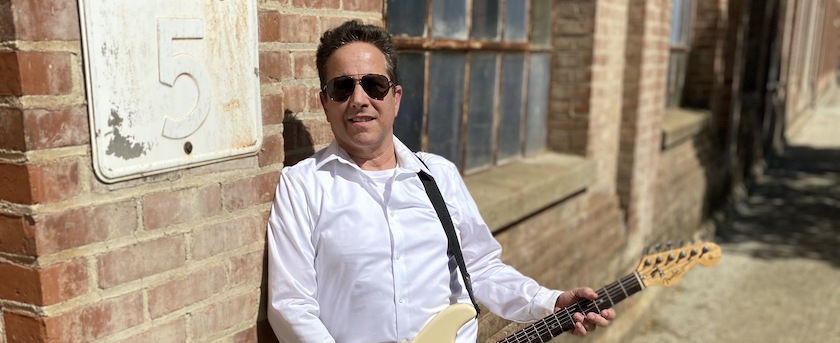 "I learned a lot making this record…"
(Dennis Johnson)
Dennis Johnson groeide op in de baai van San Francisco, waar hij thuis vaak de muziek van Chuck Berry hoort. Als tiener leerde hij zelf gitaar spelen en ontdekte hij zijn passie voor slide gitaar. Hij ontdekte dan ook de muziek van legende Robert Johnson, zanger/cowboyacteur Roy Rogers en blues harmonicaspeler Norton Buffalo. Het belang van de muziek van naamgenoot Robert Johnson werd alsmaar belangrijker, tijdens de evolutie van Dennis als gitarist. Dennis hoort in Robert Johnson's muziek twéé gitaren: "Robert's guitar playing sounded like two guitars. It's a blend of rhythm and side lead lines as if two guitarists are playing when it's really one guitarist." Dennis toert regelmatig, vooral in het Westen van de States, met zijn band The Mississippi Ramblers.
In 2010 debuteerde Dennis Johnson met 'Slide Show' met o.a. het nummer "In the Morning, dat hij coverde als een tribute aan Elmore James. In 2014 verscheen 'Slide Avenue' met naast vooral eigen werk ook drie Robert Johnson's covers. In het album wou Dennis de slide gitaar op een innovatieve manier in de aandacht brengen.
"Ik heb veel geleerd bij het maken van dit album, van het arrangeren en vinden van geweldige grooves tot het opnemen van unieke gitaarklanken..."

'Revelation', het nieuwe album van Dennis Johnson, is  een album met blues rockers en roots hits, vermengd met gospel en country elementen. De ritmesectie op het album bestaat uit de legendarische drummer Anton Fig (Joe Bonamassa) en bassist Jonathan Stoyanoff (Joe Craven). Verder speelt ook Bob Fridzema (Walter Trout, Joanna Shaw Taylor) fenomenaal op piano en B3.
Het album opent met "Going Down", de gekende Don Nix & Gabriell Lewis cover, met een allerte Bob Fritzema die vanachter zijn piano opvalt. "Talk to You" is een uitstekende blues rocker en de titelsong die dan volgt, een ingehouden instrumental waarbij alles rond Dennis' slide gitaar draait. De bedoelde country invloeden kan je horen op "Salvation Bound", "32-20 Blues" is al de volgende goed in de oren klinkende bluesy rocker en "Please Don't Go" is het populaire nummer van Joseph Lee Williams waar o.a. Lightn in' Hopkins en ook Van Morrison met Them in 1964 mee scoorden. Na het onopvallende "Lonesome Valley", "Ramblin" de shuffle die hier nog ontbrak en "Two Lights" rest er nog de afsluiter, "Don't Owe You a Thing". Het is een aanstekelig nummer met wat gospel invloeden.
"On 'Revelation' Dennis Johnson proves why he must be counted at the top of the blues slide guitarists…" (ESC for Rootstime)
Eric Schuurmans
Album tracklist: 01. Going Down [Don Nix / Gabriell Lewis] - 02. Talk to You - 03. Revelation (instrumental) - 04. Salvation Bound - 05. 32-20 Blues - 06. Please Don't Go [Joseph Lee Williams] - 07. Lonesome Valley - 08. Ramblin - 09. Two Lights - 10. Don't Owe You a Thing | Music/Lyrics by: Dennis Johnson, or as [noted] | Engineered by: Chris Bell | Album credits: Dennis Johnson: vocs, guitar - Anton Fig:drums - Jonathan Stoyanoff: bass, bvs - Bob Fridzema: piano, B3
Discography DENNIS JOHNSON: Revelation [2022] | | Slide Avenue [2014] | Slide Show [2010] |