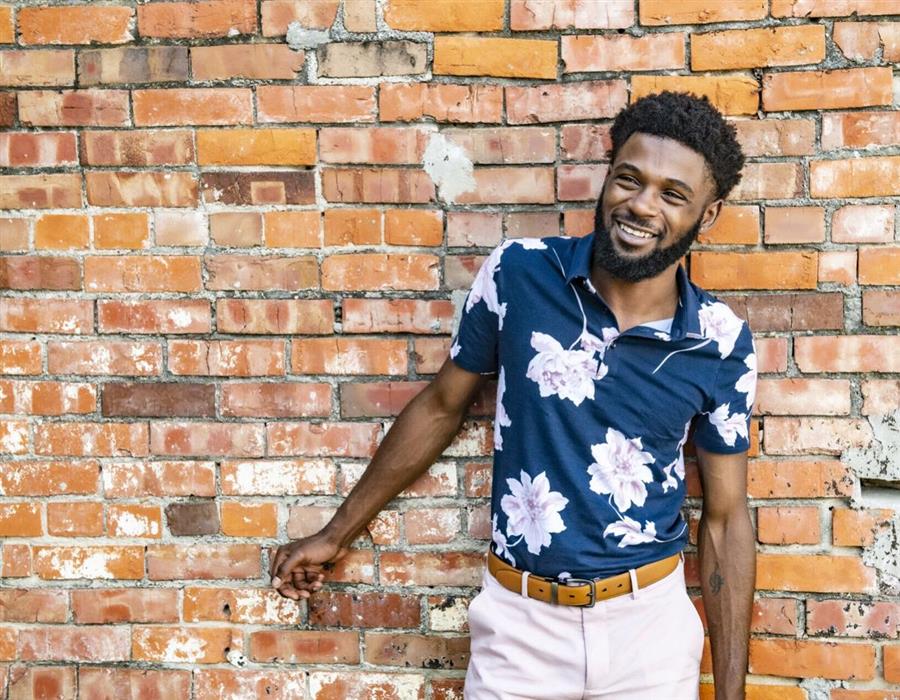 "A true soul singer, a big noice on the St. Louis' blues scene…"
'Who is He?' is de titel van het studio debuut van Dylan Triplett. "Wie is deze Dylan Triplett" zullen velen zich afvragen? Een eenentwintigjarige muzikant, die geboren en getogen is in St. Louis (MO), de stad die ons Chuck Berry, Little Milton, Tina Turner en Miles Davis gaf. Triplett is een "echte" oldskool soul zanger genre Marvin Gaye, gezegend met een stembereik van vier en een half octaven en het vermogen om blues, R&B en jazz te versmelten tot een heerlijk soulvolle stoofpot. "Little" Dylan begon zijn professionele carrière op 15-jarige leeftijd, waarbij hij optrad met zijn vader en oom, beide doorgewinterde jazzmuzikanten.
"Het debuutalbum van Dylan Triplett geeft je antwoorden op de vraag Who Is He?..."
Voor 'Who is He', Dylan Triplett's debuut in de studio, verzamelde de Grammy-winnende bassist en producer Larry Fulcher een all star band, te beginnen met gitarist Dr. Wayne Goins (hoofd van Jazz Studies aan de Kansas State Univ.) als zijn co-producer. De gitaristen die aan het project meewerkten zijn naast de rijzende blues ster Christone "Kingfish" Ingram, Johnny Lee Schell, Sean McDonald en uit St. Louis, Tru Born (aka Anthony Michael Peterson). Jazz-fenomeen Montez Coleman was de drummer en Ryan Marquez en de legendarische Mike Finnigan de keyboardspelers. Verder waren Joe Sublett en Kyle Turner de saxofonisten en Lenny Castro de percussionist van dienst. 'Who is Who?' is Dylan Triplett's indrukwekkende debuut op het VizzTone label. Het telt 10 nummers op de tracklist. De nummers werden geschreven of mede geschreven door Triplett en producer Fulcher, aangevuld met extra "juweeltjes", covers van Bill Withers, Marvin Gaye en afsluitend, de klassieker "All Blues" van Miles Davis.
Met Larry Fulchner's "Backyard Blues" en de nodige steun van de gitaar van het jonge blues fenomeen Christone "Kingfish" Ingram, opent Dylan Triplett zijn debuut album. Dat Dylan van deze portie ruige jukejoint blues er een potje van maakte, is absoluut onwaar. "Who is He (And What is He to You)" is een nummer met veel open vragen, maar vooral een volledig in de geest van Bill Withers, met prachtige aanvullingen op sax door Kyle Turner. Het rustige "Brand New Day Same Old Blues" zet in met frêle piano van Ryan Marquez en de gevoelige slide gitaar van Sean McDonald en St. Louis' eigen Tru Born. De occasionele studio band bestond op "Junkyard Dog" verder uit voormalig Bonnie Raitt toergitarist Johnny Lee Schell, gitarist Sean McDonald en saxofonist Joe Sublett. Het is een jump shuffle, een waargebeurd verhaal, over Dylan's nieuwe liefde, dat hij zingt als een crooner. "I ll Be There Waiting" zou een Sam Cooke klassieker kunnen zijn en Jimmy McCracklin's "She Felt too Good" moet het hebben van de koortsachtige solo's van Sean Mc Donald, evenals de bijdragen van het orgel van Finnigan en de piano van Marquez. Triplett gaat dan met soulvolle herinneringen terug in de tijd. "That's the Way Love Is", een nummer van de Isley Brothers (Barrett Strong & Norman Whitfield), was in 1969 een grote hit voor Marvin Gaye. Lonnie Brooks' "Feels Good Doin Bad" is een bluesy shuffle met prima solo's van Ingram en "All Blues" waarmee het album afsluit, het subtiele Miles Davis' nummer uit zijn 1959-album 'Kind of Blue', met een tekst die zeker zal bijbllijven: "The sea, the sky, the you and I / I'll know we're all blues / All Shades, all hues, all blues / Some blues are sad / But some are glad, dark-sad or bright-gald / They're all blues…".
"On 'Who is He?' you discover who Dylan Triplett is and what makes this young talent such a soul phenomenon…" (ESC for Rootstime)
Eric Schuurmans
Album tracklist: 01. Backyard Blues - 02. Who is He (And What is He to You) [William Harrison Jr. "Bill" Withers/Stanley Wayne Mckenney] - 03. Brand New Day Same Old Blues - 04. Dance of Love - 05. Junkyard Dog - 06. I ll Be There Waiting - 07. She Felt too Good - 08. That's the Way Love Is [Barrett Strong/Norman Whitfield > Marvin Gaye] - 09. Feels Good Doin Bad [Lonnie Brooks] - 10. All Blues [Miles Davis] | Music/Lyrics by: Dylan Triplett & Larry Fulcher, or as [noted] | Produced by: Larry Fulcher & Dr. Wayne Goins | Album credits: Dylan Triplett: vocs / Dr. Wayne Goins, Christone "Kingfish" Ingram (1,9), Johnny Lee Schell, Sean McDonald & Tru Born: guitar / Larry Fulcher: bass / Montez Coleman: drums / Ryan Marquez & Mike Finnigan: keys / Joe Sublett & Kyle Turner: sax / Lenny Castro: percussion
Discography DYLAN TRIPLETT: Who is He? [2022] | As One Present, Skywalkers – feat. Dylan Triplett (single) [2022] | Getaway, Wyatt Boyer - feat. Dylan Triplett (single) [2019] |