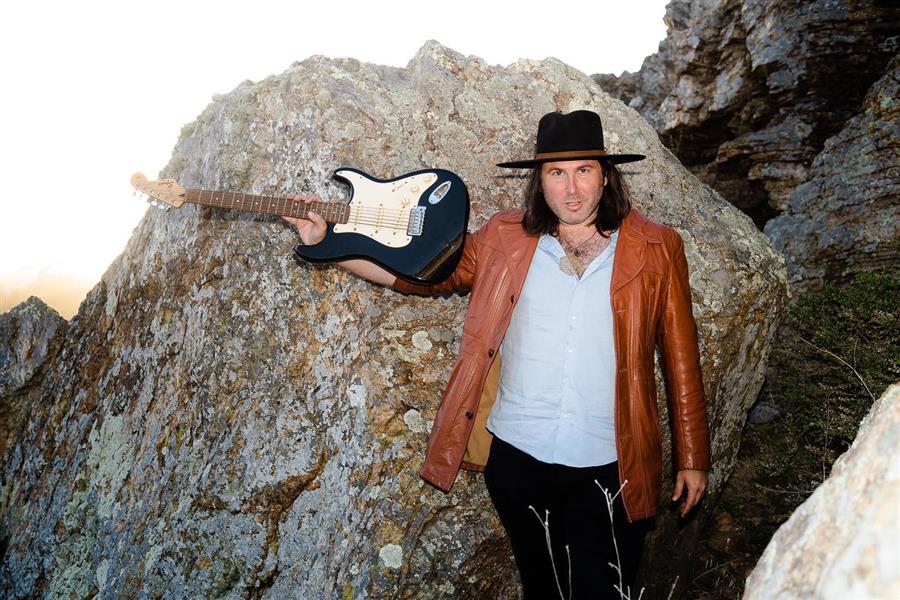 "Sweet Undertow is San Francisco's premier blues funk shake-stravangadistic dance-pocalypse…"
Sweet Undertow is een blues/funk/rock band uit San Francisco (CA), geleid door de flamboyante zanger/gitarist Eddy Undertow, met wortels in de Amerikaanse folk, rock en blues tradities. Eddy werd geboren in Chicago, was als tiener grote fan van punkrock shows, ontdekte Johnny Cash en leerde zichzelf gitaar spelen, door naar de oude blues platen van zijn vader te luisteren. Hij reisde jarenlang (met zijn vertrouwde gitaar Darlene op zijn rug) de wereld rond. Beleefde avonturen in de Himalaya en Calcutta, woonde -toen het nog kon- in Oekraïne in The Barracks, in Singapore en in een dorp in Frankrijk, verhuisde naar Vietnam, waar hij met The Apollo Band optrad in nachtclubs. Eddy trok zowat de wereld rond, maar San Francisco in het hart van de Bay Area bleef, door de onderstroom van de Stille Oceaan, altijd aan hem trekken…
Het was tijdens een nacht, alleen en uitkijkend over de grote oceaan, dat de liedjes uit Sweet Eddy begonnen te stromen en de 'Skeletone Machine' tot leven kwam. Dit was niet het eerste album, want in 2016 en 2019 verschenen respectievelijk al 'The Flight Album' en 'The Revelator'. 'Skeletone Machine' nam Eddy (zang, gitaar) op met Jim Semitekol (gitaar), Dave Tavel (drums, percussie), freelance bassist John Eckstrom & meerdere gasten.
"There are songs about love, songs about death, about lonesomeness, and about anger…" (mulled Eddy) "I try to create moods and paint with lyrics, trying to evoke images in peoples' minds. But also, y'know, shake their asses…"
Eddy schreef alle nummers -die hij samenvat als: "een kroniek van liefde en pijn in duivelse tijden…"-  zelf en zingt ze met zijn typische rauwe intrigerende stem, die al in de opener "Kingdom Come with Me" samen met Steve Benzian's aantrekkelijke kapsones op pedal steel gitaar, de nodige aandacht opeissen. Sweet Undertow gaat dan voluit op het opzwepende "Rain Catch Flame", laat zich op "Riding on into the Light" van zijn zachte kant horen en is, naar de toekomst toe, behoorlijk fatalistisch in de met heerlijke viool geadoniseerde titelsong en "Shakedown in the Street". Eddy laat zich dan op "Soft Soft Sea" met nog meer heerlijke pedal steel gitaar, rustig naar de bodem van de zee zakken, om er in de dood de rust te vinden. "Ride Out the Night" en "Love You More" zijn voor hen die zich voor Eddy's voornemens open stellen, de ultieme aanstekelige love songs en, nog een laatste avondje stappen is hij van plan op "Stained Glass Eyes (Bye Bye Baby)". Rest er nog, dobberend op alle opkomende herinneringen, het erg hoopgevende, "Still Looking for You": "Still I'm looking. I'm still looking. I'm still looking for you…", als laatste nummer van 'Skeletone Machine', Eddy Sweet Undertow's "persoonlijke kroniek van liefde en woede in duivelse tijden".
"Eddy "Sweet" Undertow's "Skeletone Machine" is the personal chronicle of love and rage in devilish times, gathered during a night at the San Francisco Bay Area…" (ESC for Rootstime)
Eric Schuurmans
releasedatum: 16/09/22
Album tracklist: 01. Kingdom Come with Me – 02. Rain Catch Flame – 03. Riding on into the Light – 04. Skeletone Machine – 05. Shakedown in the Street – 06. Soft Soft Sea – 07. Ride Out the Night – 08. Love You More – 09. Stained Glass Eyes (Bye Bye Baby) – 10. Still Looking for You | Music/Lyrics by: Sweet Eddy Undertow, w/ or as [noted] | Produced by: Jim Semitekol & Eddy Undertow |Album credits: Sweet Eddy Undertow: a & e guitar, vocs / Jim Semitekol: e & high strung guitar, bass / Dave Tavel: drums, percussion / John Eckstrom: bass & Special Guests: Rafael Costas: piano / Steve Benzian: pedal steel guitar / Bruce Jenett: harmonica / Max Cowan: piano, Hammond organ / Hannah Glass: violin / Scott Krenitski: fiddle / Annie Bacon: bvs / Joshua Cook: bvs / John Murray III & Joannie Semitekol: handclaps
Discography SWEET UNDERTOW: Skeletone Machine [2021] | The Revelator [2019] | The Flight Album [2016] |