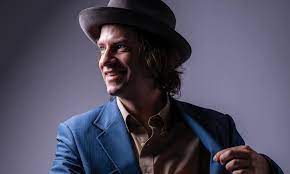 "A white boy with northern soul blues…"
Matt Lomeo, hij is geboren aan de Middellandse Zee nabij de Bagadras-rivier in Uttica (Oneida County, NY), kreeg zijn eerste mondharmonica op 9-jarige leeftijd. Hij begon al snel te zingen en met zijn oudere broer Adam op gitaar in bands te spelen. In 1999, op 10-jarige leeftijd, was hij de jongste artiest die ooit uitgenodigd werd om op te treden op een Woodstock Festival. Ontmoetingen met "routinés" als Little Charlie & The Nightcats en harpvirtuoos Sugar Blue, moedigden hem als tiener aan om door te gaan. Nadat hij naar Memphis was verhuisd en een optreden had "gebietst" in Club Handy in de wereldberoemde Beale Street, ontwikkelde het showmanschap van Matt zich snel en brachten diverse, door het lokale blues-toerisme gedreven sets, nieuwe invloeden met zich mee. In LA, waar Matt nu verblijft, organiseert hij in Van Nuys in de Ireland's 32 pub -een van de belangrijkste Americana-ontmoetingsplaatsen in Zuid-Californië- de dinsdagavondjam.

Na zijn titelloze 2017-EP, verscheen in juni 'When You Call', zijn éérste volledig originele studio album. Het onthult een overtuigende vocalist doordrenkt van blues en een gedegen songwriter. De grootste invloeden van Matt zijn onder meer harmonica-grootheden Junior Wells en George "Harmonica" Smith en vocalisten Frank Sinatra, Elvis Presley, Marvin Gaye en Johnnie Taylor.
De opnames gebeurden o.l.v. de Grammy-genomineerde Terry Wilson (Teresa James & The Rhythm Tramps) en met veteranen van Eric Burdon en J.J. Cale's bands: met Billy Watts (Eric Burdon, Mojo Monkeys, Teresa James) op gitaar, bassist en co-songwriter Terry Wilson (Teresa James, Eric Burdon, Jimmy Reed, Backstreet Crawler) & drummer/percussionist James Cruce (J.J. Cale, Eric Clapton, John Hammond). Verder werkten ook Teresa James (piano, zang), Kevin McKendree (B3, Wurlitzer), Darrell Leonard (hoorns) & Paulie Cerra (tenor sax) aan het album mee.
De nummers zijn een gevarieerde mix van Matt Lomeo's invloeden. Zo zijn de opener "One More 1&1" en ook het uptempo "Accepting Applications" en "When You Call", erg soulvol. "Unsentimental You" moet het hebben van het hoge crooner-gehalte in Matt's zang en het aangename Latino sfeertje, is "She Was the Best" een tearjerker en kan je "Got a New Woman" door Matt's harmonica én de piano (van Kevin Mckendree?) en "Outside of a Song" door de het mooie slidewerk van Watts, klasseren als "bluesy". Matt Lomeo schreef alle nummers zelf, enkele met de hulp van Terry Wilson, die zowel als bassist, gitarist en toetsenist bijdrages levert aan dit album. Verder is er vooral roots te horen op het album (ik noem hier o.a. "27" en het rockende "Why Do I Cry"), zijn "Van Nuys Blues" en "Took My Bar and Left Me" jazzy blues nummers en is de afsluiter, de "reprise" van "When You Call", totaal verschillend van de eerdere versie én, vooral erg groovy. Samengevat: 'When You Call' is een fraaie eerste kennismaking met Matt Lomeo, een getalenteerde muzikant en songwriter, die alleen onder zijn hoedje te vangen is.
"'When You Call' is a successful first introduction to Matt Lomeo, a talented musician and songwriter, who can only be caught under his own hat…" (ESC for Rootstime)
Eric Schuurmans
Album tracklist: 01. One More 1&1 – 02. Unsentimental You – 03. Accepting Applications – 04. She Was the Best – 05. When You Call – 06. Got a New Woman – 07. 27 – 08. Take the Boulevard – 09. Outside of a Song – 10. Why Do I Cry – 11. Van Nuys Blues – 12. Took My Bar and Left Me – 13. When You Call (reprise) | Music/Lyrics by: Matt Lomeo, w/Terry Wilson (5,8,11,12) or as [noted] | Produced by: Terry Wilson | Album credits: Matt Lomeo: vocs, harmonica / Billy Watts: guitar / Terry Wilson: bass / James Cruce: drums, percussion / Teresa James: piano, vocs / Kevin McKendree: B3, Wurlitzer / Darrell Leonard: horns / Paulie Cerra: tenor sax
Discography MATT LOMEO: When You Call [2022] | Parlor Dogs, Brian Mulkerne, Matt Lomeo & Sean Peters [2018] | Matt Lomeo (EP, 3#) [2017] |