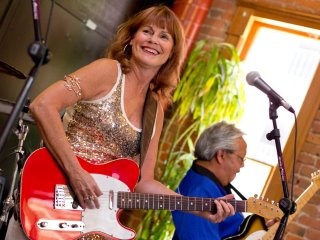 "A potpourri of traditional blues and shuffles, swing and with rock infused blues…"
Blues madam, singer-songwriter en gitariste Val(erie) Starr vond haar plekje in Roseville, CA. Ze werd in 2011 in de blues scene van Sacramento bekend en daarna in een groot deel van Noord Californië. Haar repertoire zijn blues boogies, ballades, shuffles en uptempo swing nummers. Val trouwde met bassist John Ellis, die samen met haar deel uitmaakt van The Blues Rocket, die verder bestaat uit Tim Brisson (lead gitaar), Frankie Munz (harmonica), John Ellis (bas) en Paul Farman (drums). Ze waren in 2013 finalist in de Sacramento IBC competitie.
Val Starr & The Blues Rocket debuteerden in 2012 met 'Cool Ride'. Na 'Lighter Side of the Blues' (2019) bracht ze aanvang dit jaar 'Healing Kind of Blues', haar zesde album uit dat ze zelf produceerde. Het is, wat ze graag noemt zonder er een etiket op te plakken, een verzameling van verschillende stijlen hedendaagse Californische blues. Val doet dit met traditionele shuffles en slow blues tot West Coast swing, rock en met wat jazz geïnspireerde blues. Val schreef de songs tijdens de pandemie, die ze gelukkig overleefde, maar die haar ook over haar leeftijd deed nadenken in nummers als "Age Is Just a Number", "Get Over It", "We're Not Getting Older" en de slow blues "Pretty Girl Blues", die de uitdagingen, voordelen en humor rond ouder worden prima bundelen.Voor "Ridin' That Memphis High" deed ze haar inspiratie op tijdens de ritten naar de City of the Blues. "Healing Kind of Blues" en "Slow Blues Grinder" draagt ze op aan haar fans en zij die de blues in hun hart dragen. Op "All About the Shuffle" is Todd Morgan, een van haar gasten, op keybords te horen, op "If You Ever Change Your Mind" doet Canadese Debra Power haar bijdrage op piano en Ilana Katz Katz is de violiste op "Blues Family".
"During the pandemic, Val Starr wrote songs for her 'Healing Kind of Blues', a varied blues album which also has a curative effect on each of us…" (ESC for Rootstime)
Eric Schuurmans
Album tracklist: 01. Ridin' That Memphis High – 02. All About the Shuffle – 03. Slow Blues Grinder – 04. Healing Kind of Blues – 05. If You Ever Change Your Mind – 06. Age Is Just a Number – 07. Pretty Girl Blues – 08. Don't Love 'Em – 09. Outside looking In – 10. We're Not Getting Older – 11. Blues Family – 12. Get Over It | Music/Lyrics by: Val Starr | Produced by: Val Starr | Album credits: Val Starr: vocs, rhythm guitar & the Blues Rocket: John Ellis: bass, slide guitar / Paul Farman: drums / Tim Brisson: lead guitar / Frankie Munz: harmonica & Special Guests Blues Musicians: Danny Sandoval: sax (4,5) / Todd Morgan: organ (3,4,8), keys (2,6,12), strings & steel drum keyboard effects (10,11) / Horacio Socarras: congas, percussion (4,11) / Debra Power: piano (5,7) / Ilana Katz Katz: fiddle (11)
Discography VAL STAR & the BLUES ROCKET: Healing Kind of Blues [2022] | Weather Blues (Remix) [2020] | Lighter Side of the Blues [2019] | I Always Turn the Blues On [2017] | Woman On a Mission [2016] | Blues Away [2014] | Cool Ride [2012]