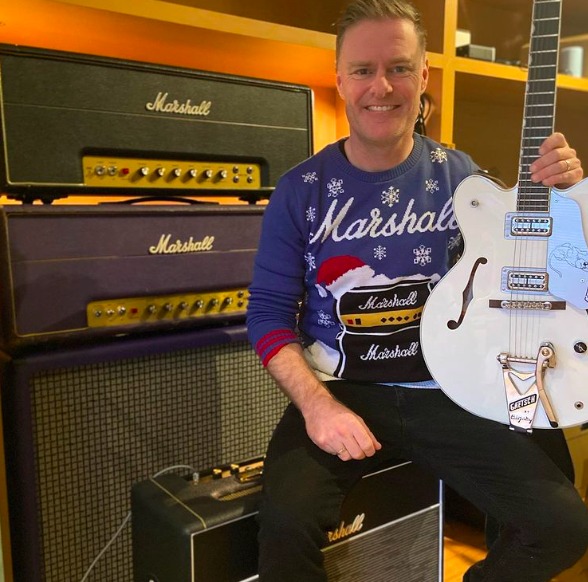 "Epic driven music like all blues rock should be…"
De Ierse gitarist/zanger en songwriter Mike Brookfield passeerde hier al enkele keren de revue. Mike Brookfield is een uit Liverpool afkomstige, maar in Dublin wonende artiest die, toen hij nog in Liverpool studeerde en samen met de gekende Amerikaanse jazzpianist en componist Charlie Banacos (1946-2009) een jazz opleiding volgde, genomineerd werd als "Jazz Musician of the Year". Mike begon zijn muzikale carrière in 1989 in West End Londen, waar hij in rockmusicals (o.a. als Eddie Cochran) optrad  en daarnaast ook werkte als freelance en sessie muzikant.
Mike Brookfield is ondertussen in Ierland één van de belangrijkste instructeurs in blues, rock en jazz gitaar. Hij geeft gitaarles in zijn eigen muziekschool in Portmarnock en wereldwijd via internet. Mike werkte ook als muziek coördinator voor RTE (Raidió Teilifís Éireann, de Ierse publieke gefinancierde omroepmaatschappij, die meerdere tv- en vier radiozenders bezit).
In 2006 debuteerde Mike Brookfield met 'Skin on Bone'. Daarna bracht hij nog 'Love Breaks the Fall' (2015), 'Brookfield' (2017) uit en in 2021 met de Ierse multi-instrumentalist Peter Eades (drums, bas), het instrumentaal album 'Hey Kiddo!' met 12 originele Gretsch rock instrumentals.
"Cinematic imagery & storytelling are at the heart…"
Filmbeelden en vooral herkenbare verhalen staan centraal op Mike Brookfield's vijfde studio album, dat de naam 'Built to Last' kreeg. Brookfield weet met nummers als "Delirium Town", waarmee het album opent, "Workin' on You Baby", "Nothin' to Sing But the Blues", "Snatched It from My Hand" en "Built to Last", de luisteraars emotioneel te beroeren, ze doen je opveren en bewegen.  
"The stories Mike Brookfield brings on 'Built to Last' make you think about who you are, make you cry and laugh, bounce and move…" (ESC for Rootstime)
Eric Schuurmans
Album tracklist: 01. Delirium Town – 02. Speedway – 03. Workin' on You Baby – 04. East Village Vinyl Queen – 05. Dunkirk Spirit – 06. A Life Lived for Others – 07. Nothin' to Sing But the Blues – 08. Snatched It from My Hand – 09. Kiss Me Deadly – 10. Built to Last | Music/Lyrics by: Mike Brookfield | Produced by: Mike Brookfield | Album credits: Mike Brookfield: vocs, guitars / Paul Moore: bass / Dave McCune: drums / Peter Eades: keys / Grainne Brookfield: bvs
Discography MIKE BROOKFIELD: Built to Last [2022] | Hey Kiddo! (instrumental album) [2021] | Brookfield [2017] | Live in Paris (Live YouTube footage from La Chapelle Des Lombards, Paris, 13/10/2016) [2016] | Live @ the Rory Gallagher Tribute Festival 2016 [2016] | Love Breaks the Fall  [2015] | Skin on Bone [2006] |