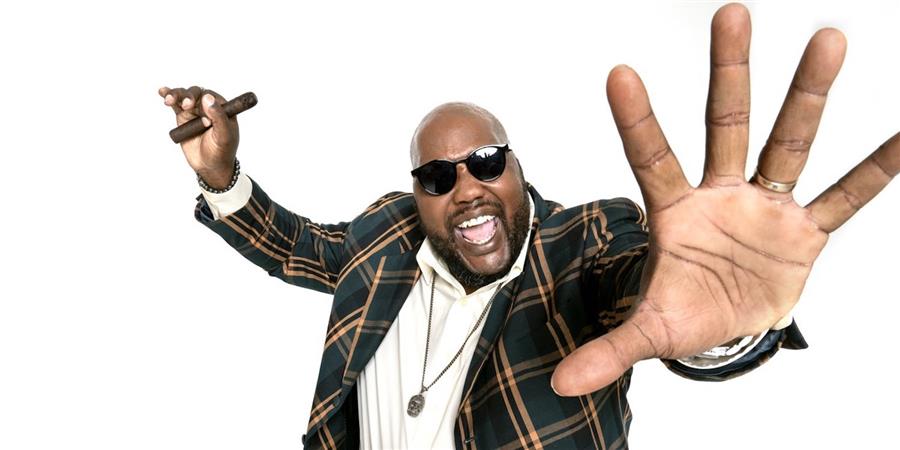 "'In Too Deep' explores LOVE, LONELINESS & SOCIAL ISSUES…"
"'Hotel' is het zevende studioalbum uit 2005 van de Amerikaanse elektronicamuzikant, zanger, songwriter en producer Richard Melville Hall, aka Moby. Het album markeerde een stilistische verschuiving van elektronische en dansgerichte muziek naar alternatieve rock en Moby's beslissing om voor het eerst sinds zijn album 'Ambient' uit 1993 geen vocale sampling te gebruiken. "Lift Me Up" was de eerste single van dit  album. Moby schreef het nummer in 2004, net nadat George W. Bush werd herkozen voor een tweede termijn. Moby was het niet eens met het beleid van Bush, en bezingt in "Lift Me Up" zijn overweging om naar Canada te emigreren. Volgens Moby gaat het nummer ook over globale intolerantie en fundamentalisme…"
Was de Texaanse reus van net geen twee meter Caron Nimoy "Sugaray" Rayford, de sympathieke zanger/songwriter en host van de wekelijkse broadcast "LIVE from THE SUGA SHACK" (https://ne-np.facebook.com/TheSugarayRayford/videos/live-at-the-suga-shack-with-charlie-musselwhite-142022/251928476917162/) geïnspireerd door het Moby nummer, toen hij aan zijn EP 'Gonna Lift You Up' (2022) als voorbereiding voor zijn nieuwe album 'In Too Deep' werkte en inspiratie zocht? Daar waar het over gelijkheid en tolerantie gaat, onbewust misschien wel, maar daarnaast was ook voor SRR de Covid-pandemie in de laatste maanden de grote spelbreker en motivator en waren zijn singles "Invisible Soldier" & "Miss Information" en de 4-track EP, alvast een steun voor alle betrokkenen.

Rayford's explosieve optredens tijdens het Moulin Blues Festival 2014 en zijn optreden in hetzelfde jaar als gast van move2blues in de MOD in Hasselt, zijn me steeds bijgebleven. Anderen zullen zich SRR misschien ook herinneren als één van de leadzangers van The Mannish Boys waarmee hij in 2012 het album 'Double Dynamite' opnam, dat in 2013 tijdens de Blues Music Awards uitgeroepen werd als "Best Traditional Blues Album". In 2016 was SRR genomineerd voor 4 BMA's. Tijdens de 40ste BMA's in 2019 werd Rayford uitgeroepen tot "Soul Blues Male Artist of the Year" en zijn vijfde album, 'Somebody Save Me' (2019) werd genomineerd voor een Grammy Award in de categorie "Best Contemporary Blues Album". In mei 2020 ontving Rayford twee BMA's als "B.B King Entertainer of the Year" en "Soul Blues Male Artist of the Year".
Op 7-jarige leeftijd startte Caron Rayford, zijn muzikale carrière als zanger/drummer in een gospelkoor. Die gospelinvloeden blijf je nu nog altijd horen en voelen in SRR, de  geweldige zanger en uitzonderlijke entertainer, die hij ondertussen geworden is. In zijn oldskool-zangstijl, hoor je nog altijd de echo's van Muddy Waters en Otis Redding. Vanaf 2010 trad Sugaray op met zijn Sugaray Rayford Band, met gitarist Alastair Greene, keyboardspeler Drake "Munkihaid" Shining, bassist Allen Markel, drummer Lavell Jones, saxofonist Aaron Liddard en trompettist Giles Straw.
SRR debuteerde in 2010 met 'Blind Alley'. Zijn vijfde studioalbum, de opvolger van 'The World that We Live In' (2017), kreeg de naam 'Somebody Save Me' (2019). Sugaray nam het album op o.l.v. producer/harmonicaspeler en oprichter van Forty Below Records Eric Corne, die ook alle nummers schreef. Bij de opnames was de dame achter de keys Sasha Smith en verder kon SRR rekenen op de gitaristen Rick Holmstrom en Eamon Ryland.  
A modern take on retro-soul that explores the themes of color, religion, race or creed,  loneliness & pertinent social issues of today. "We all live on the same planet so we are all brothers and sisters. Please take my hand…" (SRR)
Sugaray Rayford (zang, percussie) trok de Horse Latitudes Studios en Forty Below Studios in samen met -enkelen waren er al bij op een van zijn vorige albums- "bekend" volk als gitaristen Rick Holmstrom & Eamon Ryland, keyboardvirtuozen Sasha Smith (Priscilla Ahn), Monette Marino & de man van het eerste uur Drake "Munkihaid" Shining, bassist Taras Prodaniuk (Lucinda Williams), drummer Matt Tecu (Jacob Dylan), saxofonist Aaron Liddard (Amy Winehouse), trompettist Simon Finch, trombonist Tom White, violist Eric Gorfain (Dionne Warwick, REM), cellist Richard Dodd en backingvocalisten Gia Ciambotti én Eric Corne, om tien  tracks op te nemen die producer/songwriter Eric Corne ook nu weer voor SRR schreef.
"Invisible Soldier" waarmee SRR 'In Too Deep' opent, is een nummer dat geïnspireerd is door SRR's problemen met slapeloosheid door PTSS (posttraumatisch stressstoornis). Het is ook de link met alle veteranen die in de gemeenschappen worstelen met syndromen, die na  een oorlog onzichtbaar hangen bleven. Sociale problemen, die naast gevoelens van liefde, eenzaamheid en onderdrukking, in de titelsong, in "In Too Deep" en in "Please, Take My Hand" een terechte plaats op het nieuwe album kregen. Op "No Limit to My Love" is SSR dan weer heel soulvol en sensueel en op de country ballade "Goldon Lady of the Canyon" lijkt het, of je door de gitaarstijl van Mavis Staples' bandleider Rick Holstrom terug in de geweldige Stax-jaren zit. Op funky Afrikaanse ritmes drijft de uptempo track "Miss Information", een nummer dat door de blazers (Simon Finch: trompet, Flugelhorn & Tom White: trombone) en percussie boven op Farfisa-orgel, wah-wah-gitaar en gelaagde harmonieën (van Gia Ciambotti & Eric Corne), opvalt. Van het midtempo en bluesy "One" gaat het via het funky "Gonna Lift You Up" en "Golden Lady of the Canyon" uiteindelijk naar de afsluiter, "United We Stand". 'In Too Deep' eindigt met de oproep van een soulvolle funky crooner,  die ons al jaren met veel vuur en zweet enthousiast inpalmt en ons hier nu een betere wereld presenteert. 
"Fitting in the zeitgeist and with his well-known optimism, SUGARAY RAYFORD puts a heart under our belts on 'IN TOO DEEP', with great infectious funky retro-soul…" (ESC for Rootstime)
Eric Schuurmans
Album tracklist: 01. Invisible Soldier – 02. In too Deep – 03. No Limit to My Love – 04. Under the Crescent Moon – 05. Miss Information – 06. Please, Take My Hand – 07. One – 08. Gonna Lift You Up – 09. Goldon Lady of the Canyon - 10. United We Stand | Music/Lyrics by: Eric Corne or as [noted] © 2022 | Produced by: Eric Corne | Album credits: Sugaray Rayford: vocs, percussion / Rick Holmstrom & Eamon Ryland: guitars / Sasha Smith, Monette Marino & Drake "Munkihaid" Shining: keys / Taras Prodaniuk: bass / Matt Tecu: drums / Aaron Liddard: sax, flute / Simon Finch: trumpet, Flugelhorn / Tom White: trombone / Eric Gorfain: violin / Richard Dodd: cello & Gia Ciambotti & Eric Corne bvs
Discography SUGARAY RAYFORD: 6-In Too Deep  [2022] | Gonna Lift You Up (EP,4#) [2022] | 5-Somebody Save Me [2019] | 4-The World That We Live In, w/The Royal Italian Family [2017] | 3-Southside [2015] | 2-Dangerous [2013] | Double Dynamite, w/The Mannish Boys [2012] | 1-Blind Alley [2010]