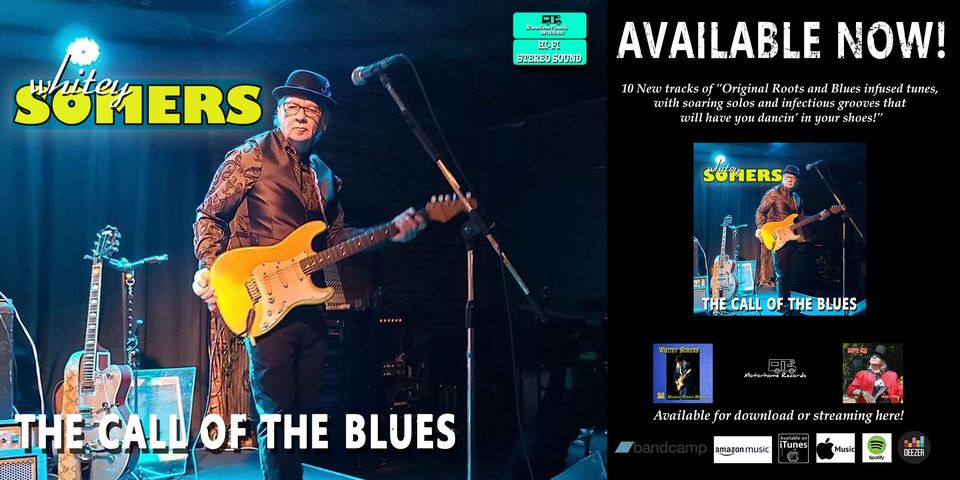 "Music of one sort or another…"
Ervaring in de blues zat, dat is het minst wat je over deze veteraan uit Brits-Colombia kan zeggen. Je kunt Whitey Somers (een neef van de overleden klassieke componist Harry Somers) rustig een van de meest ervaren blues artiesten van Canada noemen, want hij draait al vanaf zijn zestiende mee en, dat is al ettelijke decennia geleden. Dit heeft hem samengebracht met artiesten als Rick Fines, Stephen Fearing, Jeff Healey, Harp Dog Brown, David Essig, David Vest en Wicked Grin. Daarnaast is hij de vaste gitarist van Blue Dog Ramble, die in 2019 debuteerde met 'Get Off that Couch' en heeft hij ook een eigen band. Whitey doet solo akoestische shows met de Whitey Somers Band, The Jessica Benini Collective en Blue Boys. Als multi-instrumentalist en singer/songwriter is Whitey een veelgevraagde sideman en sessiespeler. Tussen zijn debuut 'YTCD' in 2005 en zijn meest recente album 'The Call of the Blues' (2021) zwom Whitey als singer/songwriter al doorheen vaak uiteenlopende stijlen. Van blues tot folk & alt rock of country, Whitey's songs reflecteren de gehele wereld.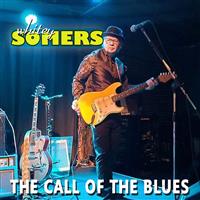 THE CALL OF THE BLUES (2021)
'The Call of the Blues', zijn meest recente album, verscheen in het voorbije jaar. Het is er een met tien zelfgeschreven nummers. Zijn vaste begeleidingsband bestaat uit Nick Dokter (drums), Todd Sacerty (bas) en Nico Rhodes (toetsen, sax). Als gasten horen we David Essig, Lazy Mike Mallon en Jay D. Stiles. Het album opent rustig met "I Call off the Blues", een traag en elegant blues nummer, met knap werk van Nico Rhodes op toetsen. Ik kan nu al stellen, dat de "beste" nummers op het album, de langzame blues nummers zijn, waarvan er nog twee moeten komen. "A Free Man" is een donker nummer, over iemand die het moeilijk heeft tijdens zijn herstel: "Ik liep hand in hand met de duivel. Ik had een engel aan mijn zijde. Je moet veel duisternis zien, voordat je ooit het licht ziet. Maar ik ben een vrij man. Ik heb geen ketenen rond mijn ziel…". De afsluiter, "Rise Above" is dan weer erg jazzy. Twee nummers zijn country nummers. "Gone" schreef Whitey knipogend naar Johnny Cash en "Ain't Nothin' But the Mornin' Blues" is prachtige oldskool country blues. Waar blijft dan de "rest" van de blues, hoor ik sommigen al zeggen? Als ik de tracklijst afloop, dan is "Can't Control It" een forse blues/rocker, "Don't Go Slippin' Away" een aardige shuffle, zit er in "They Lie" heel wat slide en is "Wot You Got" erg funky.
"In summary, Whitey Somers' 'The Call of the Blues' sums up his musical qualities well and was more than just an introduction..."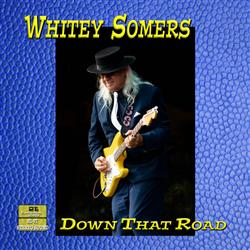 DOWN THAT ROAD (2019)
Voor 'Down That Road' trok Whitey Somers samen met zijn muzikanten (Todd Sacerty: bas, Brian Whitty: bas, Nico Rhodes: piano & Larry Blatchford: orgel) naar de Mountain Studio in Nanaimo in B.C. Als opener is het veelzeggende en swingende "I Got the Blues" zowat de perfecte song om het feestje mee te beginnen, dat snel op toeren geraakt met de pianoboogie "Can't Make My Payment Blues". "Six Months Pregnant (3000 Miles Away)" is daarna het nodige rustige intermezzo, "Frozen Toenail Blues" een aanstekelige shuffle en de country smartlap "If You Leave Me (You Leave Me Feeling Blue)" of de piano boogiewoogie "My Baby Likes to Boogie" de juiste sfeermakers. "Testify" is al de volgende rocker, "Sweet Mama's Blues" leidt rustig de finale in die met de titelsong, al rockend en hoppend -daar waar Whitey Somers op deze release het best in is- de deuren achter zich sluit. 
"Whitey Somers a music veteran, who should not be taught the tricks of the trade!…" (ESC for Rootstime)
Eric Schuurmans
10 cd's te winnen!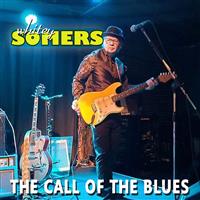 Wil je daar kans op maken, dan mail je ons gewoon even:
je naam, je adres en de vermelding: WHITEY SOMERS
Binnen een aantal weken wordt uit alle inzendingen de gelukkigen getrokken.
Wij hopen dat u massaal Rootstime - hier - zult mailen
De winnaars worden per mail verwittigd.
Album tracklist THE CALL OF THE BLUES (2021): 01. The Call of the Blues (slow blues) – 02. Can't Control It (blues/rocker) - 03. Don't Go Slippin' Away (shuffle) - 04. A Free Man (slow dark blues) - 05. They Lie (hard drivin' slide) - 06. Gone (swampy porch blues) - 07. Chicken Feet (upbeat instrumental) - 08. Wot You Got (fast and funky) - 09. Ain't Nothin' But the Mornin' Blues (country blues) - 10. Rise Above (slow jazzy blues) | Music/Lyrics by: Whitey Somers | Produced by: Whitey Somers & Rick Salt | Album credits: Whitey Somers: vocs, guitar / Nick Dokter: drums / Todd Sacerty: bass / Nico Rhodes: keys, sax & Guests: David Essig: slide (6), Lazy Mike Mallon: harmonica & Jay D. Stiles: Rhodes, organ, synth (8)
Album tracklist DOWN THAT ROAD (2019): 01. I Got the Blues – 02. Can't Make My Payment Blues – 03. Six Months Pregnant 3000 Miles Away – 04. Frozen Toenail Blues – 05. 82% Done – 06. If You Leave Me (You Leave Me Feeling Blue) – 07. My Baby Likes to Boogie – 08. Undecided – 09. Testify – 10. Sweet Mama's Blues – 11. Down That Road | Music/Lyrics by: Whitey Somers | Produced by: Whitey Somers & Rick Salt | Album credits: Whitey Somers: vocs, guitar / Nick Dokter: drums, n.u; (11) / Todd Sacerty: bass (3,5,8-11), b.u. (11) / Brian Whitty: bass (1,2,4,6,7) / Nico Rhodes: piano / Larry Blatchford: organ
Discography WHITEY SOMERS: The Call of the Blues [2021] | Down That Road [2019] | Happy Guy [2015] | YTCD [2005] |