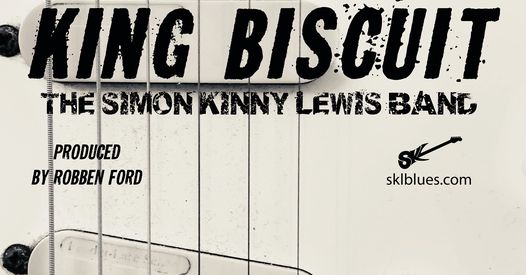 "Modern blues album featuring the cream of the blues crop…"
Down Under, in Sidney, komen liefhebbers van fusionmuziek in de scene op een dag zeker eens Simon Kinny-Lewis tegen. Anderen kennen hem misschien wel als gitarist van de band van Chris Cain. Als muzikant, zanger, componist en producer valt SK-L vooral op met zijn typisch, kenmerkend hard snijdend gitaargeluid. Op zijn zevende studio album (dat we hier recenseerden), 'Another Day in San Jose' werd Simon bijgestaan door een sterke, voornamelijk in Californië gevestigde band, bestaande uit: Tony Boyd (drums), Nate Ginsberg (keyboards), Dewayne Pate (bas), Andy Just (harmonica), Walter Jebe (slidegitaar) en, op één nummer door Robben Ford.
Op zijn nieuwe album 'King Biscuit', dat opgenomen is met Robben Ford als producer (én gastgitarist) en gemixt werd door Grammy award winning engineer Casey Wasner in de Purple House in Nashville, waren er een aantal van de genoemde muzikanten opnieuw bij, maar ook bassist Rob Exan, violist Christian Howes, toetsenist Shannon Stitt en zangeres Jessie Wagner. Robben Ford was naast Lachy Doley (Whammy clavinet), Andy Dust (harmonica) en gitaristen Josh Smith, Ray Beadly & Kirk Fletcher, één van de gastmuzikanten.
Op de track list vind je naast drie eigen nummers vooral covers van bekende voorgangers. "Swamp Rat", de pompende opener is typisch SK-L nummer dat hij zingt met zijn rauwe stem en waarin zijn gitaar snijdt vanaf de eerste akkoorden. "Parchment Farm" van Mose Allison valt direct op door viool van Christian Howes en de geweldig slide gitaar. Na "Just Need a Kind Hearted Woman" waarin Robben Ford de gitarsolo verzorgt, is ook de update van Willy Dixon's "You Can't Judge a Book by Its Cover" met Lachy Doley achter zijn Whammie clavinet, Shannon Stitt achter de piano en Nate Ginsberg achter de Hammond en de funky bas van Rob Ewan, al de volgende verrassing. Op de slow blues "Goin' Down Slow" van St. Louise Jimmy Oden, zijn Josh Smith en in de achtergrond , een onopvallende Nate Ginsberg al de volgende smaakmakers. "Crawling Kingsnake" met Andy Just op harmonica, zal door SK-L's slidewerk, John Lee Hooker zeker hebben doen glimlachen. Van Sam Hopkinsis het funky "Black Cat Bone" en voor Howling Wolf's "Smokestack Lightning" hangt Ray Beadle zijn gitaar om, om naast Just's harmonica, het solo werk te doen. Het resultaat is een knappe lange versie om naar te luisteren. Na de derde original "Waiting for the Hurt to Go" is er nog de afsluitende cover van Willie Dixon, "Little Red Rooster" met als lead gitarist, Kirk Fletcher en de nog een laatste maal op blues harp, Andy Just.
"On 'King Biscuit' Simon Kinny proves that he belongs to the top of the Australian blues/rock scene. With the usual "little help" of his friends, it turned out to be an even better party…" (ESC for Rootstime)
Eric Schuurmans
10 cd's te winnen!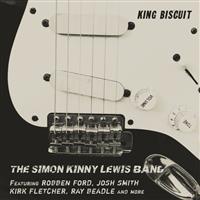 Wil je daar kans op maken, dan mail je ons gewoon even:
je naam, je adres en de vermelding: THE SIMON KINNY-LEWIS BAND
Binnen een aantal weken wordt uit alle inzendingen de gelukkigen getrokken.
Wij hopen dat u massaal Rootstime - hier - zult mailen
De winnaars worden per mail verwittigd.
Album tracklist: 01. Swamp Rat – 02. Parchment Farm, feat. Christian Howes [Mose Allison] - 03. Just Need a Kind Hearted Woman, feat. Robben Ford – 04. You Can't Judge a Book by Its Cover, feat. Lachy Doley [Willie Dixon] - 05. Goin' Down Slow, feat. Josh Smith [St. Louise Jimmy Oden] - 06. Crawling Kingsnake, feat. Andy Just [Bernard Besman, John Lee Hooker] - 07. Black Cat Bone [Sam Hopkins] - 08. Smokestack Lightning, feat. Ray Beadle [Howlin' Wolf] - 09. Waiting for the Hurt to Go - 10. Little Red Rooster, feat. Kirk Fletcher [Willie Dixon] | Music/Lyrics by: Simon Kinny-Lewis (1,3,9), w/ or as [noted: 2,4-8,10] | Produced by: Robben Ford | Album credits: Simon Kinny-Lewis: vocs, guitar, slide & rhythm guitar / Rob Exan: bass / Tony Boyd: drums / Christian Howes: violin (2) / Nate Ginsberg: keys (1,3,7,9), Hammond (4) / Shannon Stitt: piano (4), Hammond (5) / Jessie Wagner: bvs (4) & Robben Ford: main guitar solo, rhythm guitar (3,5,9), Wurlitzer piano (9) / Lachy Doley: Whammy clavinet (4) / Josh Smith: lead guitar (5) / Andy Dust: harmonica (6,8,10) / Ray Beadly: lead & rhythm guitar (8) / Kirk Fletcher: lead & rhythm guitar (10)
Discography (THE) SIMON KINNY-LEWIS (BAND*): King Biscuit* [2021] | Another Day in in San Jose [2020] | A Day in San Jose [2019] | Bad Whiskey* [2018] | Bad Whiskey [2018] | Catfish [2017] | Street Blues [2016] | Strat Attack [2015] | Country Fried Chicken [2014] |