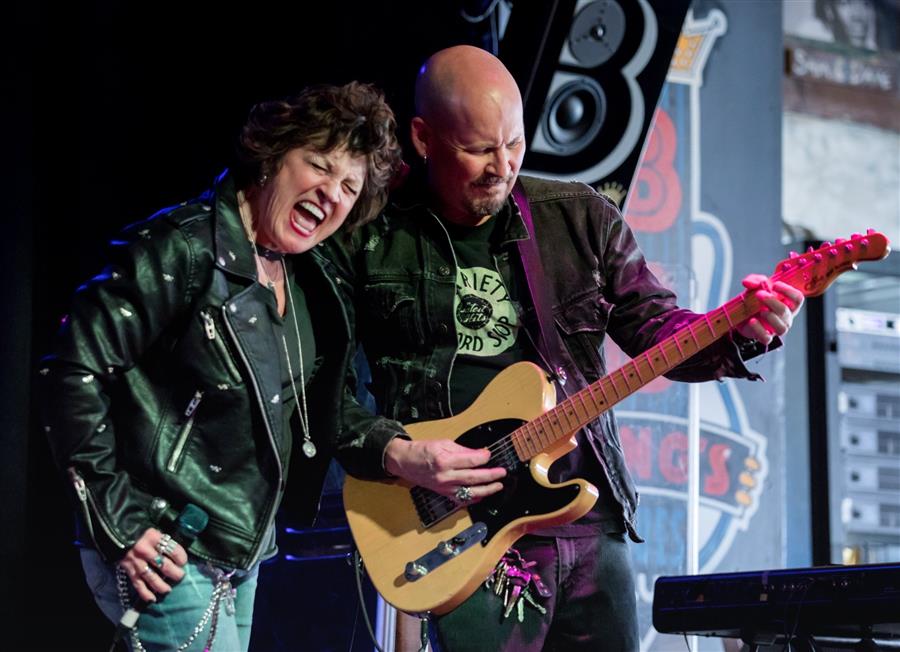 "Unbridled blues rock fury in Nashville…"
Singer-songwriter "Hurricane" Ruth (LaMaster) is afkomstig uit de staat met zijn vele tropische cyclonen,Illinois en treedt al sinds 1979 op met een drie koppige blues/rock gitaar band. Ruth opende al voor John Lee Hooker, B.B. King, Willie Dixon, Taj Mahal, Ramsey Lewis Trio, Sam & Dave, Fenton Robinson en meer recenter voor Kenny Wayne Shepherd, Royal Southern Brotherhood, Wayne Baker Brooks en Ronnie Baker Brooks. Hurricane Ruth was al te zien op diverse festivals in de Illinois regio zoals Champaign Blues, Ain't Nothin' but the Blues, Illinois Blues Festival… In 2012 nam ze deel aan de IBC in Memphis.
Hurricane Ruth debuteerde in 2012 met 'The Power of the Blues…Feels like a Hurricane'. Het album werd in 2013 genomineerd als "IBC Best Self-Produced CD". Als opvolger van 'Ain't Ready for the Grave' (2017), verscheen er in juni haar vierde studio album, 'Good Life'. Het album werd opgenomen met o.a. Bruce Katz op de Hammond B3 en keyboards en drummer/producer Tony Braunagel.
Braunagel was ook de drummer/producer/co-producer van haar eerste live album, opgenomen in de 3rd & Lindsley Bar & Grill in Nashville met als Special Guest, Jimmy Hall. De meeste nummers op de setlist schreef Ruth zelf, enkele met collega songwriters.   
Het was die avond in de club, waar vaker bekende artiesten optreden, een avond voor liefhebbers van "ongebreidelde" blues/rock. De fans konden vooral genieten van Ruth's rauwe stem, die  vaak vergeleken wordt met die van iconen als Big Mama Thornton, Janis Joplin en Tina Turner. Ruth's zang is inderdaad diep geworteld in de blues, maar -zoals je hier live kan horen- kan Ruth ook stevig rocken, zonder haar eigenheid te verliezen.

Waar genoten haar fans die avond ongetwijfeld van? Van de spetterende opener "Roll Little Sister", waarmee ze al direct het huis in vuur zette, van "Hard Rockin' Woman" waarmee ze Tina even een rake tik gaf, van "Dirty Blues" (een van de nummers die samen met Tom Hambridge schreef) waarmee ze haar Stones' allures demonstreerde, van "Faith in Me", een van haar nieuwe nummers, een slow burner, een dat ze nog niet opnam of van "Cry Like a Rainy Day" een andere mooie ballade? Met de rocker "Barrelhouse Joe's" moet ze ook indruk gemaakt hebben en samen met Jimmy Hall (Wet Willie)  ging ze op een indrukmakende manier voor de blues op "As the Years Go Passing By" en "Make Love to Me". Ik twijfel ook niet aan "Far from the Cradle" dat door Scott Holt met veel slides en wat frêle piano van Lewis Stephens, knap ingepakt wordt én, aan "Dance Dance Norma Jean", een boogie die ze schreef voor haar moeder die van veel van John Lee Hooker en boogie hield en waarmee ze afsloot. De rest is zeker nog het ontdekken waard. Haal het album in huis en geniet er van!
"Hurricane Ruth LaMaster can rock furiously. On 'LIVE @ 3rd Lindsley' does she prove that live in Nashville. Enjoy it too!…" (ESC for Rootstime)
Eric Schuurmans
Album tracklist: 01. Roll Little Sister – 02. Hard Rockin' Woman – 03. What You Never Had – 04. Dirty Blues – 05. Faith in Me – 06. Slow Burn - 07. Cry Like a Rainy Day [K. Greenberg, G. Barnhill] – 08. Barrelhouse Joe's – 09. As the Years Go Passing By [Peppermint Harris] – 10. Make Love to Me – 11. I've Got to Use My Imagination [B. Goldberg, G. Goffin] – 12. Like Wildfire [R. LaMaster, K. Wright, J. Hutsell] – 13. Far from the Cradle – 14. Dance Dance Norma Jean | Music/Lyrics by: R. LaMaster & T. Hambridge (3-5,8,13), w/G. Davis, J. Engel, G. Davis (1,6,10,14) / R. Fleming (2,13) /  or as [noted: 7,9,11,12] | Produced by: Tom Hambridge | Album credits: Hurricane Ruth LaMaster: voca / Tom Hambridge: drums / Scott Holt, Nick Nguyen: guitar / Calvin Johnson: bass / Lewis Stephens: keys / Special Guest: Jimmy Hall: vocs (8), harmonica (8,10)
Discography HURRICANE RUTH (LAMASTER): Live @ 3rd and Lindsley [2022] | Good Life [2020] | Ain't Ready for the Grave [2017] | Winds of Change (EP,#4) [2015] | Born on the River [2014] | The Power of the Blues… Feels Like a Hurricane [2012]