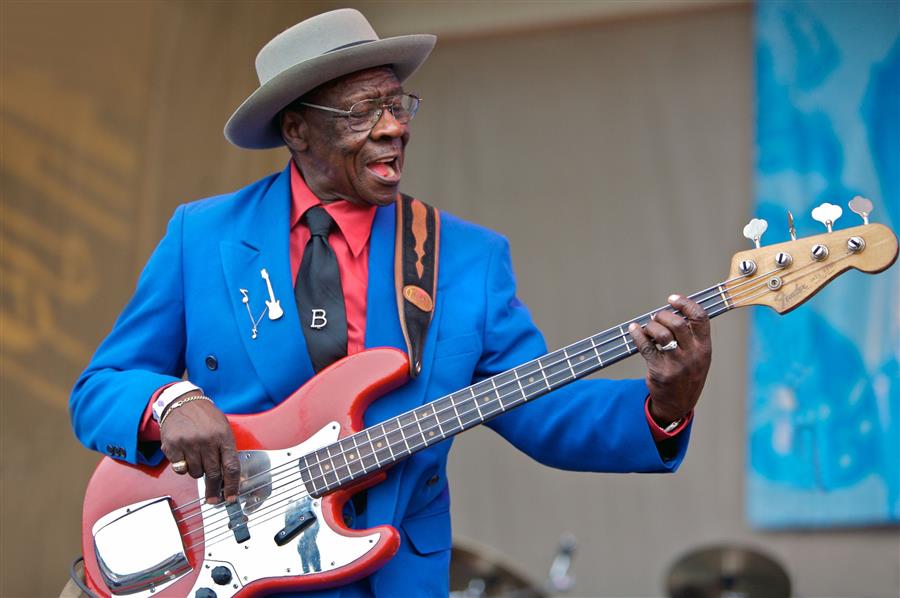 "He had a glorious musical career and played with the greatest.
He has appeared on more than 30 Delmark releases…"
Bob Stroger, ondertussen al 91, is een bassist en singer-songwriter. Hij werkte al samen met vele gekende blues muzikanten als Eddie King, Otis Rush, Jimmy Rogers, Eddie Taylor, Eddy Clearwater, Sunnyland Slim, Louisiana Red, Buster Benton, "Homesick" James, Mississippi Heat, Snooky Pryor, Odie Payne, Fred Below, Willie "Big Eyes" Smith en Billy Davenport.
Stroger is geboren in  Missouri, in de omgeving van Hayti. Als hij 16 was verhuisde zijn familie naar Chicago, Illinois. In Silvio's nachtclub, nabij het appartement waar ze woonden, trad o.a. Howling Wolf en Muddy Waters op. Bob geraakt zodanig  gefascineerd door de muziek die hij hoorde, dat hij ook muzikant wou worden. Hij trouwde vrij jong en ging vaak naar optredens van zijn schoonbroer Johnny Ferguson, die samen met J.B. Hutto in The Twisters speelde. Stroger leerde thuis zelf gitaar spelen en richtte met zijn neef Ralph Ramey, een familie band op, The Red Tops (gezien ze allen als uniform een zwarte pet, met boven op een rode cirkel, dragen). Zijn broer John Stroger was de drummer van de band. Omdat zijn schoonbroer niet mocht reizen van zijn vrouw, richtte zijn broer John met Willie Kent en Bob een nieuwe band op, Joe Russell & The Blues Hustlers. Bob Stroger speelde zo'n drie jaren met Rufus Forman in een jazz band, omdat hij meer van de wereld wou  zien. Tijdens een ontmoeting met Eddie King (1938-2012), vertelde Bob aan King dat ze een blues gitarist zochten. King vervoegde de band. Dit was voor Stroger het begin van een lange carrière als bassist / blues muzikant. Stroger is te horen op Eddie King's single "Love You Baby" (1965). Stroger speelde in de band van King. Eerst in Eddie King & King Men en na een korte split, gedurende vijftien jaren, in Eddie King & Babee May and the Blues Machine. Na een onderbreking van enkele jaren, vervoegde Stroger in het najaar van '70 en in de jaren '80, via Jessie Grean toen hij met Morris Pejo speelde, de band van Otis Rush (°1936) ,die een bassist zocht. Ze toerden (ook) in Europa. Stroger is te horen op enkele albums van Rush ("Live in Europe", 1977 – "Lost in the Blues", 1977).
Als sessie muzikant werkte Stroger in het najaar van tachtig, begin negentig samen met Sunnyland Slim, Mississippi Heat en met Chicago blues drummer Odie Payne (1926-1989). In 1996 speelde Stroger op Mark Hummel's album 'Heart of Chicago' en in 1997, op Golden "Big" Wheeler's album, 'Jump In'. Stroger's debuut solo album kwam er in 2002 na een optreden tijdens het Lucerne Blues Festival' in Zwitserland: 'In the House: Live @ Lucerne, Vol. 1'. Hierop zijn ook pianist Ken Saydak en blues gitarist Billy Flynn te horen. In 2007 neemt Stroger 'Back in Town' op met Steve Freund (gitaar), Willie "Big Eyes" Smith (harmonica), Deitra Farr (backing vocals) en Juli Wood (bariton sax). Ook in 2007 is Stroger te horen op het laatste album van Carey Bell (1936-2007' 'Gettin Up: Live @ Buddy Guy's Legends Rosa's'. Stroger is ook te horen op Willie "Big Eyes" Smith's 'Born in Arkansas' (2008) en 'Joined at the Hip' (samen met Pinetop Perkins) (2010). In 2011 en 2013 ontving Bob Stroger van de Blues Foundation een Blues Music Award in de categorie "'Best Blues Bassist".
Met zijn Braziliaanse band The Headcutters en gast orgelist Luciano Leães nam hij recent bij Delmark voor de eerste keer als frontman, een album met enkel old skool blues, 'That's My Name' op. Van de 13 nummers zijn er vijf originele*, covers zijn er o.a. van Ma Rainey, Eddie Taylor, Big Bill Broonzy, Casey Bill Weldon en Herman "JR" Parker Jr. The Headcutters werden opgericht in september 1999 door vier jeugdvrienden. Joe Marhofer (harmonica en zang), Ricardo Maca (gitaar), Arthur Catuto (akoestische bas) en Leandro Cavera (drums) vormen voor Bob de ideale ritmesectie.
"But my real name is the blues…"
Heel relaxt opent Bob Stroger met het eerste Herman "JR" Parker Jr. nummer, "What Goes On in the Dark" dat rustig deint op de melodie gedragen door Bob's doorleefde zang, de onopvallende harmonica van Joe Marhofer en het soepel swingende orgel van gastspeler Luciano Leães. Eddie Taylor's "Just a Bad Boy" is een rustig pompende shuffle met opnieuw een hoofdrol voor de harmonica naast de raspende gitaar van Ricardo Maca. Stroger geniet dan duidelijk van Ma Rainey's gekende "CC Rider", de eerste van twee originals, "I'm a Busy Man" is een donkere slow blues en geest van Peter Green rondwaart. "Come on Home" is zowaar een funk nummer, "Move tot he Outskirts of Town" een slow blues à la lettre en "Keep Your Hands off Her" het eerste uptempo nummer, dat Bob samen met Leães hier op honky tonk piano prima doet. Op Parker Jr.'s slow blues, "Stranded in St. Louis" maken The Headcutters, wat eens mag gezegd worden, door hun uitstekende spel veel indruk. Dat Bob van mooie dames houdt beaamt hij op "Pretty Girls", op Big Bill Broonzy's "Talk to Me Mama" gaan Bob en Marhofer nog eens knap voluit en in de veelzeggende afsluiter, het levendige "That's My Name" laat Bob ons het volgende weten: "You can call me Bob Stroger or what you want, but my real name is the blues…".
"Immortal already, but still and Bob Stroger shows that on 'That's My Name', in the first place a sincere and real blues man…" (ESC for Rootstime)
Eric Schuurmans
Album tracklist: 01. What Goes On in the Dark [Herman "JR" Parker Jr.] – 02. Just a Bad Boy [Eddie Taylor] – 03. CC Rider [Ma Rainey] – 04. I'm a Busy Man* – 05. Come on Home* – 06. Move tot he Outskirts of Town [Casey Bill Weldon] - 07. Keep Your Hands off Her [Jay McShann] - 08. Something Strange* - 09. Stranded in St. Louis [Herman "JR" Parker Jr.] - 10. Pretty Girls [Eugene Church] - 11. Talk to Me Mama* - 12. Just a Dream [Big Bill Broonzy] - 13. That's My Name* | Music/Lyrics by: Bob Stroger*, or as [noted] | Produced by: Bob Stroger & the Headcutters | Album credits: Bob Stroger: vocs, bass & The Headcutters: Ricardo Maca: guitar / Joe Marhofer: harmonica, vocs / Arthur "Catuto" Garcia: a bass / Leandro "Cavera" Barbeta: drums & Guest: Luciano Leães: Hammond organ, piano / Braion Johnny: sax 
Discography BOB STROGER (solo**): That's My Name**, w/The Headcutters – feat. Luciano Leães [2022] | The Soundfarm Session, w/Dominic Schoemaker [2020] | Keepin' It Together w/Kenny "Beedy Eyes" Smith [2014] | Live Sessions @ MJ Pub, w/James Wheeler [2013] | Live in Buenos Aires 2010, w/Mr Jones Band [2010] | Gettin' Up: Live @ Buddy Guy's Legends, Rosa and Lurrie's Home w/Carey & Lurrie Bell, Kenny Smith [2008] | Bob Is Back In Town** [2007] | In the House: Live @ Lucerne, Vol. 1**, w/His Chicago Legends – feat. The Ken Saydak Trio [2002] | Blues Meeting in Chicago [1983] |