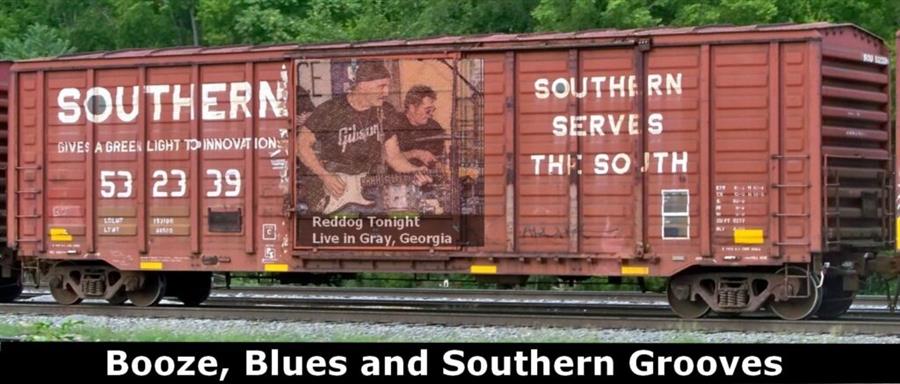 "Southern, Soulful Music…"
Reddog aka Jeff "JK" Higgins is een muzikant die al van eind eighties, begin nineties een vaste waarde in de blues scene van Atlanta, Georgia. Hij was een tijd actief vanuit Pensacola, in de Golf van Mexico, Florida, waar hij woonde, maar verblijft nu in Atlanta, de uitvalbasis van Reddog & Friends. Reddog is als gitarist beïnvloed door Freddie King, Duane Allman en Otis Rush. Hij omschrijft zelf zijn muziek als "Southern, Soulful music". Andere bandleden waren wijlen Donnie McCormick op drums/zang, van de Capricorn Record-band Eric Quincy Tate, en Chris Long op bas/zang, die later ging werken met de getalenteerde gitarist/songwriter Oliver Wood.
Zijn meest recente album, 'Booze, Blues and Southern Grooves' (2021) werd deels opgenomen in de Duck Tape Studio's in Decatur, Alabama met Johnny Sandlin achter de knoppen. Reddog vroeg aan Sandlin naar "speciale" muzikanten voor de opnames en expliciet naar Clayton Ivey op keyboards. "Simple Song" is een te bescheiden en prachtig nummer. Ben je op zoek bent naar soul, dan moet je zoals Reddog dat erg geëmotioneerd in "Searching for Some Soul" bepleit, in Alabama zijn en op "Honest Man", Reddog's persoonlijke blues credo en afsluiter, kan je genieten The Southern Shoals Soul Singers: Carla Russell, Mary Mason & Angela Hacker. De spelers muzikanten voor die sessies waren Reddog op gitaar, Clayton Ivey op keyboards, de legendarische Muscle Shoals-bassist David Hood en de veelgeprezen voormalige Capricorn Records-drummer Bill Stewart (Gregg Allman, Cowboy en Bonnie Bramlett).
Alle andere nummers zijn opgenomen in de beroemde East Avalon Recorders in Muscle Shoals, Alabama. De muzikanten  waren Reddog op gitaar, Clayton Ivey op keyboards, David Hood op bas, Justin Holder op drums en ook hier verzorgen Carla Russell, Mary Mason en Angela Hacker de achtergrondzang. De rust brengende opener "Love, You've Got to Spread the World" zet al meteen de sfeer voor de andere nummers als "The Blues Will Get You Everytime", een ode met handgeklap aan de kracht van de muziek. "Down, Down, Down" brandt traag en "She's a Georgia Peach" rijpt aanstekelig. "Why oh Why Are You Calling Me" is al een volgende relaxte ballade, het uptempo "Don't Muscle that Shuffle" een funky instrumentale shuffle en "Old School Blues" is wat de titel zegt. "Back in the Bottle Again" is de achtste en hier laatste Muscle Shoals' opname. 
"Reddog brings on 'Booze, Blues and Southern Grooves'  wonderful "soulful Southern blues" and the peace you sometimes urgently need…" (ESC for Rootstime)
Eric Schuurmans
Album tracklist: 01. Love, You've Got to Spread the World – 02. The Blues Will Get You Everytime – 03. Down, Down, Down – 04. She's a Georgia Peach – 05. Simple Song – 06. Searching for Some Soul – 07. Why oh Why Are You Calling Me – 08. Don't Muscle that Shuffle – 09. Old School Blues - 10. Back in the Bottle Again – 11. Honest Man | Music/Lyrics by: JK Higgins | Produced by: Reddog &  | Album credits: Reddog: vocs, guitar, slide guitar / Clayton Ivey: keys / David Hood: bass / Justin Holder & Bill Stewart: drums / Stevie Hawkins: congas / Carla Russell, Mary Mason & Angela Hacker: bvs
Discography REDDOG AND FRIENDS: Booze, Blues and Southern Grooves [2022] | The Earl years [1994] | After the Rain [1993] | Broken Dreams [1992] | Standing in the Shadows [1989] | Reincarnation [1988] | Reddog [1986] |