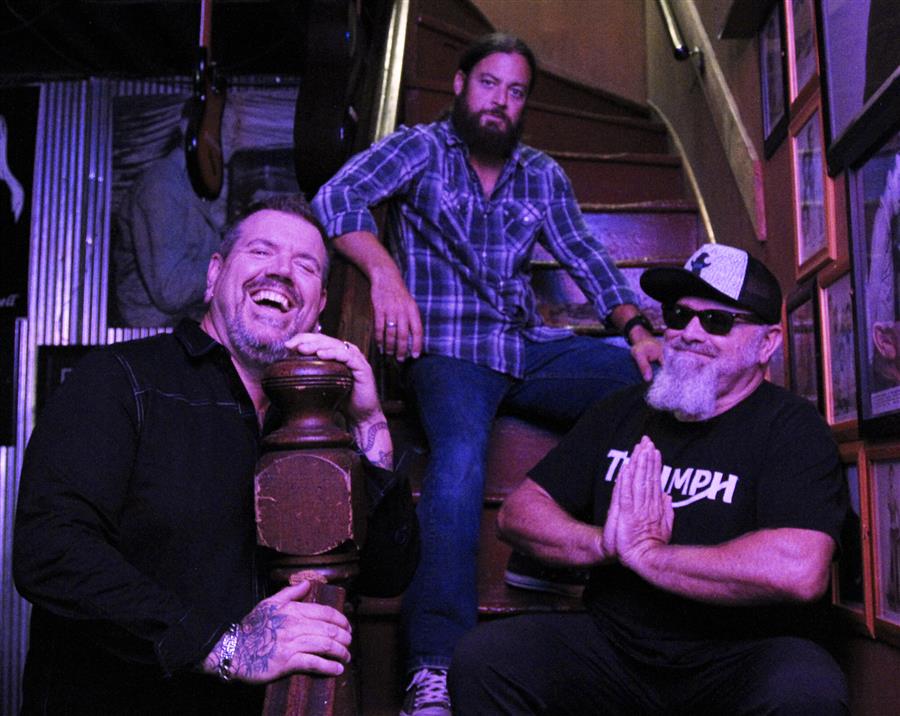 Google eens naar Levee Town, dan beland je waarschijnlijk zoals velen bij 'Levee Town' (2000) het zevende studio album van slide gitarist Sonny Landreth, dat hij in 2009 heruitbracht in een uitgebreidere versie op zijn eigen label LandFall Records. Zoek verder tot je de Levee Town band vind, waar het hier in deze recensie verder om gaat. Levee Town is een blues band opgericht in 2002, met als uitvalbasis Kansas City in Missouri, die een breed gamma roots/blues/Americana dekt. Leeve Town zijn zanger/gitarist Brandon Hudspeth, bassist Jacque Garoutte & drummer Adam Hagerman.
Brandon Hudspeth verhuisde in 1997 naar Kansas City, waar hij eerst met de Mo City Jumpers speelde. Later richtte hij een eigen band op, The Cobalt Project, met wie hij het album 'Conversations with Lightnin'' opnam. Hudspeth speelde ook met Little Hatch & the House Rockers en Lee McBee. Bassist Jacque Garoutte is al drie decennia lang muzikant. Hij werkte al samen met Ace Moreland, Smoot Mahuti, Baby Jason & the Spankers, Randy McAllister, Glen R. Townsend, Smokin'Joe Kubek & Benois King, Andrew 'Junior Boy' Jones, Smilin' Willie Guiedon en Wes Jeans. Adam Hagerman vervangt ondertussen drummer Jan Faircloth.
Met 'Trying to Keep My Head Above Water' is Levee Town al aan zijn zesde studio album toe. Het is opnieuw een album dat, zoals je al kan horen op "Music Martyr" dat het album opent,  behoorlijk rockt, waarbij de vocale harmonieën aanstekelig werken. Op "Locked Up For Days" zet Hudspeth op gitaar in om dan met een aanstekelig riff en de nodige solo's, verder de groove te bepalen. "Lookin For My Baby" is een shuffle, "Gala" een gedegen roots rocker en "Outside Child" een portie swing. De instrumental "Tarantino" lijkt zowaar uit een film te komen, terwijl het dromerige "Weight of the World" de nodige rust brengt. Op "The Stumble", waarmee het album afsluit, doet LT het nog eens zonder woorden.
"On 'Trying to Keep My Head Above Water', you can clearly hear and understand why Levee Town scores high in the Blues Rock Song Charts…" (ESC for Rootstime)
Eric Schuurmans
Album tracklist: 01. Music Martyr – 02. Locked Up For Days – 03. Lookin for My Baby – 04. Gala – 05. Outside Child – 06. Tarantino – 07. She Might Kill You – 08. Weight Of The World – 09. The Stumble | Music/Lyrics by: Brandon Hudspeth, w/ or as [noted] | Produced by: Levee Town | Album credits: Brandon Hudspeth: vocs, guitar / Jacque Garoutte: vocs, bass / Adam Hagerman: drums
Discography LEVEE TOWN: Trying to Keep My Head Above Water [2022] | City Hall [2019] | Takin' & Givin' [2016] / Pages of Paperwork [2011] / Levee Town [2009] / Unstable Table [2007] / Snapshot, a Live Recording [2004] | Exit Here - demo, 5# (out of print) [2003] |