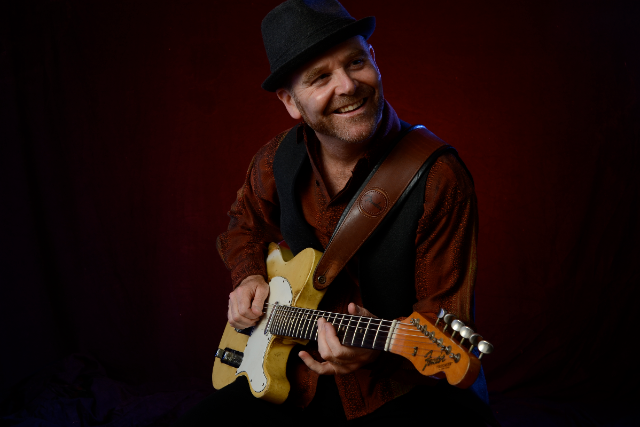 "It ain't gettin' old, it's just gettin' good…"
Als tiener was Mike Schermer al muzikaal heel actief en speelde hij in diverse plaatselijke R&R bands. In 1984 veranderde een optreden van de "Master of The Telecaster" Albert Collins zijn leven. Dit was de muziek die hij altijd al gezocht had. Van Collins, met wie hij bevriend geraakte, kreeg hij het advies zich te verdiepen in de muziek van T-Bone Walker. Maar ook Ray Charles, Sam Cooke, Wilson Pickett, Jimmy Smith, Charles Brown en Howlin' Wolf trokken Mike's aandacht.
Mike werd aangetrokken door harmonicaspeler Andy Santana, om samen met drummer June Core en bassist Steve Ehrmann een band, The Soul Drivers te vormen. Met de band backten ze Willie Dixon, Jimmy Rogers, Billy Boy Arnold, Luther Tucker, Snooky Pryor, Elvin Bishop en Tommy Castro. The Soul Drivers werd de tour band van Angela Strehli. Mike is te horen op haar 1998-album 'Déjà Blue', dat genomineerd werd met een California Music Award (BAMMIE) als "Best Contemporary Blues Release". In 2006 huurde blues/rocklegende Elvin Bishop Schermer in als lead gitarist. Schermer is te horen op Bishop's album 'The Blues Rolls On' (2008) en in 2011 op Marcia Ball's 'Roadside Attractions' album.
In 1999 debuteerde "The Mighty" Mike Schermer met '1st Set'. In 2005 volgde 'Next Set'. Als opvolger van Schermer's zesde album 'Blues In Good Hands' verscheen in 2019, 'Bad Tattoo'. Ook dit album werd opgenomen in de Kid Andersen's Greaseland Recording Studio's in San Jose, CA. Op het album zijn opnieuw een aantal gasten als Jim Pugh (orgel), Chris Cain (gitaar), Bob Welsh (piano), Billy Price en Rick Estrin (harmonica) te horen.
De opvolger 'Just Gettin' Good' is van hetzelfde laken een pak. De opnames gebeurden ook bij/met Kid Andersen, met o.a. bassist Steve Ehrmann (Roy Rogers, JL Hooker), toetsenisten Tony Stead (Tommy Castro, Sly & the Family Stone) en Austin DeLone (Elvis Costello, Nick Lowe) en drummers Paul Revelli (JL Walker, Chuck Prophet) en D'mar (Little Richard, Rick Estrin). Bassist Jerry Jemmott, zanger John Nemeth, saxofonist Terry Hanck en The Sons of the Soul, waren de gasten. Ook Mike's partner, zangeres en percussioniste Ms. Kimmy Pickens was er bij. Zij schreef met Mike mee aan vier nummers.
'Just Gettin' Good' is een erg gevarieerd album, met blues, soul, funk, r'n'r én méér. Als ik doorheen de track lijst ging, dan waren het de volgende tracks die me zijn bij gebleven: "Leave More (Than You Take Away)" o.w.v. de geweldige gitaar intro en de relaxte sfeer, het country deuntje "Spend the Night with You", de tearjerker "This Is Where My Love Is", "The Hungry Dog" door de knappe percussie van Ms. Kimmy en omdat ik een Belafonte fan ben, de rockers "Gypsy Ways" en "Kimmy Gimmee Gimmee Gimmee" (met knappe saxsolo van Terry Hanck), "Cook Up a Little Love" waarop je in het duet kan horen hoe goed Kimmy kan zingen terwijl ze je doet overkoken en "It's Not Me, It's You" waarmee Schermer het album tijdens een gemoedelijk TexMex-feestje afsluit.
"On 'Just Gettin' Good' Mighty Mike Schermer shows us confidently that he is at home in all markets as a musician…" (ESC for Rootstime)
Eric Schuurmans
Album tracklist: 01. Just Gettin' Good - 02. Leave More (Than You Take Away) – 03. Spend the Night with You – 04. This Is Where My Love Is – 05. The Hungry Dog – 06. Tired of Travellin' – 07. Gypsy Ways – 08. Let's Make Time for Love – 09. Cook up a Little Love – 10. Kimmy Kimmy Gimmee Gimmee – 11. Silence - 12. It's Not Me, It's You | Music/Lyrics by: Mike Schermer, w/Kimberly Pickens (1,3,5,9), w/Felice Garcia (11), and w/Steve Ehrman (12) | Produced by: Mighty Mike Schermer & Kid Andersen | Album credits: Mighty Mike Schermer: guitar, vocs / Derrick "D'mar" Martin, Paul Revelli, June Core: drums / Steve Ehrmann, Jerry Jemmott, Kid Andersen: bass / Keys: Tony Stead: organ, keys, e piano - Austin DeLone: e piano, organ -Chris Burns: piano / Ms. Kimmy Pickens, Walter Morgan, Dwayne Morgan, James Morgan, Timm Walker, Walter "Wally" Pickens: vocs / Kid Andersen: mellotron, a guitar, melodica, vocs, rhythm guitar, organ /  Horns: Eric Spaulding, Terry Hanck: tenor sax – Aaron Lington: bari sax – Jeff Lewis, Mike Kobrin, John Halbleid: trumpet – Mike Rinta, James Cody Arnholt: trombone – Eric "Uncle Bernie" Bernhardt, Jack Sanford: saxes -
Discography (THE) (MIGHTY) MIKE SCHERMER: Just Gettin' Good [2022] | Bad Tattoo [2019] | Blues In Good Hands [2015] | Be Somebody [2013] | Live Set [2009] | Right Hand Man Volume 1 (EP) [2007] | Next Set [2005] | 1st Set [1999] |