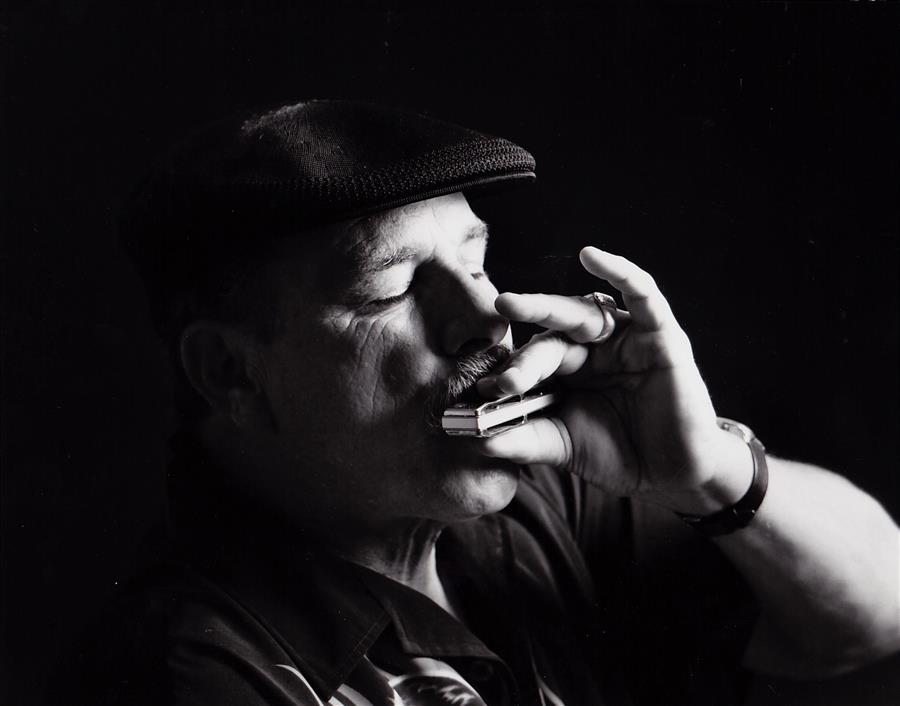 "100% pure old school musical mojo magic…"
Blues veteraan Alan Blake Eliel aka (Big) Al Blake is een 77-jarige zanger, harmonicaspeler, songwriter en producer. Hij ontdekte als tiener de blues via Ruby Anderson, een meid die uit Mississippi kwam en die hem verzorgde en die door het hele huis naar bluesmuziek luisterde. Toen hij van zijn ouders een Martin 00018 gitaar kreeg en les had gehad van een man genaamd Bill Cheatwood (de running buddy van de legendarische Hoyt Axton) wist hij dat hij zelf muzikant wou worden. Via een weddingschap begon hij op harmonica te spelen. Een etiket op Al Blake plakken -schreef iemand die hem in een hokje wou duwen- "zou hetzelfde zijn als proberen een Post-It-briefje op een tornado te plakken...". Is Al Blake de typische westkust-bluesman? Alleen Blake zelf kan het weten.  
Zijn muzikale reis begon in 1973, nadat hij via Freddie King de blues gitarist Michael Leonard Mann aka Hollywood Fats (1954-1986), actief in Los Angeles (Californië), leerde kennen. Blake werd de frontman van de Hollywood Fats Band, zong en speelde mondharmonica op het podium met Hollywood Fats, Fred Kaplan (piano), Larry Taylor (bas) en Richard Innes (drums). In die periode leerde Blake op een klein blues festival in LA City College, Kirk Fletcher kennen. Fletcher was toen pas 17. Na de tragische dood van Hollywood Fats (een hartaanval a.g.v. drugs) in december 1986 op slechts 32-jarige leeftijd stopte de Hollywood Fats Band tijdelijk met werken.
Voor de opnames van Blake's 2002-album 'Dr. Blake's Magic Soul Elixir' bracht hij Fred Kaplan, Richard Innes, Larry Taylor met Kirk Fletcher en Junior Watson (gitaar) samen. Dit resulteerde in de oprichting van The Hollywood Blue Flames, wat via de naam een eerbetoon aan Fats was. Ze namen tot nu toe drie albums op, waarvan de laatste twee, 'Road to Rio' (2006) en 'Deep in America' (2010).
Al Blake gaat als muzikant graag door het leven als Doctor Blake. Zijn favoriete voorschrift is "Magic Soul Elexir", wat ook de titel is van zijn laatste solo album, 'Doctor Blake's Magic Soul Elixir No. 2'. Het eerste deel verscheen in 2002.
"This collection of songs is water from deep in the well and from my perspective, it truly represents more than 50 years searching for paths to take me deeper and deeper into what I believe to be the heart of classic blues music and the source…"
Joe Bellamy, de man met de platina-oren, is de opnametechnicus en zijn soulmate Freddie Kaplan zat achter de piano. Kirk Fletcher, die veel te danken heeft aan de erfenis van Fats en het mentorschap van Al Blake, speelt gitaar op één track. De eerste van de niet minder dan 18 tracks is "Cow Cow Blues" van de blues en boogiewoogiepianist en zanger Charles Edward "Cow Cow" Davenport. Het is zijn bekendste song en een van de eerste op plaat verschenen boogiewoogie-songs. Blake geeft er een persoonlijke, wat minder boogiewoogie-achtige draai aan. Er volgen dan nog nummers die Blake solo op gitaar en mondharmonica brengt als "Rocky Mountain Blues" (van Lightnin' Hopkins) en als een van de originals, "Precious Time". Het nummer is zowat het meest beklijvende op het album. Het zou geïnspireerd zijn door  Blake's vriend Richard Dennis Duran (1953-2014) aka de blues harpist Lynwood Slim, wanneer hij erg ziek in het ziekenhuis lag. Het eerste uptempo nummer "Greasy Greens" is er een van Pink Anderson. Op de volgende nummers wordt Blake op piano begeleid door zijn vriend Fred Kaplan. De reeks begint met de instrumental "Garber Street". Op "Too Many Drivers" van Big Bill Broonzy vervoegt Kirk Fletcher hen. Nog een nummer uit het songbook van The Hollywood Blue Flames is "Black Chili Pepper", "Out on Santa Fe Blues" is een klassieker van Arthur Petties en erg uitgelaten tokkelt Kaplan op zijn piano op "Red Beans & Rice". Van Tampa Red bewerkte Blake "Things About Coming My Way", "Sante Fe Whistle Blues" (Fred Kaplan) is een knap eigen nummer en Hugh Laurie schreef "You Don't Know My Mind". Blake sluit het album solo en stompend af met de instrumental, "Old Time Boogie".
"'Doctor Blake's Magic Soul Elixir No. 2' is the uncompromising and quirky new solo album from blues veteran Al Blake. It's an ode to all the people who inspired him and a superb portion of West Coast Blues…" (ESC for Rootstime)
Eric Schuurmans
Album tracklist: 01. Cow Cow Blues [Cow Cow Davenport] – 02. Rocky Mountain Blues [Lightnin' Hopkins] – 03. Sweet Pea [Tommie Roe] – 04. It's Too Bad – 05. Precious Time – 06. Greasy Greens [Pink Anderson] – 07. The Land of Calio – 08. Garber Street* - 09. Too Many Drivers* [Big Bill Broonzy] - 10. Music Man (Alt. Take)* - 11. Black Chili Pepper* - 12. Out on Santa Fe Blues* [Arthur Petties] - 13. Lulu* - 14. Red Beans & Rice* - 15. Things About Coming My Way* [Tampa Red] - 16. Sante Fe Whistle Blues* - 17. You Don't Know My Mind* [Hugh Laurie] - 18. Old Time Boogie (Fred Kaplan*) | Music/Lyrics by: Alan Blake Eliel, w/ or as [noted] | Produced by: Alan Blake Eliel | Album credits: Al Blake: vocs, guitar, harmonica / Freddie Kaplan: piano / Kirk Fletcher: guitar (9)  
Discography DOCTOR BLAKE'S MAGIC SOUL ELIXIR: No. 2 [2022] | Al Blake's XXL Bag of Blues [2019] | Recorded Live 1979-1980, by Hollywood Fats Band  [2019] | Blues According to Blake (…a road less travelled) [2016] | The Doctor Blake Mysteries (Soundtrack II: Music from Series II-IV) [2016] | The Doctor Blake Mysteries (Series I) Soundtrack [2014] | Deep in America (2cd), by The Hollywood Blue Flames [2010] | Pop-X [2004] | Road to Rio (2cd), The Hollywood Blue Flames [2006] | Dr. Blake's Magic Soul Elixir [2002] | Mr. Blake's Blues, by Big Al Blake & The Hollywood Fats Band [1997] | Blues from Los Angeles (The 1980's), by William Clarke & The NightOwls and Guests, George "Harmonica Smith", Curtis Griffin, The Hollywood Fats Band [1990] |