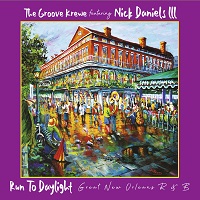 Artiest info
Website
facebook
Label: Sound Business Services
Info: Frank Roszak Promotions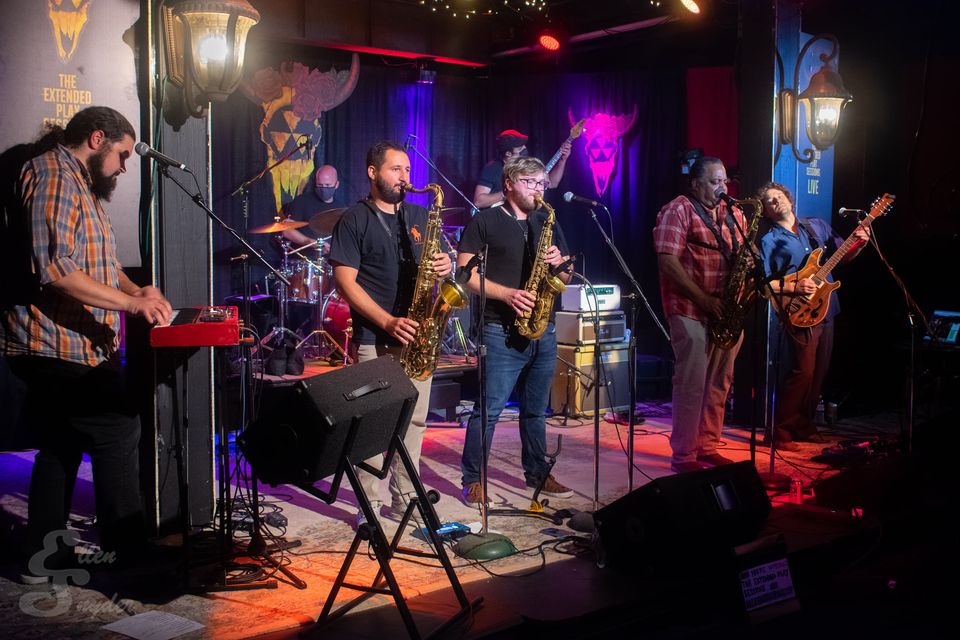 "No party without The Groove Krewe and Nick Daniels III…"
The Groove Krewe is een groep van top studiomuzikanten, samengesteld door producers Rex Pearce en Dale Murray ter ondersteuning van Nick Daniels III. Zanger en bassist Nick Daniels III werd in New Orleans geboren. Hij speelde al met The Neville Brothers, Allen Toussaint en Etta James. Momenteel maakt hij deel uit van de populaire New Orleans' band van Ivan Neville, Dumpstaphunk. Ze openden voor The Rolling Stones en The Dave Matthews Band. Rex Pearce & Dale Murray zijn ook songwriters en muzikanten uit de Zuid Louisiana regio. Ze werkten al met gekende artiesten samen. Een ervan is LeRoux.
SBS (Sound Business Services) is een onafhankelijke Louisiana label dat in 2015 werd opgericht door Rex Pearce. Rex Pearce is songwriter, platenproducent en gitarist met dertig jaar ervaring in de muziekindustrie. Pearce produceerde samen met Dale Murray het 2010-album van LeRoux getiteld 'The Session Years', feat. Carl Michaels. Bij SBS verscheen 'Run to Daylight', van The Groove Krewe. Rex Pearce, Dale Murray en Nelson Blanchard schreven de meeste nummers.
"Run to Daylight", waarmee het album opent, zet al met Eddie Bayers achter de drums, bassist Nick Daniels III en lead gitarist Jonathon "Boogie" Long met de juiste groove de titelsong op de juiste rails. "That's New Orleans", met Nelson Blanchard achter de keys en Mark Dhutu die op de conga's slaat, breien hier meteen al het juiste vervolg aan, om het dan feestelijk af te ronden met "Have a Party" en "In the Groove Zone". "Reach Out" en "Where Love Lies" zijn rustige intermezzo's die de zangkwaliteiten van Nick Daniels wat extra in de verf zetten en op "Sweet Situation" is het genieten van een van de sax solo's van Jason Parfait. Voor de afsluiter is er nog "Where Ya at in Life?", een nummer met een heerlijke reggae groove en als na "Raising Cane on the Bayou" het doek valt, blijft de groove zeker nog even hangen.
"Nick Daniels III makes it a groovy party with The Groove Krewe on 'Run to Daylight', up to and including the last note…" (ESC for Rootstime)
Eric Schuurmans
Album tracklist: 01. Run to Daylight – 02. That's New Orleans – 03. Have a Party – 04. In the Groove Zone – 05. Reach Out [Dale Murray] – 06. I'm Gonna Prove My Love [Dale Murray] – 07. Where Love Lies [w/Morrison, Duncan] – 08. Sweet Situation – 09. Where Ya at in Life?" – 10. Raising Cane on the Bayou | Music/Lyrics by: Rex Pearce (1-4,7-10) w/Nelson Blanchard (1,3,4) & Dale Murray (1,2,8,10) or as [noted] | Produced by: Rex Pearce & Dale Murray | Album credits: Nick Daniels III: lead & bvs / Nelson Blanchard: bvs / Drums: Eddie Bayers (1,3-9), Randy Carpenter (2,10) / Percussion: Mark Duthu: congas (2), other: Nelson Blanchard / Bass:  Nick Daniels III (1,3,4,6), David Hyde (2,5,7,8,10), Nelson Blanchard (9) / Keys: Nelson Blanchard  / Lead guitar: Jonathon "Boogie" Ling (1,5) / Guitar: Jonathon "Boogie" Long (5), Rex Pearce (1,2-4,8-10), Nelson Blanchard (2,4,6,7,8,10) / Horns: Pete Verbois, Chris Belleau, Lacy Blackledge & Bob Henderson (2,10) – Pete Verbois: bari sax (9) – Lacy Blackledge & Pete Verbois (7) – Jason Parfait & Ian Smith (1,3-5,9) – Jason Parfait: sax solos (5,8)
Discography THE GROOVE KREWE: Run to Daylight, feat. Nick Daniels III [2022] | Enigmatic Expressions, by Ron Williams - feat. Nick Daniels III [2015] | New Orleans, feat. Nick Daniels III (compilation) [2009] | Keep It Up, by Funky Derrick, feat. Nick Daniels III [1999] |