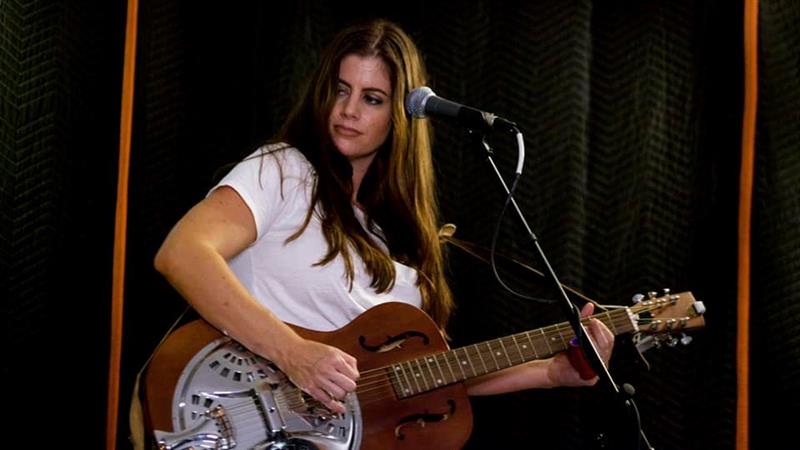 "A career overview of a strongly moved singer and rocker…"
Sacramento is de hoofdstad van Golden State, Californië. Het is een etnisch diverse en goed geïntegreerde stad. Katie Knipp is een singer-songwriter en multi-instrumentaliste, die al twee keer een Sacramento Music Award (SAMMIE) kreeg als "Best Blues Artist". Katie speelt niet alleen uitstekend op slidegitaar, piano en mondharmonica, maar weet vooral met haar zang te imponeren. Met haar EP 'The Well', die we hier uitvoerig bespraken, was ze al aan haar zesde studio release toe. Het is een 5-track EP met een scala aan blues, R&B en soul. Ze nam het op met producer Zack Proteau (Jackie Greene) en met haar "vaste" ritmesectie: Neil Campisano op drums en Proteau op bas.
Deze maand verschijnt haar eerste live album, 'Live @ The Green Room Social Club'. Haar live optreden met haar band werd op 19/11/21 vastgelegd in The Green Room Social Club in Placerville, CA. De selectie van 12 nummers omvat live uitvoeringen van originele blues en Americana nummers van haar eerdere albums die dateren van 2005 tot heden. Het vat de carrière van een bewogen zangeres knap samen.  Naast Neil Campisano op drums en Zack Proteau op bas, stonden die avond ook Chris Martinez (gitaar), Otis Mourning (percussie) en uiteraard Katie zelf (zang, toetsen, dobro-gitaar en mondharmonica) op het podium. Het album is geproduceerd door Katie Knipp en Zack Proteau en gemasterd door Brian Poole bij Moontree Mastering, Sacramento, CA.
Zo komen de opener "Ya Make It So Hard to Sing the Blues", "Another Round" en "I Don't Sing for You" uit Katie's 2018-album 'Take It With You', inclusief knappe slide op dobro gitaar en haar funky toetsenwerk op "I Don't Sing for You". Uit 'The Well' (2021) komen "Chamomile and Cocaine", waarmee het album afsluit, "Better Me" en "The Gospel of Good Intentions", een ballade, die een minder explosieve Katie laat horen. We moeten dan terug naar 2012, naar haar eerdere EP, 'Nice to Meet You', voor de nummers "Parade of Pain" (https://youtu.be/Pk4n23KZNEw), een slow blues à la lettre die je terug vind op YouTube tijdens een live opname in The Crest Theatre en "Gone to Town". "Release" en "Quiet Hell" vind je op 'Midnight Mind (2010) en "Bluebird Street" op haar debuut album 'Take Her Down'.
"Katie Knipp's live album 'Live @ the Green Room Social Club' offers you a nice overview of her fascinating career as a slidin' blues rocker… (ESC for Rootstime)
Eric Schuurmans
Album tracklist: 01. Ya Make It So Hard to Sing the Blues (5) – 02. Parade of Pain (4) – 03. Gone to Town (4) – 04. Bluebird Street (1) – 04. Another Round (5) – 05. Better Me (6) – 06. Release (3) – 07. I Don't Sing for You (5) – 08. The Gospel of Good Intentions (6) – 09. Quiet Hell (3) – 10. Chamomile and Cocaine (6) | Music/Lyrics by: Katie Knipp | Produced by: Katie Knipp & Zack Proteau | Album credits: Katie Knipp: vocs, keys, dobro guitar, harmonica / Chris Martinez: guitar / Neil Campisano: drums / Zack Proteau: bass / Otis Mourning: woodwinds, percussion
Discography KATIE KNIPP: Live @ the Green Room Social Club [2022] | 6-The Well (EP,5#) [2021] | 5-Take it With You [2018] | 4-Nice to Meet You (EP,5#) [2012] | 3-Midnight Mind [2010] | 2-Violent in Here [2009] | 1-Take Her Down [2005] |