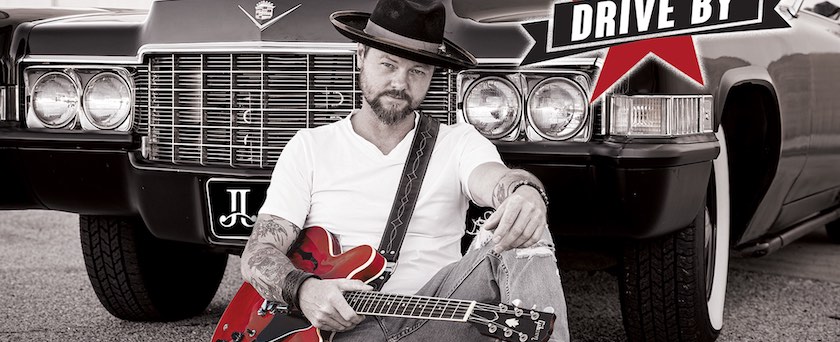 "Multiple layers of tasty musicality…"
Nog een "oude" bekende van Ruf-stal is de Amerikaanse blues singer-songwriter en gitarist Jeremiah Johnson. Als tiener volgde hij in St Louis, waar hij geboren is, gitaarlessen. Hij was eerst geïnteresseerd in jazz, later in rock en pas daarna, wanneer hij muzikanten hoorde spelen in de straten van Soulard (het historisch Frans gedeelte van St. Louis, Missouri), in bluesmuziek.
Naast zijn dagtaak in de Golf van Mexico in Texas, trad Johnson op. Hij was in 2004 en 2006 finalist van de regionale Blues Challenge wedstrijd. In 2011 won hij de regionale St. Louis Blues Society IBC en verdedigde hij St. Louis in Memphis, Tennessee.
Aanvang 2009 verhuisde Johnson terug naar St. Louis en vormde hij The Jeremiah Johnson Band. De band debuteerde in 2010 met '9th & Russell'. In 2011 nam hij met The Sliders, 'Brand Spank'n Blue' op en in 2015 de opvolger, 'Grind'. 'Blues Heart Attack' (2016) was een album met als producer Devon Allman en waarop Yonrico Scott als gast drummer te horen is. Het was dan twee jaar wachten op de opvolger 'Straitjacket' (2018), zijn debuut bij Ruf Records, met als producer label collega Mike Zito. In 2020 werden er twee albums uitgebracht en recent 'Hi-Fi Drive'.
Op 'Hi-Fi Drive By' werkte hij opnieuw samen met de St. Louis Legend, co-producer Tom Maloney en producer Paul Niehaus IV. Het trio bracht de beste blazers, achtergrondvocalisten en percussionisten samen om dikke lagen muzikaliteit te creëren. Dit is de eerste release waarin Johnson heeft gewerkt met co-schrijvers (Maloney en Niehaus IV) en de resultaten zijn verbluffend. Elk nummer is zorgvuldig gemaakt met meerdere lagen smakelijke muzikaliteit, met nieuwe audio-lekkernijen om te ontdekken, elke keer dat je deze eersteklas release een draai geeft. Maak je op voor een hifi-sonische explosie die Jeremiah Johnson's meesterlijke gitaarwerk, songwriting en krachtige zang combineert in tien originele nummers. Vanaf het eerste rockende nummer "'68 Coup Deville", met Victor Wainwright achter de piano, tot het derde nummer "Young and Blind", het eerste rustige nummer op het album met gitarist Brandon Santini, tot de eindnoot van het swingende exotische laatste nummer, "The Band". Met "Hot Diggity Dog" haalt Jeremiah wat van New Orleans in huis, de krachtige zang die ik aanhaalde ontdek je op "The Squeeze", de blazers op "Sweet Misery" en "Quicksand".
"'Hi-Fi Drive By is a strong and surprising album that highlights even more qualities of another Jeremiah Johnson…" (ESC, for Rootstime - BE)
Eric Schuurmans
'HI-FI DRIVE BY': tracklist: 01. '68 Coup Deville" feat. Victor Wainwright – 02. Ball and Chain – 03. Young and Blind, feat. Brandon Santini – 04. Skippin' School – 05. Hot Diggity Dog - 06. The Squeeze – 07. Hot Blooded Love – 08. Sweet Misery – 09. Quicksand – 10. The Band | Music/Lyrics by: J. Johnson, w/T. Maloney (2,4-6,8-10) & P. Niehaus IV (2,6,10) | Produced by: Paul Niehaus IV & Tom Maloney | Credits: Jeremiah Johnson: lead vocs, guitars / Paul Niehaus IV: bass, keys (Wurlitzer, piano, bvs / Joe Meyer: drums / Tom Maloney: guitar, piano & Tony Antonelli: percussion, bvs / Kasimu Taylor: trumpet / Frank Rauer: tenor sax / Kevin O'Connor: baritone sax / John Covelli & Dave Dickey: trombone / Kevin Buckley: strings / Emily Wallas & Matthe Schell: bvs & Guests: Victor Wainwright: piano (1) & Brandon Santini: guitar (3)
Discography JEREMIAH JOHNSON (BAND*): Hi-Fi Drive By [2022] | Unemployed Highly Annoyed [10/2020] | Heavens to Betsy [02/2020] | Straitjacket [2018] | Blues Heart Attack* [2016] | Grind [2015] | Brand Spank'n Blue*, w/The Sliders [2011] | 9th & Russell*, w/The Sliders [2010] |