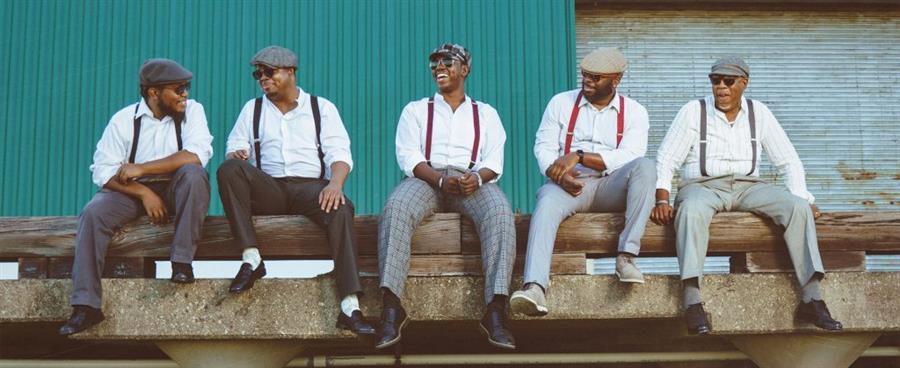 "Born into Gospel, a student of Jazz, with a passion for Blues…"
Kevin Gullage is 23 jaar, werd geboren met Gospel, studeerde jazz en heeft een passie voor blues. Kevin werd geboren in een muzikale familie in New Orleans (LA), trad in de voetsporen van zijn vader en omarmde zijn passie voor muziek als instrumentalist, zanger en songwriter. Kevin begon zijn carrière als multi-instrumentalist, maar zijn passie voor piano zou hem ertoe brengen om muziek te studeren aan het prestigieuze New Orleans Center for Creative Arts, The Louis Armstrong Jazz Camp (waarvan de alumni Jon Batiste, Troy "Trombone Shorty" Andrews en "Big Sam" Williams zijn) en later Loyola University New Orleans. Op 18-jarige leeftijd werd Kevin geselecteerd als pianist voor het Thelonious Monk All-Star Sextet 2017, samen met jazzlegende Bobby Watson. In hetzelfde jaar werd hij uitgenodigd om op te treden met de multi-Grammy winnende band Blues Traveler op het New Orleans Jazz and Heritage Festival.
Zijn indrukwekkende mix van soulvolle zang en blues piano, zijn opvallende deelname aan American Idol seizoen 2022, met bijzonder lang applaus van het publiek, geselecteerd worden tijdens de Grammy voorselecties in de categorie Traditional Blues en New Artist en voor de Offbeat Best of the Beat Nominations als Best Emerging Artist, geven Kevin Gullage's uitzonderlijke muzikale kwaliteiten aan. Door de pandemie strandde de aanstelling van Kevin & The Blues Groovers in BB King's Blues Club en werd hij tijdelijk artiest voor Disney Cruise Lines. The Blues Groovers bestaat uit bassist Tony Gullage (Henry Butler, Dr. John), orgelist Hammond B3 Brandon Adams (Kenny Neal), gitarist Carlton Ross (Glenn David Andrews), saxofonist Roderick Jackson (Kenny Neal) en drummer Mac Carter (Jon Cleary).
Kevin Gullage debuteerde in juli bij Basin Street Records in New Orleans met 'Something Old, Something New, Something Borrowed Blues'. Het funky "Shakey Ground",waarmee het album opent, is een pittig R&B nummer waaraan Parliament- Funkadelic gitarist Eddie Hazel  (1950-1992) nog mee componeerde. Het werd in 1975 door The Temptations als single uitgebracht en Hazel speelde de lead gitaar op het nummer. Op "Movin' On" en "Sweet Home Chicago" is gitarist Ronnie Baker Brooks te horen. "Movin' On" is een uitstekende soulvolle emotionele blues ballade, met een verhaal over onrecht, waar velen zich mee zullen identificeren. Door het jazzy arrangement wordt er hier veel aantrekkingskracht toegevoegd. Gullage schittert verder op "standards" als Robert Johnson's rockende klassieker "Sweet Home Chicago" die opvalt door zijn enthousiaste zang en het arrangement van de blazers, "Ain't Nobody's Business If I Do" en afsluiter "The Blues Is Alright". Maar ook met zijn eigen nummers als de ballade "So Called Friends of Mine" en "My Baby Gave Me the Blues" (feat. Norman Sylvester) trekt hij de nodige aandacht. Een van de hoogtepunten van dit debuut is Gullage's update van de Amy Winehouse-hit "Valerie". Het is geweldig om een ​​blues artiest zo ver buiten het genre te horen reiken. Het is dit soort denken, dat de blues voor toekomstige fans echt levend en relevant houdt.
"It's amazing how a young singer like Kevin Gullage makes himself heard with The Blues Groovers on 'Something Old, Something New, Something Borrowed Blues'. This is what it takes for the future of the blues…" (ESC, for Rootstime - BE)
Eric Schuurmans
10 CD's te winnen!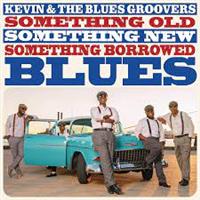 Wil je daar kans op maken, dan mail je ons gewoon even:
je naam, je adres en de vermelding: KEVIN & THE BLUES GROOVERS
Binnen een aantal weken wordt uit alle inzendingen de gelukkigen getrokken.
Wij hopen dat u massaal Rootstime - hier - zult mailen
De winnaars worden per mail verwittigd.
'SOMETHING OLD, SOMETHING NEW, SOMETHING BORROWED BLUES': tracklist: 01. Shakey Ground [Jeffrey Bowen, Alphonso Boyd, Edward Hazel > The Temptations] – 02. Movin' On – 03. Sweet Home Chicago [Robert Johnson] – 04. So Called Friends of Mine – 05. Grits Ain't Groceries (aka All Around the World) [Titus Turner] – 06. Ain't Nobody's Business If I Do [standard / Porter Grainger & Everett  Robbins] – 07. Valerie [Abi Harding,  Boyan Chowdhury, Dave McCabe, Russ Pritchard, Sean Payne > Amy Whitehouse] – 08. My Baby Gave Me the Blues - 09. The Blues Is Alright [standard / James "Little" Milton Campbell] | Music/Lyrics by: Kevin Gullage, or as [noted] | Credits: Kevin Gullage: vocs, piano / Tony Gullage: bass / Brandon Adams: Hammond B3 / Carlton Ross: guitar / Roderick Jackson: sax / Mac Carter: drummer & Guests: Ronnie Baker Brooks: guitar (2,3) & Norman Sylvester: guitar (8)
Discography KEVIN & THE BLUES GROOVERS: Something Old, Something New, Something Borrowed Blues [2022] | Blues for the City (ep) [2019] |