Hij was een country & westernzanger, songschrijver en muzikant die ook andere muziekgenres als folk, blues, honky-tonk, rockabilly en gospel frequenteerde in zijn veel te korte zangcarrière waarin hij in totaal 55 hitsingles heeft opgenomen. Hank Williams wordt tot op de dag van vandaag gezien als één van de belangrijkste en meest invloedrijke zangers en songschrijvers van de 20e eeuw. Hij trad indertijd ook nog op onder andere artiestennamen als 'Luke The Drifter', 'The Hillbilly Shakespeare', 'The Singing Kid', 'Timber Snake' en 'Mr. Lovesick Blues'.
Het is op basis van zijn bluesmuziek dat de tracklijst van het album "The Blues According To Hank Williams – Hank Williams According To The Blues" werd samengesteld door Bill Dahl in opdracht van de 'Richard Weize Archives', een divisie van het retroplatenlabel 'Rockstar Records Ltd.'. Met in totaal 28 liedjes die Hank Williams tijdens zijn veel te korte leven heeft geschreven of zelf gezongen werd deze uitgave al snel een unieke hommage aan de artiest die probleemloos afwisselde tussen de diverse muziekgenres.
De nummers die op deze verzamelplaat staan worden allemaal gezongen door zwarte artiesten waarvoor Hank Williams een unieke bron van inspiratie is geweest. Met songs die gebracht worden door grote namen als Fats Domino, Louis Armstrong, Dinah Washington, Tommy Edwards, de autodidactische pianist Willie Lee Perryman aka 'Piano Red' en de Amerikaanse gospelgroep 'Five Blind Boys Of Alabama' wordt aangetoond dat er met de muziek die Hank Williams zong en componeerde een universeel stuk geschiedenis werd geschreven. Op de bijgaande video's geven we drie van de 28 nummers op deze plaat ter oriëntatie mee: "You Win Again" door Fats Domino, "I'm So Lonesome I Could Cry" door Tommy Edwards en "Cold, Cold Heart" door Louis Armstrong.
Sinds zijn dood werden liedjes van Hank Williams door ontelbaar veel andere artiesten in allerlei verschillende muziekgenres gecoverd en zowel zijn zoon Hank Williams Jr. als zijn kleinzoon Hank Williams III traden in zijn voetsporen als countryartiesten. Misschien ligt in Hank's veelzijdigheid als muzikant wel de inspiratiebron voor eventuele volgende uitgaven in deze leerrijke serie over de fundamenten van de 20e eeuwse muziekgeschiedenis.
(valsam)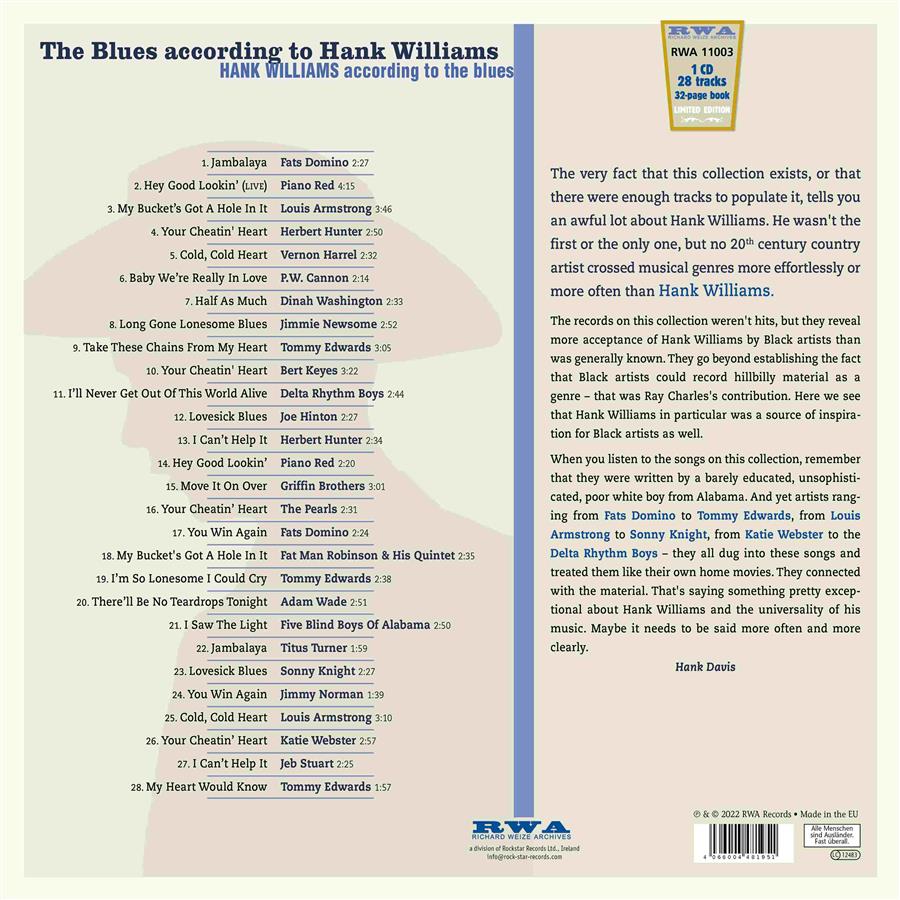 TRACKLIST
1. Jambalaya: Fats Domino 2:27
2. Hey Good Lookin' (live): Piano Red 4:15
3. My Bucket's Got A Hole In It: Louis Armstrong 3:46
4. Your Cheatin' Heart: Herbert Hunter 2:50
5. Cold, Cold Heart: Vernon Harrel 2:32
6. Baby We're Really In Love: P.W. Cannon 2:14
7. Half As Much: Dinah Washington 2:33
8. Long Gone Lonesome Blues: Jimmie Newsome 2:52
9. Take These Chains From My Heart: Tommy Edwards 3:05
10. Your Cheatin' Heart: Bert Keyes 3:22
11. I'll Never Get Out Of This World Alive: Delta Rhythm Boys 2:44
12. Lovesick Blues: Joe Hinton 2:27
13. I Can't Help It: Herbert Hunter 2:34
14. Hey Good Lookin': Piano Red 2:20
15. Move It On Over: Griffin Brothers 3:01
16. Your Cheatin' Heart: The Pearls 2:31
17. You Win Again: Fats Domino 2:24
18. My Bucket's Got A Hole In It: Fat Man Robinson & His Quintet 2:35
19. I'm So Lonesome I Could Cry: Tommy Edwards 2:38
20. There'll Be No Teardrops Tonight: Adam Wade 2:51
21. I Saw The Light: Five Blind Boys Of Alabama 2:50
22. Jambalaya: Titus Turner 1:59
23. Lovesick Blues: Sonny Knight 2:27
24. You Win Again: Jimmy Norman 1:39
25. Cold, Cold Heart: Louis Armstrong 3:10
26. Your Cheatin' Heart: Katie Webster 2:57
27. I Can't Help It: Jeb Stuart 2:25
28. My Heart Would Know: Tommy Edwards 1:57