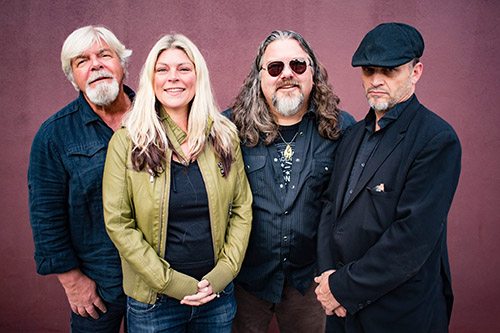 "Her songs are always rooted in the blues…"
Stacy Jones is een Amerikaanse singer-songwriter en multi-instrumentaliste, die al jong eerst gitaar, dan keyboards en harmonica leerde spelen. Ze bezit daarnaast over een uitstekende stem, goed voor meerdere stijlen én is een dame met ambities. Stacy is een hommage aan de blues, maar durft daarbij ook wel eens wat milde Americana en subtiele country licks onder haar blues te mengen. Stacy Jones is al meerdere keren genomineerd als "Best of the Blues" in songwriting, harmonica en gitaar en won in 2010, 2014 en 2018 de titel "Best Female Vocalist". Ze stond op de affiche van diverse festivals (Chicago Blues Festival, SXSW), trad op in juke joints in Mississippi en rivierboten in Californië. Stacy heeft ondertussen het podium gedeeld met Elvin Bishop, Charlie Musselwhite, Lee Oskar en vele andere legenden.
Met haar band (Jeff Menteer: gitaar, haar vader Tom Jones: bas en Rick J. Bowen: drums) treedt Stacy regelmatig op en bracht ze al diverse albums uit. Ze debuteerde in 2010 met haar studio album 'Long Time Comin'', in 2011 volgde 'No Need to Spell it Out' en recent, als opvolger van 'Love Is Everywhere' (2017), 'World On Fire'.
Als 'World On Fire' je kennismaking is met Stacy Jones, dan ga je ergens wel versteld staan dat je deze veelzijdige dame nog niet kende. Op snelheid opent ze haar album met "Jefferson Way" met uitbundig gezang, klagende blues harp en een ruige elektrische slide-gitaar, gedragen door een passend basisritme. De instrumental "Juke" is met prima harmonica tussenkomsten een geslaagde cover van een Little Walter nummer en op "Love Me Just the Way I Am" is Stacy een zwoele diva, die je graag in de armen neemt. De titelsong is een mix van Americana en blues, een ballade die rust brengt en "Everything Is Going to Be Alright" iets tussen blues, R&B en country. Op Willie Dixon's "Insane Asylum" zingt Stacy samen met Tom Jones, die het nummer herschreef, om het daarna op "George Stinney" het te hebben over George Junius Stinney jr. (1929-1944), een Amerikaanse jongen, die op 14-jarige leeftijd onterecht werd geëxecuteerd op de elektrische stoel vanwege een dubbele moord op twee meisjes. Daarmee was hij de jongste persoon die in de 20ste eeuw in Amerika de doodstraf kreeg. "Oxen Heart" is een op rock gebaseerde Americana, terwijl "Sunday Morning" een dromerige gospel is die naar Ry Cooder knipoogt. Na het erg Southern getinte "Midnight in Harlem" (van Mike Mattison & Derek Trucks), volgen nog het poppy "Shine", een uitstap naar New Orleans op "We Are Going to Make It Through", Aretha Franklin's soul bommetje "Think" en de folky afsluiter, "With Music on My Side".
"If 'World On Fire' is your introduction to Stacy Jones, then you will be surprised that you did'nt know this versatile lady yet.…" (ESC, for Rootstime - BE)
Eric Schuurmans
'WORLD ON FIRE: tracklist: 01. Jefferson Way [w/Jeff Menteer] – 02. Juke [Little Walter] – 03.Love Me Just the Way I Am – 04. World on Fire – 05. Everything Is Going to Be Alright – 06. Insane Asylum [Willie Dixon] – 07. George Stinney – 08. Oxen Heart – 09. Sunday Morning [Jeff Menteer, The Stracy Jones Band] – 10. Midnight in Harlem [Mike Mattison, Derek Trucks] – 11. Shine [Jeff Menteer, Rick Bowen] – 12. We Are Going to Make It Through [Jeff Menteer, Tom Jones] – 13. Think [Aretha Franklin] – 14. With Music on My Side | Music/Lyrics by: Stacy Jones, or as [noted] | Produced by: Stacy Jones | Credits: Stacy Jones: vocs, a guitar, harmonica, piano, organ / Jeff Menteer: e guitar, bvs / Rick J. Bowen: drums, b-vocs / Tom Jones: bass, bvs (6) / Mike Gunther: trumpet / Gene Laukkonen: tenor & baritone sax
Discography STACY JONES (BAND*): World on Fire [2022] |  Love is Everywhere [2017] | Whiskey, Wine, & Water [2015] | Live and Untapped* [2012] | $14 Dollars in the Bank* [2011] | No Need to Spell It Out  [2011] | Long Time Comin'* [2010] | Live @ at the Triple Door [2009]