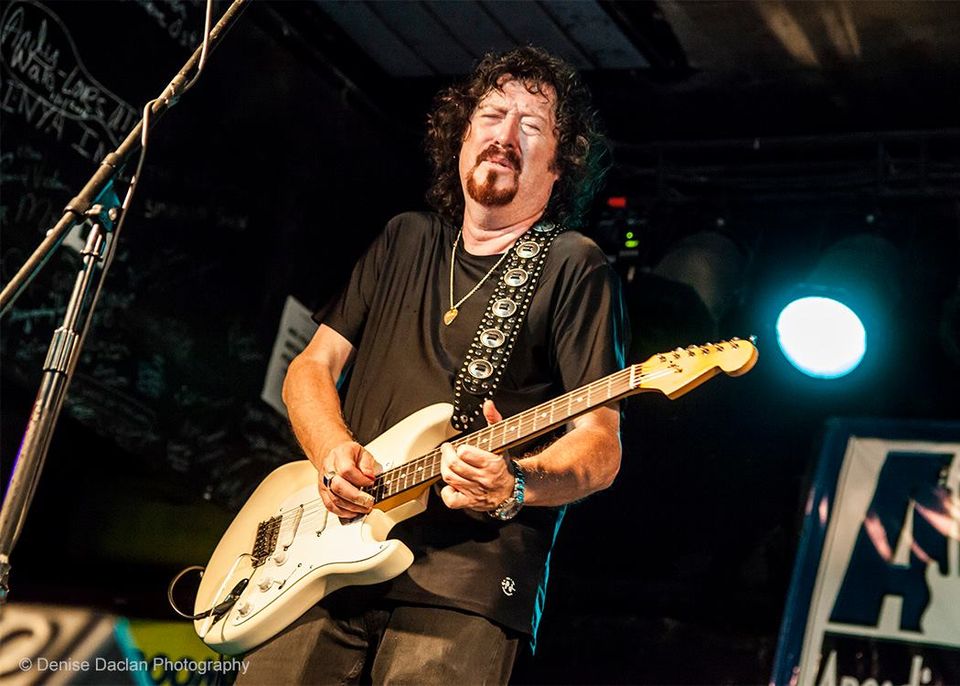 "Co-produced by Paca Thomas, 'The New Normal' is a drum-tight eleven song set that dishes up traditional twelve bar and blues shuffles, R&B, and soul seamlessly interwoven…"
Veteraan "Guitar" Jack Wargo is als componist, singer-songwriter en bluesgitarist al jaren actief in de muziek scene van LA. Wargo toerde uitgebreid met o.a. Billy Preston en Solomon Burke en hij stond al in de studio met Ray Charles en The Jacksons. De Guitar Jack Group opende voor o.a. Chris Cain, Little Jimmy King en Smokin' Joe Kubek & Bnois King. Jack Wargo treedt ook op met No Slack, met wie hij 'Live @ BB King' (2000) opnam.
Jack Wargo debuteerde in 2000 met 'Losin' Hand', in 2006 bracht hij de opvolger 'Private Tears' uit en Wargo's laatste album dat we hier recenseerden, kreeg de titel ''Til the Money's Gone' (2021). Op het album staan 14 zelfgeschreven nummers en Jack werd begeleid door een rij topmuzikanten, die elkaar afwisselen. Qua stijl viel het ergens tussen klassieke blues en soul blues.
Guitar Jack Wargo's opvolger kreeg de naam, 'The New Normal'. Het album, co-producet door Paca Thomas en ondersteund door opnieuw een lange rij gasten, is een drum-strakke set van elf originele nummers waarin traditionele twaalf maten en blues shuffles, R&B en soul naadloos met elkaar verweven zijn. "Outside Looking In", waarmee het album mee opent, is een swingende shuffle  met John "JT" Thomas, een van de toetsenisten, achter het orgel. Ook "Go 'Cross Town" en de titelsong zijn nummers die hier strak gehouden worden door drummer Herrman Matthews, Larry "Furry" Knight & Bill Pittman, twee van de zes bassisten die aan het album meewerkten. Wargo nam niet alleen uptempo nummers op. "Isn't It a Pity" is een rustig intermezzo, met een knap improviserende Wargo op gitaar. Op "Philco Radio" en "Let It Ride"  zorgen Stan Watkins (trompet) & Steve Mann (tenor sax) en Robin Williams & Narvelan Coleman (backing vocals) in de achtergrond voor de groove en de nodige soul. Op "Losin' It" drumt Tony Braunagel, voor "You and Me" zat Thomas achter zijn Rhodes en "More Than You Know" is een soulvolle track die je snel doet wegdromen. Voor de afsluiter is er met "Same Old Story" nog een brok heerlijke R&B, om dan met "Stay Strong" en Wargo, die laat horen wat een prima soul man hij ook is, met een goed gevoel af te sluiten.
"GUITAR JACK WARGO's 'THE NEW NORMAL' mixes different styles with verve without damaging the essential groove…" (ESC, Rootstime.be)
Eric Schuurmans
'THE NEW NORMAL': tracklist: 01. Outside Looking In – 02. Go 'Cross Town – 03. The New Normal – 04. Isn't It a Pity – 05. Philco Radio – 06. Losin' It – 07. Let It Ride – 08. You and Me – 09. More Than You Know – 10. Same Old Story – 11. Stay Strong | Music/Lyrics: Jack Wargo, or as [noted] | Producer: Paca Thomas & Jack Wargo | Credits: Guitar Jack Wargo: vocs, guitars / Bass: Andrew Kesler, Bill Pittman, Jerry Jemmott, Larry "Fuzzy" Knight, Melvin Stewart, Mike Hightower / Drums: Herrman Matthews, Jim Kersey, Tony Braunagel – Richie "Gajate" Garcia: percussion / Keys: Herman Jackson: keys, organ, Rhodes - John "JT" Thomas: organ / Horns: Stan Watkins: trumpet – Steve Mann: tenor sax / B-vocs: Robert Higbie, Robin Williams, Narvelan Coleman, Shella Brown
Discography GUITAR JACK WARGO: The New Normal [2023] | 'Til the Money's Gone [2021] | Keepin' It Real [2017] || JACK WARGO: Back to Slocum Hollow, w/Edward Wargo [2020] | Losin' Hand [2000] | Unconditional (EP,5# - Special Edition) [2019] | A Blues Christmas, w/Denise Daclan [2016] | Keep Hope Alive - Blues Collection, Vol. 1 [2014] | Private Tears [2006] | Live @ B.B. King's, w/No Slack [2002] | Losin' Hand [2000] |