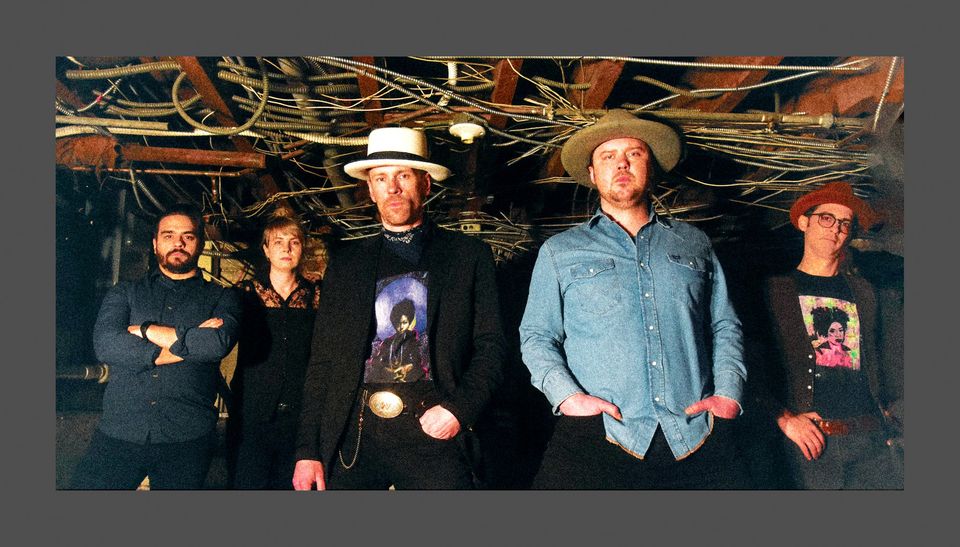 "If I'd had the Weber Brothers with me in 1952, Elvis would've been my roadie…" (Ronald Hawkins)
Een "brothers"-band maakt het voor een recensist altijd gemakkelijk als je moet vertellen over wie het in de bio gaat. The Weber Brothers, dat zijn Sam en Ryan Weber, twee broers uit Peterborough (een stad in het zuidoosten van de Canadese provincie Ontario) die al vrij jong, door hun bewondering voor meervoudig Grammy Award-winnende componist, producer en Canada's rockabilly-legende Ronald Hawkins (1935-2022), in de muziek belandden. Ronald "Rompin' Ronnie" Hawkins aka "Mr. Dynamo" of "The Hawk", was één van de belangrijkste spelers in de rockscene van de jaren '60 in Toronto. Het was Hawkins zelf die hen vroeg voor zijn begeleidingsband The Hawks, als opvolgers van enkele muzikanten (Rick Danko, Robbie Robertson, Garth Hudson, Richard Manuel, Levon Helm) die zijn band verlieten, om later de Canadees / Amerikaanse rock band -in de jaren zestig de begeleidingsband van Bob Dylan- The Band te vormen. Een uitspraak van The Hawk spreekt hier boekdelen: "If I'd had the Weber Brothers with me in 1952, Elvis would've been my roadie…".
The Weber Brothers maakten tijdens hun carrière vooral naam door hun energieke, vaak legendarische liveoptredens. In 2010 traden ze tijdens hun 'Left Right Left Right' cd release tour op in The Historic Red Dog in Peterborough in Canada. Sam (gitaar, zang) en Ryan (staande bas) deden de show toen met Tim Bracken (gitaar), Emmet "Corn Dog" Van Etten (drums) en Shai Cookie Peer (keys, orgel). In 2016 verscheen "Before We Arrive: The Story of The Weber Brothers", een lange documentaire over de muzikale reis van het paar, die het Toronto Independent Film Festival in 2016 "Beste documentaire" noemde.
Voor de opnames van hun 15de album (denk ik) 'The Water Street Triology pt.2: In the Tangled Web', klopten de broers -in de tweede zomer van de pandemie- op de deur van hun vriend en producer/klanktechnicus extraordinaire,  James McKenty. Met het nodige schalkse enthousiasme trokken ze met zo'n 30 nieuwe songs naar de studio. Ryan "Rico" Browne (keys, gitaar, bas, percussie, zang), Marcus Browne (drums, zang) & Emily Burgess (gitaar, zang) vervolledigden het team.
"Deel 2 gaat over diep in de nacht, waar het eerste deel is alsof je je klaarmaakt om de nacht door te gaan... Deel 2 pakt vanaf daar op, misschien rond middernacht of 1 uur 's nachts, de tijd totdat de bar sluit en je naar huis moet. De kleine uurtjes, dat kunnen krachtige uren zijn…" (aldus de Bros)

Het resultaat was een hele prestatie: 31 nummers werden opgenomen in de loop van een dag van 13 uur. 'In the Tangled Web' is het tweede deel van 'The Water Street Trilogy' en de opvolger van deel 1 van de trilogie, 'Wild as the Wild Dogs' (2022), dat veel lovende kritieken oogstte en # 1 op Roots Music Report bereikte. Het derde deel van de trilogie komt op een later moment uit.
Met "Top of my List" opent het album rustig rockend. Het lijkt erop dat de opener hier de opwarmer is, het begin van een lange nacht. Ook het monotone "Shake it Up" rockt vrij cool. Op "I Just Want Your Love",dat een meerstemmige smeekbede om liefde is, wordt het tempo wat opgedreven. "Mostly Stable" vervolgt de ingeslagen weg en met "Turn On Love" geraakt de band, een avond stappen, op kruissnelheid. Na de slome titelsong, het groovende "Love Yourself" en het dromerige "Don't Go Daddy" leidt "Withdrawal" met veel aanstekelige slide gitaar het einde in. De gospel "Ante Up" zorgt voor een einde, dat je hier misschien niet zou verwachten. De dag breekt ondertussen aan, tijd om naar huis te gaan. "There are bands for which rock and roll is a lifestyle, and then there are bands for which it is life…" (las ik ergens), The Weber Brothers is er beslist zo een!
"For The Weber Brothers, rock 'n' roll is their life, looking up to someone like Ronald Hawkins. On 'The Water Street Triology pt.2: In the Tangled Web' you can clearly hear why…" (ESC, Rootstime.be)
Eric Schuurmans
'THE WATER STREET TRIOLOGY pt. 2: IN THE TANGLED WEB': tracklist: 01. Top of My List – 02. Shake it Up  - 03. I Just Want Your Love - 04. Mostly Stable – 05. Turn On Love – 06. In the Tangled Web – 07. Love Yourself – 08. Don't Go Daddy – 09. A Different Side of Me - 10. Withdrawal - 11. Ante Up | Music/Lyrics: The Weber Brothers | Producer: James McKenty and The Weber Brothers | Credits: Ryan Weber: e+a bass, piano, guitar, vocs / Sam Weber: guitar, vocs / Emily Burgess: guitar, vocs / Rico Browne: keys, guitar, bass, percussion, vocs / Marcus Browne: drums, vocs
Discography THE WEBER BROTHERS:15-The Water Street Triology pt. 2: In the Tangled Web [2023] | 14-The Water Street Triology pt. 1: Wild as the Wild Dogs [11/2022| 13-Acusta [02/2022] | 12-Choose Your Own Adventure, w/Timothy Bracken [2021] | Listen* [12/2020] | When You Wanna Act this Way* [07/2020] | Reverend Ken* [07/2020] | Gonna Be a Good Day* [07/2020] | Let 'em Go* [05/2020] | 11-Schoolin' [05/2020] | I Come from the Future* [04/2020] | 10-Make it Through Too [04/2020] | 9-Patches [2017] |The Last Days of the Broken Harted Jester* [12/2017] | Watching the World Go By*, feat. Emily Burgess [07/2016] | Joltin' Jim*, a Tribute to Joltin' Jim McCoy [03/2016] | Jim*, a Tribute to Joltin' Jim McCoy [03/2016] | Silent Violence* [04/2016] | When Christmas Falls on Peterborough* [2015] | 8-A Weber Brothers Christmas [12/2015] | The Weber Brothers 2002-2012 (compilation) [05/2015] | 7-We [2014] | Thimebomb* [2013] | Jesus, Jesus* [2013] | 6-Baddest Band in the Land [2011] | 5-Left Right Left Right [2009] | 4-Exhibition [2007] | Live @ the Gordon Best [2006] | 3-Bare as Bones [2005] | 2-Lost & Found [2004] | 1-149 Lake Street [2003] | (*single)